Three years of Balakot airstrike: Abhinandan Varthaman and his unparalleled glory
Shashi Kumar Tiwari – Mumbai Uncensored, 26th February 2022
Today the world is talking about Russia and Ukraine. Three years back on this very day, it talked about India and Pakistan.
Today marks the 3rd Anniversary of the Balakot Airstrikes done by the Indian Air Force on the 26th of February in the year 2019. The strikes were carried out to avenge the dastardly attack by the terrorist organisation Jaish -E -Mohammad on a CRPF convoy that had resulted in 40 CRPF soldiers being K.I.A and attaining Veergati.
The Indian Air Force Mirage-2000 had bombed the JeM terrorist training camps in Balakot, PoK with  Spice 2000 locked smart bombs. In reply to this, the Pakistani Air Force had sent in 24 Lockheed Martin F-16 Fighter Aircrafts to bomb the Indian Military installations and garrisons. Responding swiftly to this 2 IAF Su-30MKI, 2 Mirage -2000 and 8 Mig-21 Bison took off from the Avantipora IAF Base to chase the PAF Jets away. 
While still in the aerial chase a Mig 21 Bison Fighter Aircraft of the IAF was hit by the PAF F-16 during a dogfight between both the aircraft. In a while, the whole of India knew the pilot. The Mig 21 Bison was flown by none other than our war hero- Abhinandan Varthaman.
He however continued the dogfight and shot down the Pakistani F-16 aircraft. After this duel, Wg Cdr Abhinandan's aircraft crashed and he ejected safely out of it while para landing in the Village Horra of Pakistan Occupied Kashmir.
As soon as he was seen by an old PoK Villager, he asked the name of that place to which the villager responded by saying, "India". Wg.Cdr. Abhinandan shouted out loud "JAI HIND" to which the villagers shouted back with pro-Pakistani Slogans. Wg Cdr Abhinandan dropped his pistol seeing the mob approaching him violently. He was later arrested by the Pakistani Army and several videos of him were released by the Pakistani Defence Handles, only to be taken down later on as it violated the Geneva Convention.
But no country could've been able to hold back an Indian officer of such valour. Wg Cdr Abhinandan was repatriated back to India on the 1st of March,2019 safely and respectfully after strong diplomatic pressure and indirect stern military action threat to Pakistan, from India.
Let's look at the early life of Wg Cdr Abhinandan Varthaman:
Abhinandan was born to Rtd. Air Marshal Simhakutty Varthaman and Shobha Varthaman, a doctor. He belongs to the state of Tamil Nadu, India. He did his schooling at Sainik School Amravathinagar.
He went on to join the 104th Course of NDA and passed out in 2003. He finally completed the 173rd Course from AFA, Dundigul and was commissioned as a Flying Officer in the Indian Air Force on 19th June 2004.
Earlier assigned in the SU -30Mki squadron he was later assigned to carry out flying operations with the Mig -21 Bison Fighter Aircraft.
Receiving India's 3rd highest gallantry award:
The officer displayed conspicuous gallantry and absolute professionalism living up to the credo of the Indian Armed Forces by not letting out any vital information to the Pakistani Intelligence and Army Officials while undergoing the interrogation during his detention in Pakistan.
He had even chewed and gulped down the important IAF documents and maps he was carrying post-crash landing in PoK. He had faced the manhandling and the interrogation in the bravest possible manner. Wg Cdr Abhinandan Varthaman was Awarded the Vir Chakra , India's 3rd Highest Wartime Gallantry honour for his gallant actions and flying finesse in the line of duty, the way he had shot down a 4th Generation US-made F-16 with a 2nd Generation Mig 21 Bison was in itself astonishing and spoke for his gallant fighter flying. His flamboyance and patriotism were evident even though he was being interrogated in the territory of India's biggest arch-rival, Pakistan.
He got promoted to the rank of Group Captain in Nov 2021 after completing 17 years of service in the Indian Air Force.
Controversy: Photos of Hindu deities on swimwear, huge backlash by social media users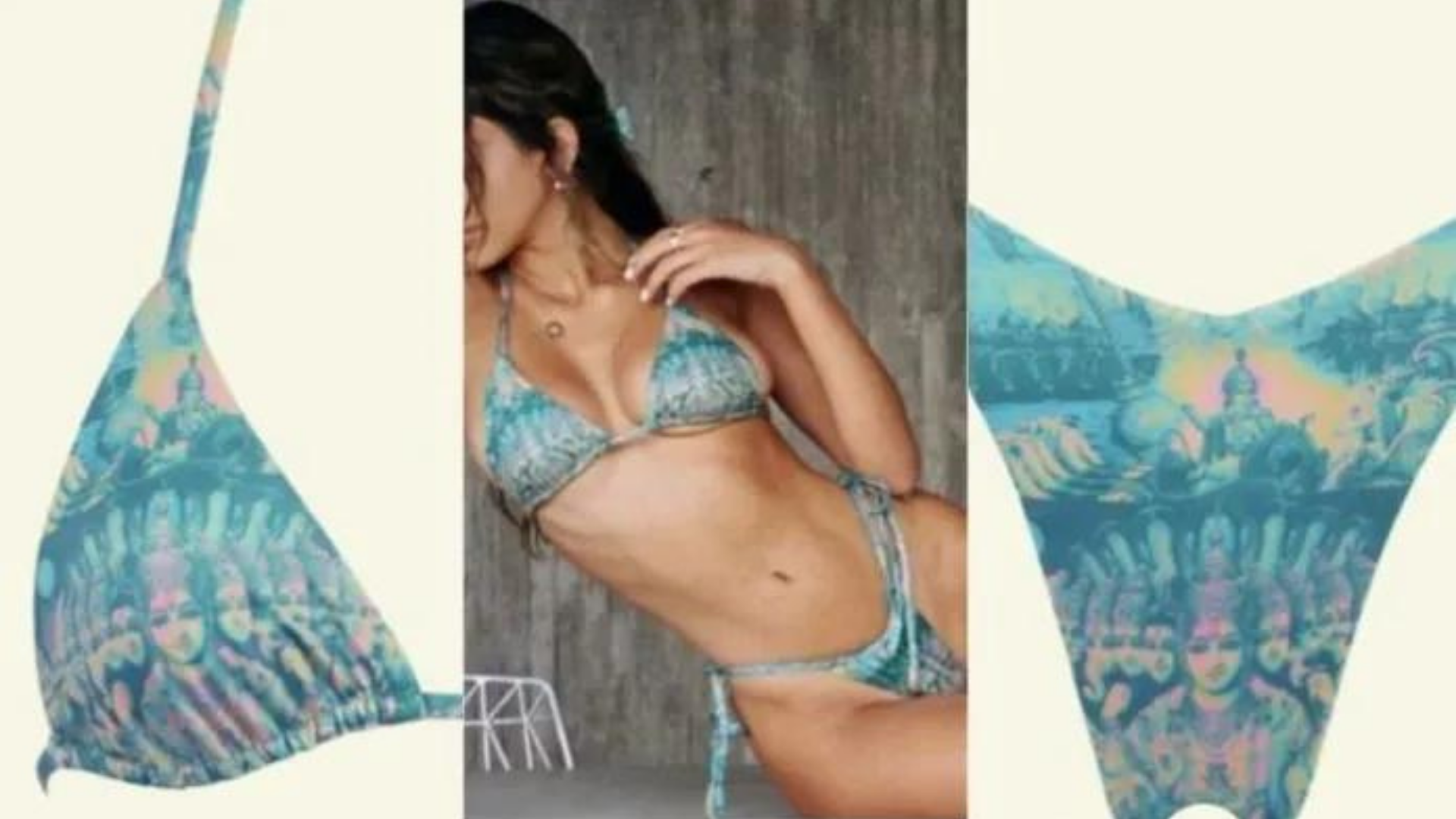 SUMAN GUPTA – Mumbai Uncensored, 25th April 2022
A new controversy has flooded the air with the infamous influencer Sahara Ray being in the crib of it. It all started when the clothing brand named"SAHARA RAY SWIM", launched its new collection named the 'Aura Collection 2022'. The collection consisted mostly of thongs, micro string tops and swimwears, that featured images of Hindu deities on top of them.
The clothing brand printed the images of Indian deities on the swimwears that affected the religious sentiments of the people.
Soon after the release of this collection, the images of the clothes went viral all over the media and faced huge backlash from the people. People have expressed their disgust over different social platforms. Social media users reprimanded the clothing company.
In a tweet, the Hindu IT Cell informed, "We have taken cognisance of this matter. It's an absolutely derogatory and defamatory act against Hindu ideals. We are not going to tolerate this and our team will legally proceed in this matter."
Popular Twitter user, Madhur Singh, informed that the Instagram handle of 'Sahara Ray Swim' first blocked users who questioned the objectionable swimwear collection. "Later they turned the comments off and posted yet another set of photos of the same lingerie.
After this controversy started on Twitter, this swimwear maker Sahara Ray Swim has made its account private on Instagram. It is believed that the company has taken this step to avoid getting caught in controversy on this platform. Social media users are demanding the company to take back this swimwear and apologize for the act. However, there has been no response from the company on this yet.
Such incidents have been happening before
This is not the first case of such targeting of Hindu deities. Earlier items like bathroom mats, door mats, shoes, slippers with pictures of deities have also come to the fore. There has been a lot of controversy about such items on social media and other forums, but even after this some companies are not ready to take a lesson from it. 
Undergroud artist Inspectah Gracious releases new R&B song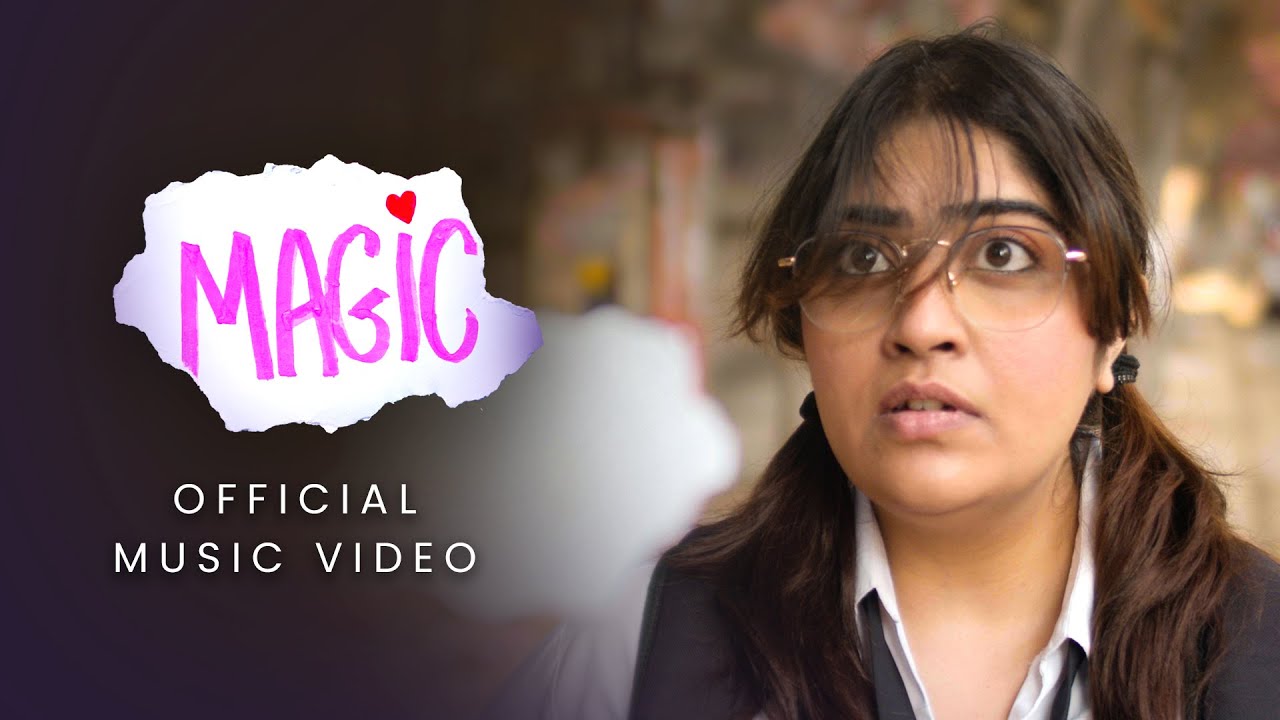 Team – Mumbai Uncensored, 22th April 2022
The underground artist Inspectah Gracious along with Arittra Nayak has come up with a new out-of-the-box R&B song. The song aptly named "Magic" is aiming to live up to its name and create new waves in the music industry.
Inspectah Gracious (Inspectah G) is known for her previous songs such as "Hip Hop's Soldier" which experiments with a UK/Japanese Type drill beat and has been featured in esteemed publications such as The Rolling Stone India, Daily Music, LiveLee, and Genesis India. This is Inspectah G's first song in the R&B genre. She started her career with Rap music and has been earning acclaim and praise in the niche segment of the Indian underground rap movement. Inspectah G will be exploring even more genres of music in the coming season.
With no industry godfathers or connections, Inspectah G is a self-made artist, hustling to rise up to the Industry bias. Being a female artist in the music industry comes with a daily dose of challenges even for Inspectah –
"You have to overcome a daily dose of sexism with people in the music industry. A female artist is criticised and scrutinised much more than a male artist. Female musicians are sometimes criticized for being too sexual, as well as for not being sexual enough. They are criticized either for being too feminine or for being too manly. They can't be outspoken or too fat. They are being criticized if they take a political stance through their songs", says Inspectah.
However, she has never let such forms of criticism affect her work. She hopes to inspire more women to make their careers in music.
Inspectah Gracious released her newest song "Magic" (from her upcoming EP) on her 25th birthday. She calls this song the best birthday gift she has given herself to date. "Magic" is a song that deals with love and pain, two emotions that everyone in today's day and age can relate to. Inspectah G is set to strike the audience with this new song that she's sure everyone can relate to and enjoy.
Inspectah takes her musical inspiration from the Western American and East Asian cultures. This influence is clearly evident to anyone who listens to her music. She is also part of the multi-genre crew known as Naavik Musik. The Crew aims to produce
high-quality music with some of the best underground talents under its ceiling. The lead male vocals were provided by the Vocalist/Rapper Arittra Nayak; who she considers to be her greatest supporter and confidant in this aspect. Her family has been sceptical of her making a career out of music in this day and era, she aims to put their minds at ease with a successful career in music. The song "Magic" released on the 18th of April is performed by Inspectah Gracious and Arittra Nayak. The song boasts of some highly talented technicians trying to break the barriers of music and provide a fresh soundscape to the Indian audience. The song is produced by RASLA who has worked with some of the top artists in the industry such as "Badshah" & "Bali". The song "Feel Hai", featuring Badshah produced by Rasla was a chartbuster. The mixing and mastering were done by the supremely talented Nevamind, while the highly experienced Saurabh Kamble was the Recording Engineer. The lyrics of the song have been penned by Inspectah Gracious, Arittra & Nevamind. The trio are confident that the song is going to set the charts on fire!
Is the ageing process reversible?
That's what we all want! To stay young forever, but is it possible to stay young forever?
Sagar Tewatia – Mumbai Uncensored, 19th April 2022
Well! If it's about your age, then it's not possible because we cannot stop the time, but yes, if it's about mental and physical health, then it is possible.
While many in their 50s and 60s accept that the young days have gone, 56-year-old Milind Soman, an actor, a supermodel and fitness enthusiast, is proving them wrong.
Another is Late Mann Kaur, who won the gold medal at World Masters Athletics Championships when she was 102-year-old.
Still not enough?
What about 71-year-old Actor Sharat Saxena who has a bicep size of almost 19 inches and can lift more weight than a 25 years old boy?
Studies recommend regular exercise is more useful than any drug yet invented to prevent conditions facing older people, such as muscle loss.
To get the full benefits, this way of behaviour should be applied down in a person's teens and early 20s.
What can we learn from old athletes?
Studying expert athletes – sports people aged 35 and over – gives us an idea of "what is physically possible as we age".
Analysing each age group's world record performance times shows that physical capacity diminishes the older you get – but doesn't fall off rapidly until after 70.
It is appropriate to assume these top athletes have a healthy lifestyle in general; as well as working out regularly, they follow a healthy and balanced diet and don't smoke or drink heavily.
So their results can help us decide how much of this decline is due to the ageing process.
Can exercise reverse the ageing process?
The more lavish health of older exercisers compared to their inactive peers can lead people to believe physical activity can reverse or slow down the ageing process.
But the reality is that these active older people are as they should be.
In our past, we were hunter-gatherers, and our bodies were designed to be physically active.
So, if an active 80-year-old has comparative physiology to an inactive 50-year-old, the younger individual appears older than they should be, not the other way around.
We often confuse the effects of inactivity with the ageing process itself and believe specific diseases result from getting older.
Our modern sedentary lifestyles have speeded up our underlying age-related decline. It contributes to the onset of diseases like type 2 diabetes, cardiovascular disease and cancer.
Quality of life
Not only does exercise help prevent the beginning of many diseases, but it can also help cure or alleviate others, improving our quality of life.
Recent studies of recreational cyclists aged 55-79 suggest they can do everyday tasks very easily and efficiently because nearly all body parts are in remarkably good condition.
Takeaway
We should adopt a healthy lifestyle in our 20s or as soon as we realise to slow down the ageing process, and it's not just about ageing; it's about living a healthier life and staying away from diseases.
Live like a 20-year-old in your 70s.