Russia Ukraine Conflict : More than 137 lives lost as the war continues
Hemant Singh – Mumbai Uncensored, 25th February 2022
Russia launched an all-out invasion of Ukraine by land, air, and sea on Thursday, the biggest attack by one nation against another in Europe since World War 2. Ukraine has severed diplomatic relations with Russia as a consequence.
Ukraine's capital was hit by missiles as Russian forces pressed ahead and Ukraine's president pleaded to the international community to do more, saying sanctions are not enough. The shelling sets off day two of fighting after Vladimir Putin announced 'military operations in Ukraine'. Earlier, 137 people, including 10 military officers, have been killed and 316 people injured so far, said Ukrainian President Volodymyr Zelenskyy.
The Chernobyl nuclear power plant's staff continue to maintain the facilities and monitor radioactive contamination at the station, a Russian official said on Friday, a day after Russian forces seized the decommissioned facility after a relentless fight with Ukrainian soldiers guarding it. Vladimir Putin has launched a multi-pronged all-out attack on Ukraine, ignoring international condemnation and sanctions, warning other countries that any attempt to interfere would result in "consequences they had never experienced before".
As he navigated the world's largest country through treacherous shoals during most of his 22-year rule, Vladimir Putin presented an air of calm determination. As he has demonstrated by his attack on Ukraine, he is an altogether different leader: one who has dragged the nuclear superpower into a conflict of no foreseeable conclusion and one that by all appearances will put an end to Russia's attempts over the last three decades to find a place in the peaceful world order.
As a result of the Kremlin's invasion of Ukraine, Pope Francis contacted Russia's ambassador to the Holy See to express his concerns. The head of the Roman Catholic Church met Alexander Avdeev at the Russian embassy in Rome and stayed for about 30 minutes, according to the press office.
Meanwhile, the Indian Embassy has issued a new advisory to Indian nationals stranded in Ukraine. The government of India and the embassy are trying to establish evacuation routes from Romania and Hungary, and teams are being positioned at the border checkpoints. In coordination with MEA teams, Indian nationals living close to the above-mentioned checkpoints in Ukraine are advised to depart first in an organized manner.
The letter was addressed to Narendra Modi, the Prime Minister of India.
"As you are aware that thousands of Indian students pursuing their medical studies are stranded in Ukraine. Most of them cannot afford the escalated costs of air travel. Even those affording cannot travel due to the adverse conditions there. Even the day-to-day rations are dwindling, creating severe hardships for their survival. Their parents here are anxious and worried about the safety and well-being of their children,"
Bhiwandi building collapse leaves seven people injured in Mumbai
Khushi Thapa, Mumbai Uncensored, 19th July 2022:
An investigation has shown that seven people were hurt when a ground plus one-story building fell in Bhiwandi on Tuesday, July 19.
The tragedy happened at 7 am at the Mobin Masters building, which was first constructed as a power loom unit with a first floor intended for residential use.
In the wee hours of Tuesday, the neighbors heard a big crash, and they immediately raced to help.
Six of the seven injured were transported and given first aid at Bhiwandi's Indira Gandhi Memorial Hospital. In a private hospital in Bhiwandi, only one man who has injuries to his abdomen and leg is still a patient.
The room next to the stated structure, which was situated in Bhiwandi's Pajarapool neighborhood next to the Nishan Hotel, was home to about 6 laborers.
The Bhiwandi Fire brigade received a report at around 7:20 am, and two fire engines immediately raced to the scene. Later, representatives of the local civic organization arrived.
The reports stated the structure was demolished and designated "hazardous" by the Bhiwandi Nizampur City Municipal Corporation (BNCMC) over five years ago. The building did, however, collapse into a nearby chawl, injuring people.
As soon as the villagers arrived at the scene, they began freeing people trapped in the rubble. Danish, a young child, was totally entangled in the rubble. They managed to pull him out safely with the help of the fire brigade.
A local expressed dissatisfaction about the lack of resources and prompt action, claiming that initially, only one ambulance was available and that it was despatched with four injured people. Later, assistance from the fire department and local authorities arrived. We enlisted the assistance of the fire department to rescue the young victim as well as another child who had sustained the most serious injuries.
Given that the structure is close to 30 to 35 years old, the required safety precautions were taken to empty it. However, unauthorized encampments encroached on the vacant land next to the structure. According to a BNCMC representative, people living in the chawls also took a life-threatening risk.
Passenger volume at Mumbai airport rises 132% in the first half of 2022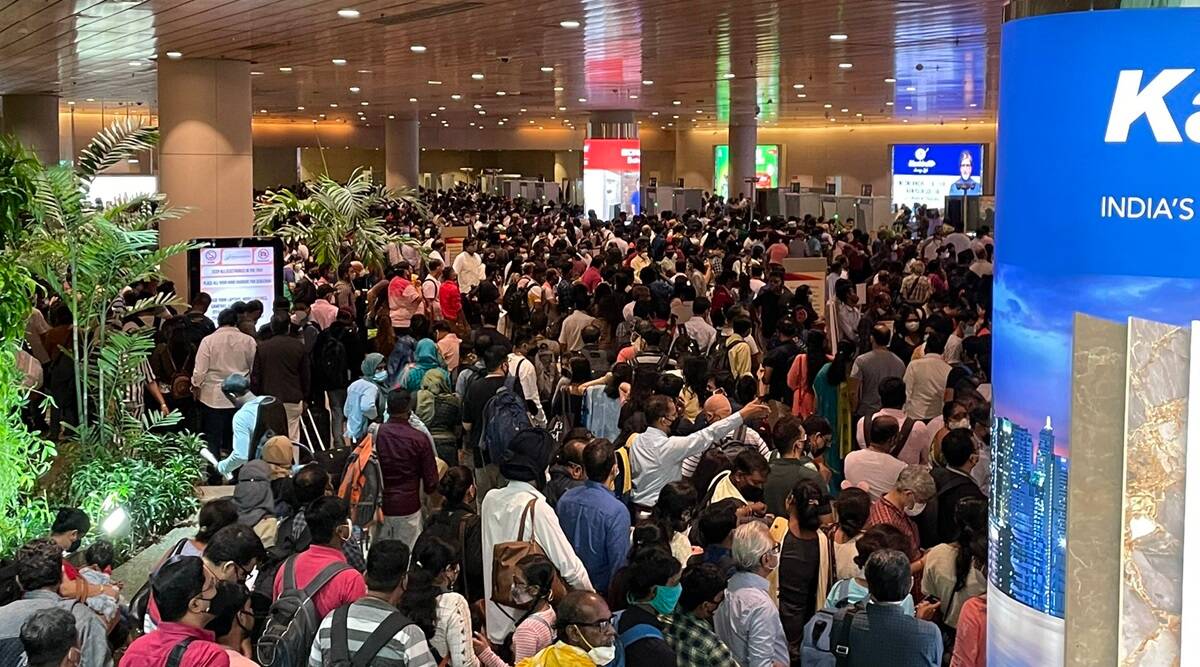 Khushi Thapa, 18th July 2022:
In the first half of 2022, passengers at Mumbai's Chhatrapati Shivaji Maharaj International Airport increased 132% year over year to 16.84 million, according to the private airport operator.
According to a statement from the Adani Group, the increase in travel demand at CSMIA (Chhatrapati Shivaji Maharaj International Airport) mainly was caused by the volume of domestic passengers as well as operations for chartered services.
The airport handled 3.48 million international passengers and 13.36 million domestic passengers over the period, representing an increase of 97% over the international passenger volume held during the same period the previous year, it added.
The airport handled about 1,30,000 flight movements between domestic and foreign destinations in the first half of the calendar year 2022, the report stated.
As per CSMIA, out of these, there were 97,460 flights on domestic lines and 24,910 flights on international routes.
According to the airport manager, Mumbai's operations on the routes Abu Dhabi, Najaf, Phuket, Warsaw, Hanoi, and Ho Chi Minh City will begin in January–June 2022. According to the statement, CSMIA assisted in transporting 17,552 passengers through the General Aviation Terminal (GA terminal), of which 15,588 were domestic passengers and 1,964 were foreign travelers.
The airport operator said Mumbai's operations on the routes Abu Dhabi, Najaf, Phuket, Warsaw, Hanoi, and Ho Chi Minh City will begin in January–June 2022. According to the statement, CSMIA assisted in transporting 17,552 passengers through the General Aviation Terminal (GA terminal), of which 15,588 were domestic passengers and 1,964 were foreign travelers.
As per CSMIA, the GA terminal saw a total of 3,432 arrivals and 3,446 departures during the first two quarters of CY 2022, which saw a total of 6,878 airplane movements.
"सालो छोड़ेंगे नहीं तुमको, काट डालेंगे" ..इर्शाद तलवार फिरवत जोर जोरात ओरडत होता..!
'रमजान' च्या नावाखाली गावगुंडांचा दहशतवाद, 'श्री रामनवमी' च्या जल्लोषात 'जय श्री राम' म्हणणाऱ्या हिंदू तरुणांवर केले तलवारीने वार..
Akash Swarup Sonawane – Mumbai Uncensored, 12th April 2022
मानखुर्द मधील स्थित २९ वर्षांचा सोनू पारसनाथ चौधरी हा आपल्या आई व लहान भावासह राहत असून केबल टीव्ही दुरुसती चा व्यवसाय करतो. दिनांक १० एप्रिल २०२२ रोजी श्री रामनवमीच्या सायंकाळी सोनू आपल्या काही मित्र नावे बाळा, नीरज, नेपाळी, गणेश व त्याचे मित्र दिलीप, कैलाश यांच्या सह श्री रामनवमी निमित्त साई भंडाऱ्याकरता सेल कॉलनी, चेंबूर येथे गेले असता तेथून परतताना जय श्री राम असे म्हणत होते.
दरम्यान रात्री १०.३० च्या सुमारास त्यांना म्हाडा कॉलनी मानखुर्द बिल्डिंग नंबर १०६ ते १०८ येथे अंदाजे २० ते ३५ वर्षीय १५  ते २० जणांच्या जमावाने अडवले व रमजान चालू असल्या कारणाने जय श्री राम म्हणण्यास रोखले. फिर्यादी सोनू व त्याच्या मित्रांनी त्यांची माफी मागून तेथून निघाले असता जमावाने शेवटच्या वाहनावरील सोनू ला खाली पाडून बांबूने आणि हाताने मारहाण करण्यास सुरवात केली. तो जोराने ओरडत असल्यामुळे त्याला वाचवण्यासाठी त्याचे मित्रही तेथे आले असता जमावाने त्यांनाही बेदम मारहाण केली. 
मारणाऱ्यांपैकी एक इसम नाव इर्शाद, ५ वा मजला, बिल्डिंग नंबर १०८, म्हाडा कॉलनी मानखुर्द येथील स्थित हा सशस्त्र असल्याचे सोनूला आढळले. इतर लोक हाताने आणि बांबूने मारत होते तितक्यात इर्शाद नामक इसमाने सोनूच्या उजव्या हातावर तलवारीने वार केले. या मारहाणीत फिर्यादी सोनूच्या तोंडावर, पायावर व खांदयावर मार लागून तो गंभीर जखमी झाला. व त्याचे मित्र गणेश व नीरज यांनाही जबर मारहाण करून जखमी केले गेले.
मारहाण सुरु असताना सदर जमावात आणखी काही जण सशस्त्र असून त्यांच्याकडेही तलवारी असल्याचे फिर्यादी सोनू ने सांगितले. तसेच इर्शाद नामक इसमाने तलवार फिरवत "सालो छोड़ेंगे नहीं तुमको काट डालेंगे" असे देखील जोर जोरात ओरडत असल्याचे सांगितले.

सदर हल्ल्यात आक्रमक जमावाला पाहून सोनू व त्याचे मित्र गणेश, नीरज हे प्राथमिक उपचार घेण्यास शताब्दी रुग्णालय येथे दाखल झाले व त्यानंतर मानखुर्द पोलीस ठाणे येथे पोलीस निरीक्षक महादेव पांडुरंग कोळी यांच्या कडे सदर घटनेबाबत तक्रार नोंदवली. आणि सदर प्रकरण अजित हणमंत घाडगे यांच्या कडे पुढील तपासासाठी सोपविण्यात आले.

देशात श्री रामनवमीच्या दिवशी हिंदूंवर असे अनेक हल्ले झाल्याचे प्रकार आढळले आहेत.