The Nightingale of India, Lata Mangeshkar dies at 92: Maharashtra to observe a public holiday to mourn her
Vishwa Thacker – Mumbai Uncensored, 6th February 2022
Loved by young and old alike, Lata Mangeshkar Ji was truly a legend. Known worldwide for her voice, her career as a singer extended for around seven decades. She has sung more than thirty thousand songs in several languages. Today, the legendary singer is no more between us. She received various awards from Bharat Ratna to Padma Vibhushan, Padma Bhusan and Dadasaheb Phalke Awards. She began singing at the early age of 13. Just at the age of 15 years, her career soared. Since then, she was a major singer in the industry.A while back she was diagnosed with COVID-19. Though her symptoms were mild, she was admitted to Mumbai's Breach Candy Hospital on 8th January considering her fragile age. She even developed pneumonia. Until Saturday, her health was improving before unexpectedly deteriorating. She was put on a ventilator when early today she succumbed to the virus at the age of 92. After the news of her death became public, Maharashtra Chief Minister Uddhav Thackeray announced February 7 as a public holiday in the state. All colleges, schools and offices will remain close to mourn her death.A funeral has been announced for her followed by a national holiday. For the next two days, the National flag will fly at half-mast.
Filmmaker Leena Manimekalai Slammed For Goddess Kali Shown Smoking In Documentary Poster, Netizens Demand Her Arrest
Under the hashtag #arrestleenamanimekalai, a poster for a documentary movie has gone viral on the internet. Indian director Leena Manimekalai's documentary's poster has come under fire for "insulting" the Hindu goddess Kali. The posters which have spread outrage among the netizens, depicted the Hindu goddess Maa Kaali holding an LGBTQIA flag and smoking a cigarette on the poster.
Siddhant Mohite, Founder of Saffron Think Tank said "How dare such people insult Hindu goddesses Maa Kaali by making such films? I demand strict action against each and every person who has been a part of this film which has been produced to create unrest amongst the Hindu Community. We demand legal action against them under section 295 A for deliberate and malicious acts, intended to outrage religious feelings of any class by insulting its religion or religious beliefs."
More than 2 Lakh 30 thousand people have tweeted demanding action under the hashtag #ArrestLeenaManimekalai on Twitter this morning.
A twitter handle named SakshiP wrote "This is blasphemy and hurts Hindu religious sentiment. Aga Khan Museum needs to take this down immediately. 
A user tweeted, "I am shocked to see this post ! From M F Hussain to u, deriving vicarious pleasure in denigrating hindu gods and goddesses has been our motto. Please pull this down as it is offensive, disgusting and affects the sensibilities of all hindus. This is psychologically traumatic too."
Another twitter user urged the Home Minister Amit Shah and PMO India to take appropriate action.
Students of Churchgate's HR college do yoga in front of iconic locations of Mumbai, bring amusement to onlookers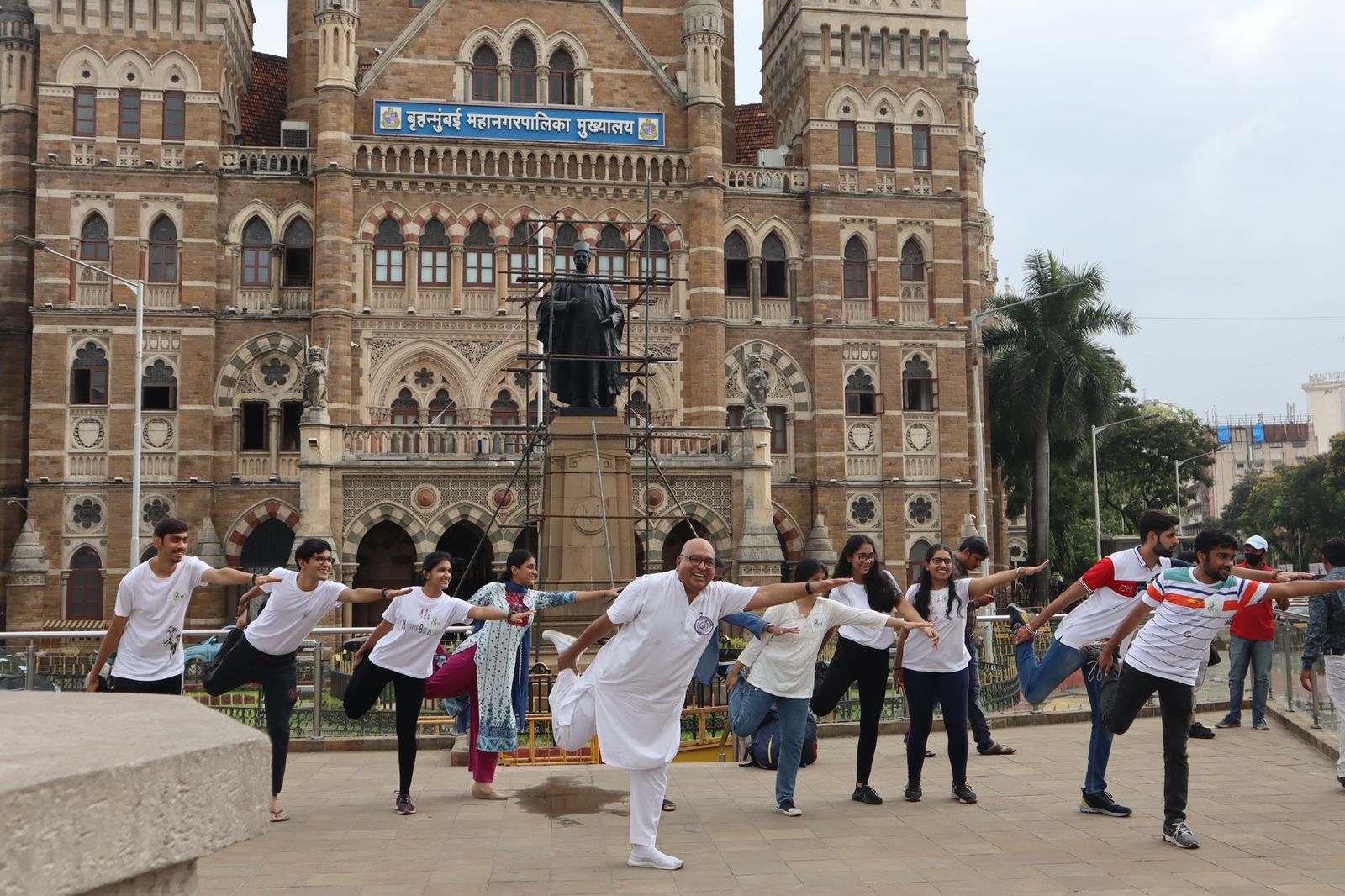 Mumbai: SYNC Club of H.R. College in collaboration with Kaivalyadhama conducted a Photoshoot while doing Yoga Asanas at some of the most iconic places in Mumbai such as CSMT Selfie Point, The Asiatic Society of Mumbai, BSE (Bombay Stock Exchange) and Kala Ghoda, attracting the eyeballs of many pedestrians walking the streets.
This activity was done to celebrate the International Day of Yoga on 21st June 2022, and was an initiative towards promoting Yoga and spreading its awareness among the masses of Mumbai. SYNC is the Fitness Club of H.R. College and aims to include yoga and all forms of fitness in one's daily life.
Later the students along with a certified yoga trainer from Kaivalyadhama, Anvay Dixit visited the Angel Xpress Foundation (Colaba), a Mumbai-based Non-Profit Organization working for the education of underprivileged children. The HR college students then interacted with the children in a fun way and taught them some easy-to-do yoga poses along with explaining the significance behind each Asana in one's life. The day ended on a joyous note with sparking smiles on everyone's faces.
Prof. Dr. Pooja Ramchandani, Principal of H.R. college said, "The art of practicing yoga helps in controlling an individual's mind, body and soul. It brings together physical and mental disciplines to achieve a peaceful body and mind; it helps manage stress and anxiety and keeps you relaxing. It also helps in increasing flexibility, muscle strength and body tone. Regular practice of yoga helps improve respiration, energy and vitality."
Pictures of the students doing asanas in various locations are doing the rounds on social media, and has been applauded by many as a quirky way to promote Yoga in an always hustling city like Mumbai.
Qutub Minar Excavation Reports Denied By the Ministry
Following the Gyanvapi Mosque survey reports said that the government had asked the Archaeological Survey of India to conduct excavations to ascertain the builder of the minaret.
Khushi Shah – Mumbai Uncensored, 23rd May 2022
Union Minister of Culture, GK Reddy has denied media reports that his ministry has asked the Archaeological Survey of India (ASI) to conduct an excavation at the Qutub Minar complex to ascertain the facts behind its origin. "No such decision has been taken,"
After the Gyanvapi Mosque survey, a controversy erupted over Delhi's Qutub Minar. Some believe it was erected as a tower of victory to signify the beginning of the Muslim rule in India. Others say it served as a minaret to the muezzins to call the faithful to prayer. Dharamveer Sharma, the former Regional Director of the Archaeological Survey of India (ASI), recently claimed that Qutub Minar was actually Surya Stambh a "sun tower"
Dharamveer Sharma is one of the most respected archaeologists in India. He has served as Superintending Archaeologist in the Delhi division of ASI three times. As per a report in Hindi daily Jagran, he had worked extensively on the conservation of Qutub Minar and went inside the Minaret multiple times. He said he had seen Devanagari writing in the inner parts of the minaret. Every year on June 21, he takes astronomers to the complex.
History states that the Qutub Minar was built in the beginning of the 13th century by Quṭb al-Din Aibak and completed by his successor, Iltutmish. He said it was erected by Emperor Vikramaditya, not the Mughals. He presented a 20-point fact sheet to prove his theory that Qutub Minar was an observatory.
The origins of Qutab Minar are shrouded in controversy. According to certain groups, Qutub Minar was earlier a site of Hindu and Jain temples.
Two weeks ago, members of a right-wing group recited the Hanuman Chalisa outside the Qutub Minar complex and staged a protest demanding that the iconic monument be renamed 'Vishnu Stambha'.
International working president of United Hindu Front, Bhagwan Goyal, alleged that the Qutub Minar is the 'Vishnu Stambha', which was built by the "great king Vikramaditya". "But later, Qutubuddin Aibak claimed credit for it. There were 27 temples in the complex and those were destroyed by Aibak. Proof of all this is available as people can find idols of Hindu gods kept in the Qutub Minar complex. Our demand is that Qutub Minar should be called as Vishnu Stambha," Culture Secretary Govind Mohan had visited the monument on Saturday and had spent over two hours at the monument along with a team of senior officials and historians to discuss aspects related to the upkeep of the Qutub Minar complex
Recently, it was reported that last month a letter was written by the National Monument Authority to the ASI on moving two idols of the Hindu deity Ganesha out of the complex, "owing to their disrespectful placement", and the idols were relocated to Quwwat-ul-Islam mosque.National Monuments Authority chief Tarun Vijay, who is also a member of the Bharatiya Janata Party and a former member of the Rajya Sabha, had said that the placement of the idols was disrespectful. "I visited the site several times and realised that the placement of the idols is disrespectful," he said. "They come near the feet of the mosque visitors."Delhi court had last month directed the ASI not to remove two idols of Lord Ganesha from the Qutub Minar complex till further directions. A plea was filed in a Delhi Court against the removal of the idols by advocate Hari Shankar Jain on behalf of Jain deity Tirthankar Lord Rishabh Dev claiming that 27 temples were partly demolished by Qutubdin Aibak, a general in the army of Mohamad Gauri, and Quwwat-ul-Islam Mosque was raised inside the complex by reusing the material. The court had directed the Archaeological Survey of India to maintain a status quo till further hearing of the case. It is also an established fact that Quwwat-Ul-Islam Masjid was built atop existing temples but the property was not being used for any religious purposes and no prayers were being offered here.
The court had observed that wrongs may have been committed in the past, "but such wrongs cannot be the basis for disturbing peace of our present and future"