China enrolls 1st human fatality due to Monkey B infection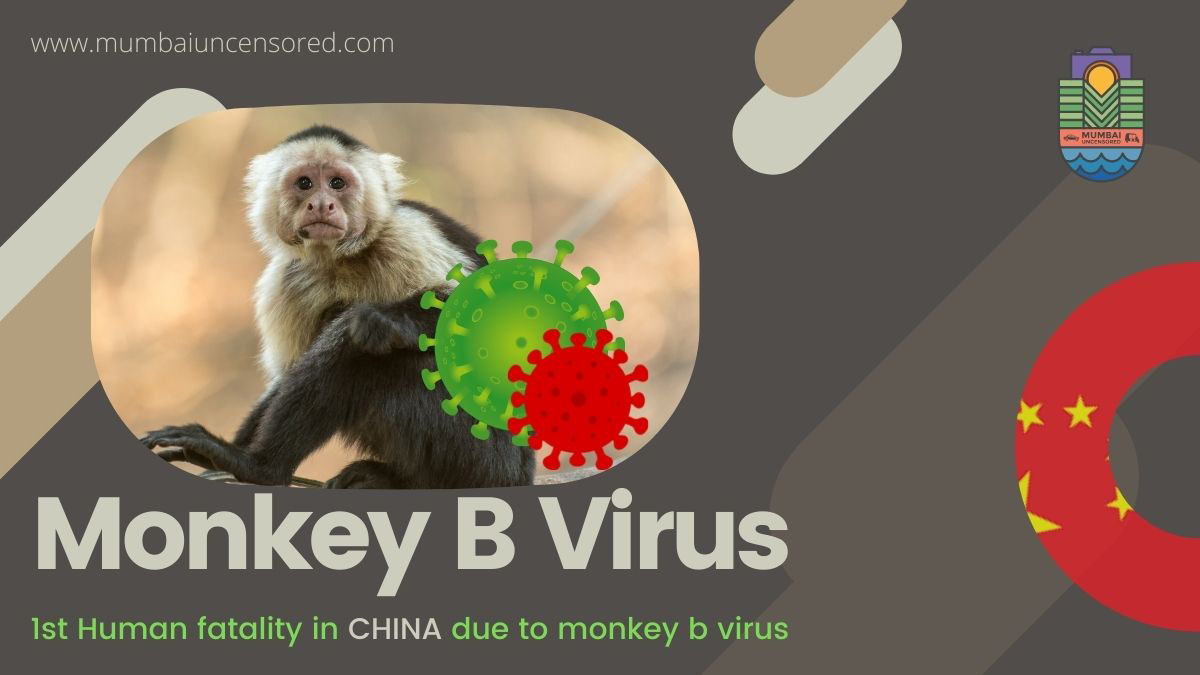 Manasa Maddila, Mumbai Uncensored, 27th July 2021:
A Beijing-based vet, who was declared as China's first human contamination case with Monkey B Virus (BV), has kicked the bucket from the infection. However, his nearby contacts are protected from it, for the present, Global Times announced.
The 53-year-old male worked for an organisation exploring non-human primates. He started showing side effects of queasiness and heaving, a month after he examined two dead monkeys in the beginning of March. The vet looked for treatments in several hospitals, but eventually died on May 27. Reports conducted by the Chinese Centre for Disease Control and Prevention, said that there were no deadly or even clinically obvious BV contaminations in China earlier. Experts had gathered the cerebrospinal liquid of the veterinarian in April and distinguished him as positive for BV, yet tests of his nearby contacts came out negative.
The virus first broke out in 1932, is an alphaherpesvirus enzootic in macaques of the genus Macaca. It very well may be sent through direct contact and trade of real discharges; it also has a casualty pace of 70-80 percent.  Studies suggested that BV in monkeys may represent a possible danger to Laboratory workers and veterinarians since they are exposed to monkeys occasionally; it is important to wipe out BV during the advancement of explicit microorganism free rhesus settlements and to fortify observation in research centers that work with macaques in China.
Marburg Virus kills two people, the first cases confirmed in Ghana.
Khushi Thapa, Mumbai Uncensored, 21st July 2022:
Ghana officially confirmed two cases of the Marburg virus, a highly contagious disease comparable to Ebola, on Sunday, after two patients who subsequently died tested positive for the virus earlier this month.
On July 10, tests carried out in Ghana revealed positive results; however, the World Health Organization stated that the cases had to be confirmed by a laboratory in Senegal.
Ghana Health Service (GHS) released a statement saying that additional testing at the Institute Pasteur in Dakar, Senegal, "has validated the results."
Despite the fact that none of the contacts has yet shown any symptoms, GHS is taking steps to lessen the chance of the virus spreading, including isolating all of them.
The Marburg virus has just recently spread to West Africa twice. Guinea reported the region's first incidence of the virus last year, but no other cases have been found.\
"(Ghanaian) health authorities have responded swiftly, getting a head start preparing for a possible outbreak. This is good because, without immediate and decisive action, Marburg can easily get out of hand," said Matshidiso Moeti, WHO Regional Director for Africa.
Wimbledon 2022 Women Singles Final Highlights: Elena Rybakina defeats Ons Jabeur 3-6, 6-2, 6-2, clinches Maiden Wimbledon Title
Shobit Chandola, Mumbai Uncensored, 16th July 202:
On 9th July, 2022 the Wimbledon got its winner in the Women's Singles with none other than Russian born Kazak, Elena Rybakina who defeated the Tunisia's Ons Jabeur with 3-6, 6-2, 6-2. Wimbledon this year, for the first time in a while, witnessed 2 finalists seeking their maiden title. What could be termed as unpredictability is that the fan's favourite contenders were all eliminated before. While the Record 7 Wimbledon title winner Serena Williams was shocked by H. Tan in the 1st Round, it was Paula Badosa underperforming in the Round of 16 and the astonishing defeat of the Former Wimbledon Champion Simona Halep in the Semifinal.That too came from the end of Elena Rybakina who vanquished Simona in straight sets 6-3, 6-3.
As could be seen in the epic thriller, the first set was won by Ons Jabeur whose drop shots and forehand made Rybakina go for many unforced errors. But post conceding the 1st set, Rybakina changed the gear for all the trailing in 1st set and ensured enough aces and volley to make it 6-2 in the 2nd set for 1-1 tie. For the 3rd set, Elena led with 2-0 but got holded by Jabeur to make it 3-2 but outshined Jabeur with a 5-2, finally breaking the latter's serve in the decider.
Not to forget the incredible journey of Ons Jabeur so far. It was the World No 2 Ons Jabeur who became the first Arab and african women to become the Wimbledon finalist but wasn't at her best to defeat the 17th seed Elena Rybakina who switched her nationality to Kazakhstan in 2018 (owing to the lack of funding and infrastructure for her game) before representing Russia. Just like Elena who wrote the history as the first kazakh to be claimed as winner in the Wimbledon, it could have been the same to Ons too being the first Arab and African women.Though the losing cause made the Ons emotional, it was her grit, determination and the post match interview which reflected her strong character.
In the Post Match Interview, the Introvert Champion Elena had her say on the Wimbledon title. She stated "I was super nervous before the match, during the match and I'm happy it's finished, to be honest. Really I have never felt something like this. I want to thank the crowd for the support, it was unbelievable these two weeks," the 23-year-old said. But also I want to congratulate Ons for a great match and everything you have achieved. I think you are an inspiration for everybody. You have an amazing game. We don't have someone like this on tour and it is a joy to play against you. I ran so much, I don't think I need to do fitness anymore". With this title, Elena became the youngest player to lift the Venus Rosewater Dish since 2011.
India's first Monkeypox case identified in Kerala
Khushi Thapa, Mumbai Uncensored, 15th July 2022:
India's first monkeypox case was confirmed in the Kollam District of Kerala on Thursday. A 35-year-old man who came from UAE was diagnosed with the disease and has been currently admitted to the Thiruvananthapuram medical college.
After developing fever and other symptoms, he first obtained medical advice from a private hospital in Kollam. He himself informed that one of his close friends in the UAE had been diagnosed with monkeypox.
The Centre assigned a high-level multidisciplinary team to Kerala on Thursday to work with state authorities to undertake public health measures following the discovery of the country's first verified case of monkeypox in the Kollam district.
Monkeypox cases have been found in numerous locations across more than 50 nations since January of this year. According to the Minister, samples were examined at the National Institute of Virology in Pune, where the results of the testing confirmed the case in India.
According to Kerala Health Minister Veena George, the infected person is believed to have come in contact with another confirmed case in the emirates. "The confirmed case, a native of Kollam, has been isolated after he developed symptoms of the disease. He has been admitted to an isolated facility at the Government Medical College in Thiruvananthapuram. Eleven persons, who have been in touch with the infected person on his return from the UAE on July 12, have been identified as contacts and are under observation," George said.