How much did India spend on health when the pandemic struck?
The Covid-19 pandemic struck the world, including India, by surprise last year. The treatment protocol for the unknown disease was unknown. Most countries lacked masks, personal protective equipment (PPE) kits, and diagnostic kits, as well as hospital beds, oxygen units, and ventilators, which would serve as the first line of defence.
A year later, as India faced its second wave of infections, the world's most serious in terms of daily cases to date, the supply shortages only grew worse. All appeared to be in short supply, from research kits to hospital beds, oxygen to ventilators, medications to ambulances.
Was India unprepared for the disaster? Examining government spending on health from 2019-20 to 2021-22 (for both the Union and the states) is a good way to address this issue.
The health-care spending of the Union government.
Despite the fact that the fiscal year 2020-21 has come to a close, we still do not have the final figures on government spending. Provisional spending figures from the Controller General of Accounts (CGA), which is part of the Ministry of Finance, are what we have so far.
The headline figures are underwhelming. The ministry of health and family welfare invested 64257.8 crore in 2019-20. The 2020-21 budget projections (BE), which were introduced before the pandemic reached India, only increased this amount by 4.4 percent. According to the updated projections (RE) provided with the 2021-22 Budget, health expenditure in 2020-21 will be increased to 82,928.3 crore.
If the CGA figures are to be believed, 2,234.4 crore, or around 3% of the revised estimate, will go unused. The ministry of health's overall allocation in 2021-22 (BE) is lower than in 2020-21 (RE).
Spending on health care by state governments
Health spending data for 24 states is available in the Centre for Monitoring Indian Economy (CMIE) database from 2019-20 to 2021-22. Unlike the federal government, there is no equivalent of the CGA that keeps track of state government spending.
These states spent Rs.1.34 lakh crore on health in 2019-20. (medical and public health under social services). According to budget projections, this was projected to rise to 1.64 lakh crore in 2020-21. According to the updated estimates reported in 2021-22, this figure was revised to 1.69 lakh crore. In2021-22, these 24 states are projected to spend 1.9 lakh crore on health.
Only when the final figures are released in 2021-22 can we know how much money will be spent in 2020-21. When it comes to taxes and capital investment, states outspend the Union.
Health-related capital expenditures
The trend in the Union government's capital spending on health, which will include the construction of new health facilities, is telling. In 2019-20, it was a pitiful 1666.9 lakh. It was reduced to 1065.7 crore in the 2020-21 BE numbers, but it was revised upwards to 4233.5 crore in the 2020-21 RE numbers. According to preliminary estimates from the CGA, only 3586.99 crore (or 85 percent of the RE) had been invested by March.
The 98 percent utilisation of tax spending, which accounted for 96 percent of the ministry's total expenditure, drives 97 percent of the ministry's total expenditure. Recurring costs, such as paying wages, are covered by revenue spending. The capital spending figure for 2021-22 BE is smaller than both the RE and preliminary projections for 2021.
The capital spending on health in the 24 states for which data is available is higher than the national average. In 2019-20, they invested Rs 12256.7 crore. The BE number for this head in 2020-21 was 20787.2 crore. However, in the 2020-21 RE figures, this was reduced to 20177.4 crore. Owing to the economic turmoil caused by the pandemic, many analysts believe that states have been forced to cut back on capital investment. These states' capital expenditure health in 2021-22 is estimated to be 29872.7 crore.
The overall increase in capital expenditure on health after the pandemic hit India is abysmally poor when read with the shortfall of 600 in states' capital spending as per 2020-21 BE and RE figures. It's no surprise that India's health system is on the verge of collapsing as the second wave sweeps the country.
Not everyone is to blame for the low health-care spending. In2021-22, some states spent a higher percentage of their budget on health than others. According to the RE estimates for2021-22, Delhi spent 12.4 percent of its budget on health, more than five percentage points higher than Assam, the next largest state that spent the most on health. The Union government, on the other hand, allocated 2.4 percent of its budget to the Ministry of Health.
Telangana is the only state among the 24 for which CMIE data is available that spent less than this amount, at 2.39 percent. Twelve states invested more than 5% of their spending on health. Another nine states spent between 4% and 5% of their budget on health.
Tamil Nadu becomes the 1st state to have its own genome sequencing lab.
Manasa Maddila, Mumbai Uncensored, 6th January 2021:
The whole-genome sequencing (WGS) laboratory of the State Public Health Laboratory (SPHL) has joined the Indian SARS-CoV-2 Genomics Consortium (INSACOG).
Health Minister Ma. Subramanian said there could have been no other State in India that has set up a genome sequencing lab all alone.
In spite of the State having its own genome sequencing lab that was set up at an expense of 4 crores, and initiated on September 14, it was sending tests to labs in Bengaluru, Hyderabad, and Pune that are important for INSACOG for affirming the sequencing of the Omicron variation.
The Indian SARS-CoV-2 Genomics Consortium (INSACOG) has perceived Tamil Nadu's State Public Health Laboratory to direct entire genome sequencing, which implies the state will don't really need to send tests to labs in Pune, Bengaluru, or Hyderabad to affirm variations, like Delta and Omicron.
Ma Subramanian remarked, "The state's public health lab at the Directorate of Medical and Rural Health Services, which is overseen by CM MK Stalin, has set up equipment worth Rs 4 crore for this purpose".
A senior authority of the Department of Public Health and Preventive Medicine said that around 150 samples can be tried at the same time at the lab and requires no less than five days to get the outcome.
Delhi And Mumbai See Spike In Covid Cases; Yellow Alert Issued in national capital
Aditya Dwivedi, Mumbai Uncensored, 29th December 2021:
The highest COVID-19 cases recorded in the last 6 months have shocked the nation and the authorities. India's overall tally of COVID-19 cases saw a tremendous increase by 44% from Tuesday with 9,195 cases.
Delhi tops the list with 238 fresh cases of the highly transmissible Covid-19 variant Omicron and the positivity rate rose to 0.89 on December 29th. As a result, a Yellow Alert has been issued in Delhi for the prevention of the further spread of the virus in the region.
During the briefing, CM Kejriwal said, "As the COVID-19 positivity rate has been above 0.5 percent for the past few days, we are enforcing Level-I (Yellow alert) of the Graded Response Action Plan.
He added "In the past few days, the number of cases in the capital city and the country is rising. One needs to not worry but exercise caution. Our government is well prepared. The cases reported are mild. Everyone needs to make sure to wear masks and ensure proper social distancing"
Schools, colleges, theatres, entertainment parks, spas, and gyms have been closed till further orders. Public transports, restaurants (can only operate between 8 am-10 pm) are advised to function with 50% of the total capacity while taking proper measures to avoid the spread of the virus.
The timing of the night curfew has also been changed from '11 pm-5 am' to '10 pm-5 am'.
A complete halt on social, political, religious, and entertainment gatherings has been imposed by the government.
Gathering in weddings and funerals has been limited to only 20 people while the banquet halls are not allowed to host weddings or any function and remain shut till further orders. Grade-1 officers in the Delhi Government offices will be required to be present with 100% capacity. Meanwhile, the private firms are advised to call 50% of the staff between 9 am-5 pm.
Mumbai sees a sudden surge in covid 19 cases with 1,333 cases on Tuesday, the highest since last 7 months. Government officials expressed their concerns over the issue and gave an indication of imposing stricter restrictions if the cases continue to rise.
Maharashtra Cabinet Minister Aaditya Thackeray stated, "Last week we were reporting 150 cases per day, now we are reporting around 2000 cases per day. Mumbai may cross 2000 per day cases today"
China enrolls 1st human fatality due to Monkey B infection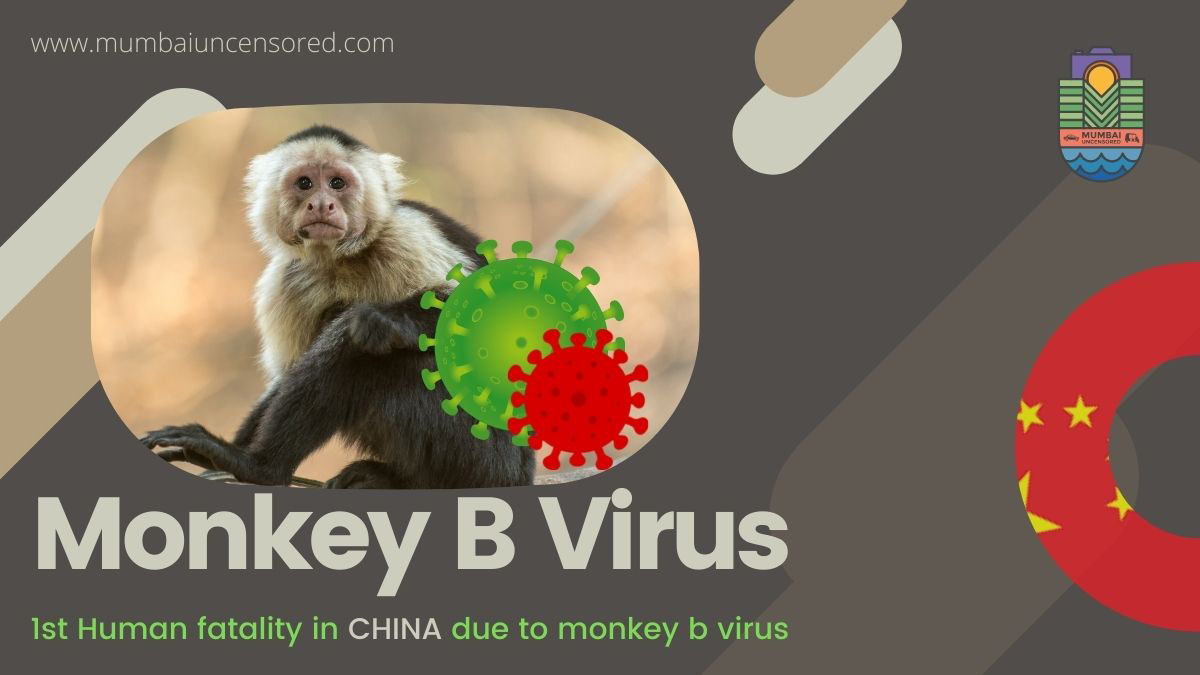 Manasa Maddila, Mumbai Uncensored, 27th July 2021:
A Beijing-based vet, who was declared as China's first human contamination case with Monkey B Virus (BV), has kicked the bucket from the infection. However, his nearby contacts are protected from it, for the present, Global Times announced.
The 53-year-old male worked for an organisation exploring non-human primates. He started showing side effects of queasiness and heaving, a month after he examined two dead monkeys in the beginning of March. The vet looked for treatments in several hospitals, but eventually died on May 27. Reports conducted by the Chinese Centre for Disease Control and Prevention, said that there were no deadly or even clinically obvious BV contaminations in China earlier. Experts had gathered the cerebrospinal liquid of the veterinarian in April and distinguished him as positive for BV, yet tests of his nearby contacts came out negative.
The virus first broke out in 1932, is an alphaherpesvirus enzootic in macaques of the genus Macaca. It very well may be sent through direct contact and trade of real discharges; it also has a casualty pace of 70-80 percent.  Studies suggested that BV in monkeys may represent a possible danger to Laboratory workers and veterinarians since they are exposed to monkeys occasionally; it is important to wipe out BV during the advancement of explicit microorganism free rhesus settlements and to fortify observation in research centers that work with macaques in China.