"Uncover the Secrets to a Better Love Life with Yashraj Khanna, the Indian Dating Guru"
DVLS Pranathi, Mumbai Uncensored, 2nd February, 2023:
If you're feeling stuck, frustrated, worried, and discouraged about your love life, and you are thinking of getting a dating coach, or your just trying to figure out what dating is for you…then this article is your sign. You may have been through many phases in life where a relationship may not have worked out, or dating apps did not help you meet the right people let alone any, leaving you confused, helpless, and left out. But don't worry; I am here with a solution to your problem.
Mumbai Uncensored recently interviewed Yashraj Khanna, a dating coach for men, to understand how men can make dating work for them and find the women of their dreams. He has been coaching singles on how to find love online and offline for over four years. Within three years of his own journey, he became an International Playboy, having dated 100s of women nationally and internationally. He has a company of his own called the "Indian Dating Guru" with both Hindi and English channels with over 150K followers on social media. He has helped thousands of men, in India and overseas to figure out their dating lives. Here is a summary of our conversation with him.
Q. Thank you so much for doing this with us! Before we dig in, our readers want to get to know you a bit more. Can you tell us a bit about your "backstory"? For how long have you been working on this startup?
"It has been almost four years now. Back then, I did not intend to turn this into a business. However, I realized that more and more people are struggling with dating and relationships and I couldn't help myself from fixing that problem. I never had a business plan because intimate relationships are priceless. Life feels incomplete without the union of the masculine and the feminine."
Q.Who or what was your inspiration?
"Honestly, I did not have a role model. I wish I did. I had to create an imaginary role model for myself, which was the best version of myself, and I strive every day to make progress in getting there eventually, and I'm optimistic that one day I will. As I started improving myself, going out more, and meeting more people, I realized that there are many amazing souls out there, both men and women, who were looking for a compatible and charismatic partner, but lacking the right skill set and mindset to find them. I felt that it was an absolutely heinous crime that so many people are struggling with relationships, whether it's getting dates, long-term relationships, or marriage. But I could completely relate because I used to struggle at one point in my life until I decided to transform myself. The least I could do is help people present themselves as interesting individuals and strike the right chord with those they romantically desire."
Q.How has your journey so far been?
"I fell into relationship coaching by chance, honestly. As I started getting better with women and having beautiful women around my arms whenever I went out publicly, it intrigued other men, and they approached me for advice. And I started having fun helping them transform themselves since most men are clueless about attracting women. They have had wrong conditioning about this aspect since childhood. Not to mention most men have low confidence issues and boring personalities. Even good-looking men struggle because they are clueless about making women romantically interested in them. Equally, with time women also started sharing their concerns about not finding interesting men to get into relationships with. That's when I realized that I have a knack for helping people out fix their personal lives. So it gives me great satisfaction that's priceless when I see my clients transform for the better and get the women of their dreams."
Q.What is your vision?
"My ultimate vision is to ensure that every man on this planet gets into a relationship with a woman he desires. I don't want to see sad, depressed, and lonely men anymore. I want them to have a love life that's better than fairy tales, and trust me, real life can be much better than the fantasies that most men have about relationships. It's just a skill set that anyone can learn. In the modern day and age, It's a cold hard truth that only the top 15% of men are being desired by all women, since most women are financially independent and are not willing to compromise to settle with so the called "Average man". Being average isn't good enough anymore. And it's not rocket science to get into the top 15%. I cracked that code, and all my clients are cracking it too. The end goal is to get men and women happily united. Since there's already so much division in the world, let's start by creating happy couples and relationships."
Q. What were the challenges faced by You?
"Professionally, it's disappointing to see that even though most men are struggling with dating and relationships and could use help, they are happy to live in their comfort zone and are not receptive to working on themselves to improve their dating lives and relationships. They want to stick to the easy (e.g., watching dirty videos on the internet instead of interacting with women in real life or waiting for their parents to find them a bride who is not up to their standards). At this rate, more people are going to live and die alone and never experience how magical relationships can be. If only men were more receptive to change, I could transform them quickly, but it just takes time to accept that they need help."
Q. Are you satisfied with your growth? Or Are you satisfied with what you have achieved?
"I'm very very satisfied considering how fast my clients are getting results. It gives me immense pride to see them work on themselves, make progress and end up with beautiful women they desire, but I won't be completely satisfied unless every man and woman on this planet has the relationship of their dreams."
Q. With barely any dating coaches in India, How do you deal with competition?
"I have no competition, and such thoughts don't even cross my mind. I have my blinders on, and my focus is to transform men so that they get the dating life they've never dreamt about. Because real life can be much better than the life of your dreams."
Q.Do you think you have been able to make an impact on your targeted audience?
"My clients are like my brothers. We're one family, and the impact that I've had has been explosive. This brotherhood will grow and take over the world; it's just a matter of time."
Q.How did you come up with this business idea?
"When it comes to my personal journey, I initially faced challenges. I was morbidly obese(100kg+), would tremble around women, and didn't know what to say. I initially faced Countless rejections by women, but now I'm the one making rejections because I have so many women who are eager to meet me, and I wouldn't mind meeting them too, but there's not enough time. Now women tremble around me because they find me irresistible. Men wanted to get to where I am today, and all I did was guide them, and they started paying me huge sums of money for consultations. I work with students, professionals, business tycoons, celebrities, and high-net-worth individuals, to name a few. Unfortunately, I can't disclose any names because it's my imperative to respect their privacy."
Q. What would you like to say to the youth? How would you like to inspire them?
"You get only one life, and you're getting closer to your grave every moment. act now and strive to become better each day. Stop being slaves to the media, watching dirty videos and movies, and scrolling social media mindlessly. Instead, put in the work to get your health, finances, and relationships together. And I'm here for each and every one of you if you need me. Just reach out!"
Thank you for these fantastic insights. We greatly appreciate the time you spent on this.
For more insights and guidance from The professional himself, Yashraj, do not hesitate to contact him on social media.
Instagram- @indian.dating.guru
Website- https://indiandatingguru.net/
Personal Instagram- @The.Yash.K
Aditya Bharti : Face behind GoCleaners and GoRealtors
Khushi Thawani, Mumbai Uncensored, 18th January, 2023:
As Aristotle said, Excellence is not an act but a habit. It involves a lot of effort, tenacity, research, sacrifice, and, most importantly, passion for the task at hand. Although the founder of GoCleaners, Aditya Bharti, had never heard of this proverb, he was working on it as though it were his personal mission statement.
Initially, he didn't launch with a significant setup. He also had no idea that what he was about to do in the home cleaning services industry would one day be so intrusive that it would upend some of the established businesses in hyperlocal markets. This is especially true given that he had modest beginning and lacked the high-end funding that his rivals did.
This business was founded by Aditya 1 and a half years back and he has already achieved wonders in the sector. He was later joined by two co-founders Anup and Shivam. Aditya was working at a real estate company at the time, and Anup was employed for the renowned Urban Company, a provider of home cleaning services. Shivam wasn't working at the time. They weren't your usual IITians or IIM grads who were surrounded by money and plethora of opportunities. But hey, they already knew that. They therefore already began looking for that initial pool of capital.
GoCleaners was Aditya's idea; it was memorable and expressed exactly what they wanted to convey to any visitors to their website. They put together roughly Rs. 1 lakh and set out on their voyage, learning more about where life would lead them little by little. Aditya used to receive the orders, while Shivam and Anup used to deliver the jobs.
From Anup's background, they were aware that although the businesses were benefitting from the services provided, the service providers who worked with them were not really pleased with their policies. The service providers frequently encountered a lack of collaboration between the personnel overseeing them, and had to pay for their credit in order to receive a work, and occasionally had to foot the bill for the chemicals. They had a lot of room to grow and explore in an untapped sector. Aditya and his team, like the majority of disruptors, struggled to keep up with the speed of funding needed because they were aware of the issue but lacked the resources to address it.
They were running out of labour, equipment, and chemicals on a regular basis. H "Many people came up with different psychologies and ideas but I was sure of what I had to do to execute and push things further ahead. I had a clear image built up in my head. I sincerely recommend anyone who wishes to start out on their own – first research the problem and start developing the best solution for it. Don't jump in blind, your path will then be laden with unforeseen problems and under-researched quick fixes which is a sure-shot recipe for failure."is parents were quite encouraging. In order to keep them back on course and make sure they didn't veer off the course they had set for themselves, his mother loaned him every piece of jewellery she owned.
The encouragement from his mother worked. They got started in a way that established the bar for success. Anup and Shivam, the team's co-founders, are joined by 16 other members so far, all of them are specialists who complete tasks. They have successfully impacted the important Mumbai suburbs of Andheri, Goregaon, and Vile Parle, among others, and receive a steady stream of orders from these areas, the majority of which are client references.
Aditya is aware that this is only the start. With such a strong team, they still have more benchmarks to reach, and Aditya hopes to create a unified platform for all varieties of professional services.
He acknowledges that the travel was a crucial period in his life and that it kept him inspired to continue. Every day was different; some were really productive, while others were the pits. To manage both the tasks and obligations of his profession, he first had to make adjustments to himself and his daily schedule. When Aditya thinks back today, he recalls the period when he had considered quitting school, but his friend Shivam and his family encouraged him, giving him hope that he might achieve his goal.
Aditya responds to the question, what is the one thing you remember doing that you realise was the most crucial step of your journey? replying "Many people came up with different psychologies and ideas but I was sure of what I had to do to execute and push things further ahead. I had a clear image built up in my head. I sincerely recommend anyone who wishes to start out on their own – first research the problem and start developing the best solution for it. Don't jump in blind, your path will then be laden with unforeseen problems and under-researched quick fixes which is a sure-shot recipe for failure."
Not only this the start-up king has invested himself in yet another idea called Go realtors, where he and his team help sellers, buyers and investors with the best possible tips and provide other services related to real estate, considering Aditya's prior experience in the same sector. He seems unstoppable with the ideas and his 'ace it all' mindset.
Bhiwandi building collapse leaves seven people injured in Mumbai
Khushi Thapa, Mumbai Uncensored, 19th July 2022:
An investigation has shown that seven people were hurt when a ground plus one-story building fell in Bhiwandi on Tuesday, July 19.
The tragedy happened at 7 am at the Mobin Masters building, which was first constructed as a power loom unit with a first floor intended for residential use.
In the wee hours of Tuesday, the neighbors heard a big crash, and they immediately raced to help.
Six of the seven injured were transported and given first aid at Bhiwandi's Indira Gandhi Memorial Hospital. In a private hospital in Bhiwandi, only one man who has injuries to his abdomen and leg is still a patient.
The room next to the stated structure, which was situated in Bhiwandi's Pajarapool neighborhood next to the Nishan Hotel, was home to about 6 laborers.
The Bhiwandi Fire brigade received a report at around 7:20 am, and two fire engines immediately raced to the scene. Later, representatives of the local civic organization arrived.
The reports stated the structure was demolished and designated "hazardous" by the Bhiwandi Nizampur City Municipal Corporation (BNCMC) over five years ago. The building did, however, collapse into a nearby chawl, injuring people.
As soon as the villagers arrived at the scene, they began freeing people trapped in the rubble. Danish, a young child, was totally entangled in the rubble. They managed to pull him out safely with the help of the fire brigade.
A local expressed dissatisfaction about the lack of resources and prompt action, claiming that initially, only one ambulance was available and that it was despatched with four injured people. Later, assistance from the fire department and local authorities arrived. We enlisted the assistance of the fire department to rescue the young victim as well as another child who had sustained the most serious injuries.
Given that the structure is close to 30 to 35 years old, the required safety precautions were taken to empty it. However, unauthorized encampments encroached on the vacant land next to the structure. According to a BNCMC representative, people living in the chawls also took a life-threatening risk.
Passenger volume at Mumbai airport rises 132% in the first half of 2022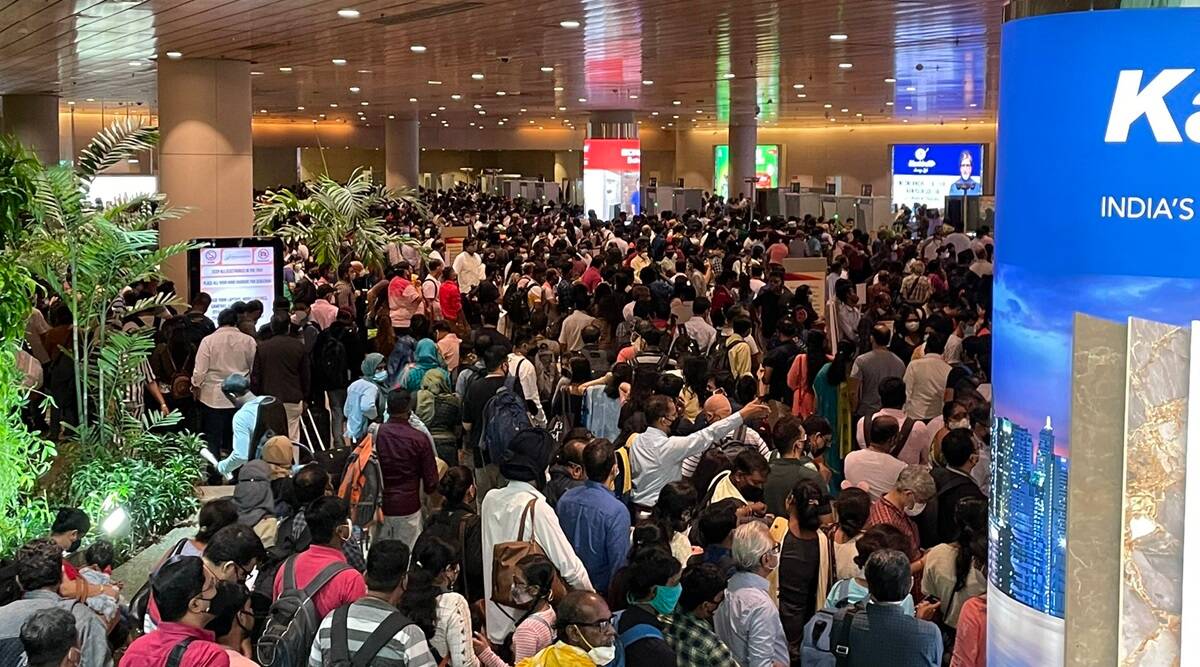 Khushi Thapa, 18th July 2022:
In the first half of 2022, passengers at Mumbai's Chhatrapati Shivaji Maharaj International Airport increased 132% year over year to 16.84 million, according to the private airport operator.
According to a statement from the Adani Group, the increase in travel demand at CSMIA (Chhatrapati Shivaji Maharaj International Airport) mainly was caused by the volume of domestic passengers as well as operations for chartered services.
The airport handled 3.48 million international passengers and 13.36 million domestic passengers over the period, representing an increase of 97% over the international passenger volume held during the same period the previous year, it added.
The airport handled about 1,30,000 flight movements between domestic and foreign destinations in the first half of the calendar year 2022, the report stated.
As per CSMIA, out of these, there were 97,460 flights on domestic lines and 24,910 flights on international routes.
According to the airport manager, Mumbai's operations on the routes Abu Dhabi, Najaf, Phuket, Warsaw, Hanoi, and Ho Chi Minh City will begin in January–June 2022. According to the statement, CSMIA assisted in transporting 17,552 passengers through the General Aviation Terminal (GA terminal), of which 15,588 were domestic passengers and 1,964 were foreign travelers.
The airport operator said Mumbai's operations on the routes Abu Dhabi, Najaf, Phuket, Warsaw, Hanoi, and Ho Chi Minh City will begin in January–June 2022. According to the statement, CSMIA assisted in transporting 17,552 passengers through the General Aviation Terminal (GA terminal), of which 15,588 were domestic passengers and 1,964 were foreign travelers.
As per CSMIA, the GA terminal saw a total of 3,432 arrivals and 3,446 departures during the first two quarters of CY 2022, which saw a total of 6,878 airplane movements.