Mandaviya's meeting to prepare for the surge in COVID cases again.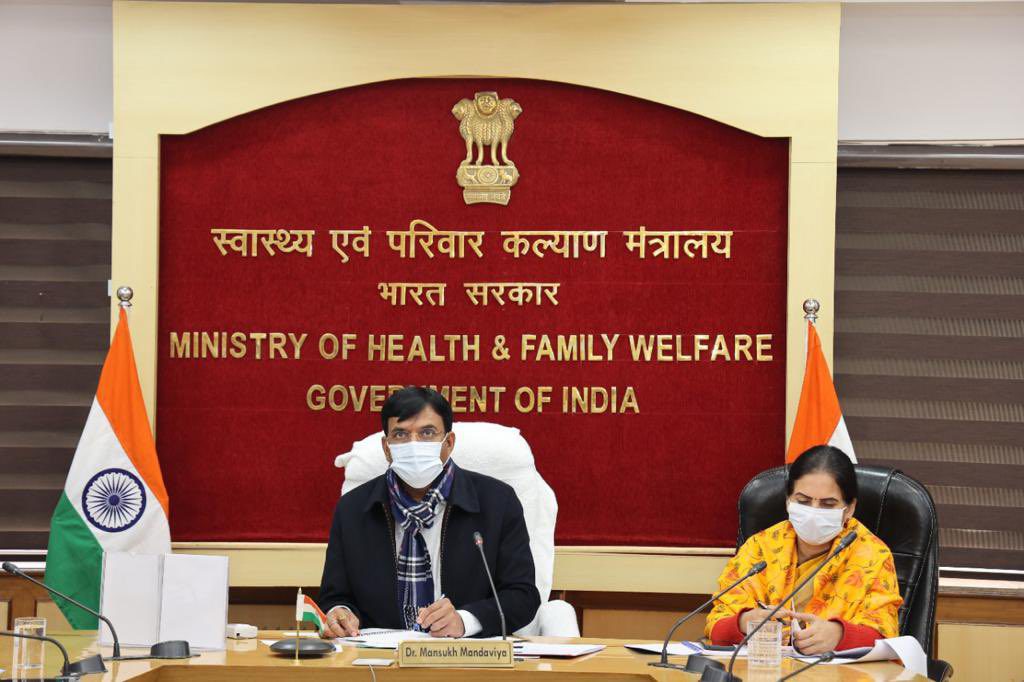 Khushi Thawani, 22nd Dec, 2022, Mumbai Uncensored:
In light of the sharp increase in instances in China, the union Health minister Mansukh Mandaviya presided over a meeting on Wednesday to review the Covid situation in India. China has fallen into chaos as a result of the government's decision to abandon the zero-Covid policy's rigorous lockdown limits. Even if the administration disputes that there have been more than ten deaths, the country's crematoriums are currently overflowing with bodies.
The health minister met with members of the National Center for Disease Control (NCDC), Indian Council of Medical Research, and the department of biotechnology as concern over a repeat of history reached to neighbouring countries.
Numerous medical professionals and top authorities on health and welfare attended the meeting in Delhi, which was presided over by health minister Mandaviya.
Bharati Pawar, India's Minister of State for Health and Family Welfare, VK Paul, a member of the government's core team for the Covid-19 pandemic response, Rajesh Bhushan, Secretary of the Union Health Ministry, Dr. NK Arora, Chief, National Technical Advisory Group on Immunization (NTAGI), Nivedita Gupta, ICMR scientist, Atul Goyal, Director of the National Center for Disease Control (NCDC) were some of the members.
Following the meeting, Mansukh Mandaviya said, "Covid is still going on. I've told everyone involved to be vigilant and tighten support."
And, Dr. VK Paul of the Niti Aayog issued a warning to wear masks in crowded areas to prevent the transmission of the virus amid worries that the wave of cases in China would result in new mutations. "If you are in a crowded area, whether inside or outside, wear a mask. This is especially crucial for those who have comorbid conditions or are older"he said.
The meeting took place the day after Rajesh Bhushan, secretary of the Union Health Ministry, asked state governments to send samples of positive cases to the genome sequencing labs on a priority basis.
The secretary stated in a statement released by the health ministry that it is crucial to step up the process of genome sequencing positive case samples in order to track the variants through the Indian SARS-CoV-2 Genomics Consortium (INSACoG) network.
Mansukh Mandaviya wrote to Congress MP Rahul Gandhi and Rajasthan Chief Minister Ashok Gehlot regarding Covid standards in the party's Bharat Jodo Yatra amid concerns that the Covid outbreak would spread to India. The usage of masks and sanitizer should be implemented, according to Mandaviya, and Covid recommendations should be properly adhered to throughout the yatra.
Corona Cases Increased Again In India, 8,822 New Cases In One Day, 15 People Died
Kamaljeet Singh – Mumbai Uncensored 15th June 2022
There has been an increase in the cases of corona in India again. A day later, more than 8 thousand new cases of corona have come.
The Health Ministry said that 8,822 new cases of corona infection have been reported in the last 24 hours.
There has been an increase of more than 33 percent in the cases of corona today as compared to yesterday i.e. Tuesday.
On Tuesday, 6,594 cases of corona were reported across the country. This is a worry again for all and can impact a plethora of things in the country. However, this become important for everyone to follow the guidelines. Those were implemented before.
PM Cares for Children : कोविड काळात आई-वडील गमावुन निराधार झालेल्या मुलांसाठी पंतप्रधान मोदींकडून मदत जाहीर..
Kalyani Gilbile – Mumai Uncensored, 1st June 2022
सोमवारी, ३० मे रोजी पंतप्रधान नरेंद्र मोदी यांनी व्हिडिओ कॉन्फरन्सिंगद्वारे मुलांसाठी पीएम केअर योजनेअंतर्गत लाभ जाहीर केले. पंतप्रधान नरेंद्र मोदी यांनी २९ मे २०२१ रोजी कोविड-१९ मुळे ज्या मुलांनी त्यांचे पालक किंवा कायदेशीर पालक किंवा दत्तक पालक गमावले, अशा मुलांना आधार देण्यासाठी PM CARES योजना सुरू केली होती.
कार्यक्रमादरम्यान संबोधित करताना पीएम मोदी म्हणतात, "मी मुलांशी पंतप्रधान म्हणून नाही तर तुमच्या कुटुंबातील सदस्य म्हणून बोलत आहे. आज मुलांमध्ये राहून मला खूप समाधान वाटत आहे. 'पीएम केअर फॉर चिल्ड्रन' हे प्रत्येक देशवासी अत्यंत संवेदनशीलतेने तुमच्यासोबत असल्याचे प्रतिबिंब आहे.'"
कार्यक्रमादरम्यान, पंतप्रधानांनी शाळेत जाणाऱ्या मुलांना शिष्यवृत्ती दिली. ज्यांनी कोरोनाव्हायरस साथीच्या आजारात त्यांचे आईवडील किंवा पालक गमावले आहेत त्या मुलांना मोदींनी पीएम केअर्स फॉर चिल्ड्रनचे पासबुक तसेच 'आयुष्मान भारत – प्रधानमंत्री जन आरोग्य योजना' अंतर्गत आरोग्य कार्डही दिले. तसेच या योजनेअंतर्गत एखाद्याला व्यावसायिक अभ्यासक्रम किंवा उच्च शिक्षणासाठी शैक्षणिक कर्जाची आवश्यकता असल्यास, PM-CARES त्यांना मदत करण्यास सक्षम असेल. या मुलांना त्यांच्या दैनंदिन गरजा भागवता याव्यात यासाठी त्यांना दरमहा ४००० रुपये मिळणार असल्याचे त्यांनी सांगितले. आणि जेव्हा अशी मुले शालेय शिक्षण पूर्ण करतात तेव्हा त्यांना भविष्यातील गरजांसाठी अधिक पैसे लागतील. हे लक्षात घेऊन ही योजना १८ ते २३ वर्षे वयोगटातील तरुणांना दरमहा स्टायपेंड देईल आणि २३ वर्षांचे झाल्यावर त्यांना १० लाख रुपये मिळतील, अशी घोषणा मोदींनी केली. "लहान मुलांना 'पीएम केअर्स फॉर चिल्ड्रन' द्वारे आयुष्मान हेल्थ कार्ड देखील दिले जातील, तसेच यातून ५ लाख रुपयांपर्यंतच्या उपचारांची मोफत सुविधा देखील उपलब्ध करून देण्यात येईल" असेही पीएम मोदी पुढे म्हणाले.
कार्यक्रमादरम्यान पंतप्रधान म्हणाले, "मला माहित आहे की ज्यांनी कोविड-१९ साथीच्या आजारात कुटुंबातील सदस्य गमावले आहेत त्यांच्यासाठी ही परिस्थिती किती कठीण आहे. हा कार्यक्रम अशा मुलांसाठी आहे ज्यांनी महामारीच्या काळात आपले पालक गमावले आहेत. पीएम केअर फॉर चिल्ड्रन ही योजना अशा मुलांसाठी एक प्रयत्न आहे," तसेच ते पुढे म्हणाले की, "कोणताही प्रयत्न/समर्थन तुमच्या पालकांच्या प्रेमाची जागा घेऊ शकत नाही. त्यांच्या अनुपस्थितीत 'माँ भारती' तुमच्यासोबत आहे. भारत PM Cares च्या माध्यमातून याची पूर्तता करत आहे. हा केवळ एक व्यक्ती, संस्था किंवा सरकारचा प्रयत्न नाही. पीएम केअर्स मध्ये लोकांनी कष्टाने कमावलेला पैसा जोडला आहे,"
"पीएम केअर्स फंडाने महामारीच्या काळात रुग्णालये तयार करणे, व्हेंटिलेटर खरेदी करणे आणि ऑक्सिजन संयंत्रे उभारण्यात खूप मदत केली. त्यामुळे अनेकांचे प्राण वाचू शकले. पण जे आपल्याला अवेळी सोडून गेले, आज हा निधी त्यांच्या मुलांसाठी, तुमच्या सर्वांच्या भविष्यासाठी वापरला जात आहे," असेही मोदी पुढे म्हणाले.
पंतप्रधान कार्यालयाने दिलेल्या माहितीनुसार, या योजनेचे प्राथमिक उद्दिष्ट मुलांना राहण्याची व्यवस्था करून त्यांना दीर्घकालीन काळजी आणि संरक्षण प्रदान करणे, तसेच ते २३ वर्षांचे झाल्यावर १० लाखांचे समर्थन, आणि आरोग्य विम्याद्वारे त्यांचे आरोग्य सुनिश्चित करणे. त्यांना शिक्षण आणि शिष्यवृत्तीच्या माध्यमातून सक्षम करणे आणि त्यांना आर्थिकदृष्ट्या स्वयंपूर्ण करण्यासाठी सुसज्ज करणे हा आहे.
विशेष म्हणजे, केंद्र सरकारने मुलांसाठी ऑनलाइन नोंदणीचे प्रवेशद्वारही विकसित केले आहे. पोर्टल ही एकल-खिडकी प्रणाली आहे जी मुलांसाठी मान्यता प्रक्रिया आणि इतर सर्व सहाय्य सुलभ करत आहे.
A new surge of covid 19 cases rocks china.
Manas Kapur – Mumbai Uncensored, 17th March 2022
As most nations across the world open up and continue 'ordinary existence' with a fall in Covid-19 cases, China is right now seeing its most terrible flare-up of the infection in two years.
On Sunday, the nation detailed 3,100 new privately communicated cases in a day, which is the most noteworthy in two years. A few neighbourhood specialists have credited the flood in cases to the Omicron variation.
With the ascent in cases, a large number of individuals in various pieces of China are presently living under lockdown.
Subsequent to fixing 1,000 new cases for two days straight, new privately sent cases in China flooded to more than 3,100, the National Health Commission covered Sunday. This is the most noteworthy in two years.
Some nearby wellbeing specialists have ascribed the flood in cases in China to the Omicron variation, which is more contagious however goals less extreme side effects than the first Covid-19 infection, the South China Morning Post report said.
To contain the spread of the infection, the Chinese government put the cutting edge Shenzhen city under lockdown. The city has a population north of 17 million.
Shenzhen will seal all networks, towns and suspend transport and metro administrations from Monday to Sunday, it was accounted for on Sunday.
On Saturday, Jilin city was to some extent secured while Yanjim, a metropolitan area of 700,000 individuals, was put under lockdown on Sunday.
In the interim, Changchun, a modern base of 9,000,000 individuals, was secured on Friday while a couple of different urban areas have been shut down since March 1.
Aside from absolute lockdowns, specialists are additionally forcing neighbourhood checks on schools, cafés, shopping centres and other public spots to control the spread of the infection.
In Shanghai, for instance, specialists have briefly closed down schools, organizations, eateries and shopping centres.
As a component of its reaction to the new flare-up, China has chosen to permit the utilization of quick antigen tests to analyze Covid-19 interestingly. This has been done to support the early revelation of cases.
The city of Shenzhen, in the meantime, will complete three rounds of citywide Covid-19 tests this week.
Recently, a top Chinese authority asserted that China had been probably the best entertainer in checking the Covid pandemic and credited the accomplishment to its rigid zero-case strategy of limiting public and worldwide travel with proactive neighbourhood lockdowns any place the infection surfaced.
Notwithstanding, with a few urban communities including Shanghai and Beijing currently seeing a flood in cases, the country's Covid control system has gone under question.
The circumstance in Hong Kong has likewise crumbled further. Authorities affirmed 27,647 new Covid-19 cases and 87 passes in Hong Kong on Sunday.
'WORST SINCE WUHAN'
Giving an account of the circumstance, Hong Kong-based South China Morning Post said China was near the very edge of its greatest Covid-19 emergency since Wuhan.
The Covid initially broke out in Wuhan in December 2019 preceding it spread to practically all areas of the planet, asserting more than 6 million lives up to this point.