PM Narendra Modi visited Germany, France, and Denmark during his three-day trip to Europe.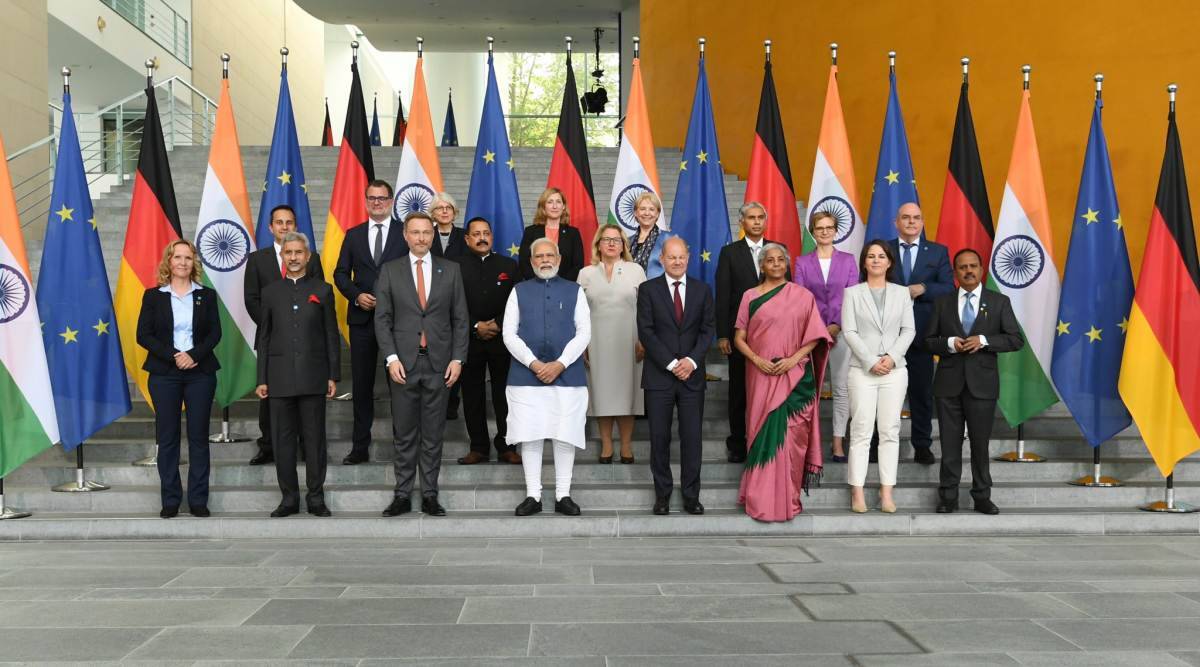 Rochelle Fernandes, Mumbai Uncensored, 2nd May 2022:
Prime Minister Narendra Modi said on Monday that no country could emerge victorious from the Ukraine conflict, that India was for peace, and that the war should be ended. Following the Indo-German governmental consultations (IGC) at the Chancellery in Berlin, Modi and German Chancellor Olaf Scholz addressed the media jointly.
"We believe there will be no winner in this war, and that everyone will suffer losses. As a result, we are on the side of peace. Because of the disruption caused by the Ukraine crisis, oil prices have skyrocketed, and there is a scarcity of food grains and fertilizers, burdening every family on the planet "PM Modi stated.
Among democratic nations, India and Germany share several values. I am delighted that my first foreign visit in 2022 is to Germany. My first phone call with a foreign leader had been with my friend, Chancellor Olaf Scholz. "Holding the IGC demonstrates how much importance we place on our strategic ties," he added.
Scholz, who invited Modi to the upcoming G-7 summit in Germany, stated that Russia violated the UN Charter by attacking Ukraine.
Later, PM Modi announced that India and Germany had decided to form a green hydrogen task force.
"India is one of our most important partners here." "The world can only develop well if we are clear that future world relations will be characterized and marked by many countries, not by a few powerful countries," Scholz said.
He stated that India was committed to making rapid progress in the negotiations for a free trade agreement with the European Union.
Members of the Indian community greeted the Prime Minister at Berlin's iconic Brandenburg Gate after he arrived in the German capital on the first leg of his three-nation Europe trip, which will also take him to Denmark and France.
In Denmark, he will meet Danish Prime Minister Mette Frederiksen in Copenhagen on Tuesday, as well as participate in the Second India-Nordic Summit with the prime ministers of Denmark, Iceland, Finland, Sweden, and Norway. Modi will make a brief stopover in Paris on his way back on Wednesday for a meeting with French President Emmanuel Macron. His first foreign trip this year coincides with a war in the heart of Europe, which has upended seven decades of global order.
Whereas according to official sources, PM Modi's foreign visit will last approximately 65 hours and will include approximately two dozen engagements. He will meet with world leaders from seven countries, both bilaterally and multilaterally, as well as interact with approximately 50 global business leaders.
Russia, China carry out joint air patrol in Asia-Pacific region
The Russian aerospace forces and the air forces of the Chinese People's Liberation Army held a 13-hour flight as part of an air group over the Sea of Japan and East China Sea, the ministry said in a statement.
Khushi Shah – Mumbai Uncensored, 26th May 2022
Chinese and Russian fighter jets carried out joint flights near Japan on Tuesday on May 24, 2022. The leaders of the Quad bloc the United States, Japan, India and Australia met in Tokyo. Besides US' efforts to counter China's reach and territorial claims in the Indo-Pacific. North Korea's nuclear ambitions and the war in Ukraine was also among the issues on the table.
China's military said on Wednesday that joint aerial excersises with Russia over the Sea of Japan, East China Sea and Western Pacific were not directed at any country and was part of an annual military exercise.
Nobuo Kishi, Japanese minister said that two Chinese bombers joined two Russian bombers in the Sea of Japan and made a joint flight to the East China Sea. The government had expressed "grave concerns" to Russia and China over the flights, which took place while leaders from the quad held talks on regional security. "After that, a total of four aircraft, two presumed (new) Chinese bombers — which replaced the two Chinese bombers — and two Russian bombers, conducted a joint flight from the East China Sea to the Pacific Ocean."
China claims almost all of the vast South China Sea as its sovereign territory. It has been building up and militarizing its facilities there, turning islands into military bases.It is the fourth time since November that long-distance joint flights by Russia and China have been spotted near Japan. The exercises near Japanese and South Korea air defence zones took place as US President Joe Biden wrapped up a trip to Asia, where he angered China by saying he would be'willing to respond militarily' to defend Taiwan if it came under Chinese attack.
Biden hammered that message home after talks with Japanese Prime Minister Fumio Kishida, in which the pair agreed to monitor Chinese naval activity and joint Chinese-Russia exercises. "We agreed with the One China policy, we signed on to it… but the idea that it can be taken by force is just not appropriate, it would dislocate the entire region and would be another action similar to Ukraine," Biden said.
In the East China Sea, China claims sovereignty over the Japanese controlled Senkaku Islands, also known as the Diaoyu Islands. In recent years, the US has reiterated its promise to defend the islands in the event of foreign aggression. The Quad leaders on Tuesday warned against attempts to "change the status quo by force", although they avoided direct references to Russia or China in a joint statement.
"As the international community responds to Russia's aggression against Ukraine, the fact that China took such action in collaboration with Russia, which is the aggressor, is cause for concern. It cannot be overlooked."
Outbreak of Monkeypox in Non endemic countries.
The WHO reported Monkeypox from 11 countries that normally don't have the disease.
Khushi Shah, Mumbai Uncensored 21th May 2022
While some are still reeling from the Covid pandemic, there's another virus to get to get updated with.
If you're experiencing symptoms like headache, skin rash, fever, body aches, chills, swollen lymph nodes, and exhaustion, symptoms similar to smallpox, but milder, for an incubation period, ranging from five to 21 days you are showing signs of 'monkeypox'.
In this unusual and unprecedented monkeypox outbreak there are more than 120 confirmed or suspected cases of monkeypox, a viral disease seldom detected outside of Africa, have been reported in at least 11 non-African countries in the past week, including the UK, that would not normally expect to have the disease.
The name "monkeypox" comes from the first documented cases of the illness in animals in 1958, when two outbreaks occurred in monkeys kept for research. However, the virus did not jump from monkeys to humans, nor are monkeys major carriers of the disease. The virus's natural home is wild animals, which are actually thought to be rodents rather than monkeys. When someone in the rainforests of Western and Central Africa comes into contact with an infected creature and the virus makes the jump across species. Their skin erupts in a rash, which blisters and then scabs over.
A person is not contagious during the incubation period.
Unlike SARS-CoV-2, which has been spreading through tiny air-borne droplets called aerosols, monkeypox, the new virus is thought to spread from close contact with bodily fluids, such as saliva from coughing.
Because monkeypox virus is closely related to the virus that causes smallpox, the smallpox vaccine can protect people from getting monkeypox. Past data from Africa suggests that the smallpox vaccine is at least 85% effective in preventing monkeypox.
Generally, monkeypox cases are mild and people tend to recover within weeks. But the death rate varies, depending on the type. The ECDC has said that the west African clade, the type so far seen in Europe, has a case fatality rate of around 3.6% (estimated from studies conducted in African countries).
All monkeypox viruses are cousins of the one that caused smallpox, the only human virus to have been eradicated. However the strain causing the current outbreaks differs from the one in western Africa. Unlike SARS-CoV-2, a rapidly-evolving RNA virus whose variants have regularly eluded immunity from vaccines and prior infection, monkeypox virus is a relatively large DNA virus. DNA viruses are better at detecting and repairing mutations than RNA viruses, which means it's unlikely that the monkeypox virus has suddenly mutated to become adept at human transmission.
Chinese plane crash may have been deliberate
Reports say Chinese plane crash killing 123 was intentional.
Khushi Shah – Mumbai Uncensored, 18th May 2022
A Chinese Eastern Airlines aircraft that crashed in the southern Guangxi province of China, carrying 132 passengers, was flying at 29,000at a speed of nearly 700 mph as per data from Flightradar and had no survivors. It was mainland China's deadliest aviation disaster in 28 years.
The Boeing 737-800 that crashed in March was intentionally put into a nose-dive, according to US media reports. While there were faults in the design of Boeing's later 737-Max model that led to two fatal disasters in 2018 and 2019, the 737-800 has long been in everyday service around the world.
The plane did what it was told to do by someone in the cockpit. Data from one of the plane's "black box" flight recorders, which was recovered from the crash site, suggested that inputs to the controls pushed the plane into a near-vertical dive, the report said.
The plane slammed into the ground with such force that it created a 66-foot deep hole in the ground, according to Chinese officials. The pilots did not respond to repeated calls from air traffic controllers and nearby planes during the rapid descent, authorities have said. Early data showed the airliner plunged from 29,000 feet to 8,000 feet, leveled off and then went into a freefall. One video showed the plane nose-diving into the ground.
While the investigators are looking at the actions of the pilot before the accident, there is also speculation that someone broke into the cockpit and crashed the plane. However, there was no emergency code issued from the flight before the crash.
According to the media reports, aviation experts had noted that the flight. pattern shown on tracking sites resembled the 'Germanwings' crash in 2015, due to lack of reported mayday call or any loss of data signal. That Airbus A320 passenger plane was crashed deliberately by the pilot as it crossed the French Alps, killing 150 people.
The Chinese authorities have not indicated to their US counterparts that there was any mechanical or flight-control problems with the plane, the reports said, adding that no emergency code was sent, suggesting no intruder could have reached the cockpit.