Kesari Bhattacharya shares his story and inspiration behind the making of his latest song 'Bitiya'
Vishwa Thacker – Mumbai Uncensored, 14th March 2022
The love dedicated to an estranged daughter, 'Bitiya' is just the perfect song a father has to sing. A title song from an upcoming short film 'terrorist', is a song about a father who was wrongfully convicted of terrorism. He enters a talent competition to win over his daughter and sings this song as his final battle.
'Bitiya' is a perfect epitome of emotions blended with music and meaningful lyrical composition. Producer and head of the production house 'Temper', Kesari Bhattacharya shared his story and inspiration behind the making of this song.
"I have an emotional connection with this story. Growing up in a middle class, being an introverted kid, 'desi' was thrown at me. I tried my best to fit in with the so-called rich and cool kids, but I couldn't. I soon moved to Australia when I heard Shloka on MTV. His words moved me and I felt immediately connected. I realised that my true roots were indeed 'desi' and there was nothing wrong with it. I soon had the fortune of becoming a father to two beautiful daughters. My bond and love for them inspired me to compose this song. 'Bitiya' is an expression of my love for them", he said.
Mr. Bhattacharya wishes this song to reach people who feel lost and invisible. "I don't care about how many people it reaches, if a million people listen to it or two, I just want it to reach the right people", he says. He wants new emerging artists to watch this song composed in pure Hindi and urges them to stay connected to their roots. He added, "in my opinion the more local you are, the farther your emotional expression will travel. Everyone can smell 'mitti ki khushbu' even if they don't understand the language."
"My main goal is for people to come out of nepotism, following the art of ready-made star kids and realise the true essence of representatives of this generation. I want to give a platform to people throughout the world who long to be listened to. I want to give exposure to local voices around the world who may not get a chance among the corporate media", he said in an exclusive interview with Mumbai Uncensored.
When asked about the difference Temper wants to make in the industry, he said, "the creative industry after all is exactly that. 'Industry'. It is a business first and show after. I would like to do my bit to ensure the local voice has its own financial ecosystem where they can express themselves freely without starving to death or going homeless chasing their dreams."
Qutub Minar Excavation Reports Denied By the Ministry
Following the Gyanvapi Mosque survey reports said that the government had asked the Archaeological Survey of India to conduct excavations to ascertain the builder of the minaret.
Khushi Shah – Mumbai Uncensored, 23rd May 2022
Union Minister of Culture, GK Reddy has denied media reports that his ministry has asked the Archaeological Survey of India (ASI) to conduct an excavation at the Qutub Minar complex to ascertain the facts behind its origin. "No such decision has been taken,"
After the Gyanvapi Mosque survey, a controversy erupted over Delhi's Qutub Minar. Some believe it was erected as a tower of victory to signify the beginning of the Muslim rule in India. Others say it served as a minaret to the muezzins to call the faithful to prayer. Dharamveer Sharma, the former Regional Director of the Archaeological Survey of India (ASI), recently claimed that Qutub Minar was actually Surya Stambh a "sun tower"
Dharamveer Sharma is one of the most respected archaeologists in India. He has served as Superintending Archaeologist in the Delhi division of ASI three times. As per a report in Hindi daily Jagran, he had worked extensively on the conservation of Qutub Minar and went inside the Minaret multiple times. He said he had seen Devanagari writing in the inner parts of the minaret. Every year on June 21, he takes astronomers to the complex.
History states that the Qutub Minar was built in the beginning of the 13th century by Quṭb al-Din Aibak and completed by his successor, Iltutmish. He said it was erected by Emperor Vikramaditya, not the Mughals. He presented a 20-point fact sheet to prove his theory that Qutub Minar was an observatory.
The origins of Qutab Minar are shrouded in controversy. According to certain groups, Qutub Minar was earlier a site of Hindu and Jain temples.
Two weeks ago, members of a right-wing group recited the Hanuman Chalisa outside the Qutub Minar complex and staged a protest demanding that the iconic monument be renamed 'Vishnu Stambha'.
International working president of United Hindu Front, Bhagwan Goyal, alleged that the Qutub Minar is the 'Vishnu Stambha', which was built by the "great king Vikramaditya". "But later, Qutubuddin Aibak claimed credit for it. There were 27 temples in the complex and those were destroyed by Aibak. Proof of all this is available as people can find idols of Hindu gods kept in the Qutub Minar complex. Our demand is that Qutub Minar should be called as Vishnu Stambha," Culture Secretary Govind Mohan had visited the monument on Saturday and had spent over two hours at the monument along with a team of senior officials and historians to discuss aspects related to the upkeep of the Qutub Minar complex
Recently, it was reported that last month a letter was written by the National Monument Authority to the ASI on moving two idols of the Hindu deity Ganesha out of the complex, "owing to their disrespectful placement", and the idols were relocated to Quwwat-ul-Islam mosque.National Monuments Authority chief Tarun Vijay, who is also a member of the Bharatiya Janata Party and a former member of the Rajya Sabha, had said that the placement of the idols was disrespectful. "I visited the site several times and realised that the placement of the idols is disrespectful," he said. "They come near the feet of the mosque visitors."Delhi court had last month directed the ASI not to remove two idols of Lord Ganesha from the Qutub Minar complex till further directions. A plea was filed in a Delhi Court against the removal of the idols by advocate Hari Shankar Jain on behalf of Jain deity Tirthankar Lord Rishabh Dev claiming that 27 temples were partly demolished by Qutubdin Aibak, a general in the army of Mohamad Gauri, and Quwwat-ul-Islam Mosque was raised inside the complex by reusing the material. The court had directed the Archaeological Survey of India to maintain a status quo till further hearing of the case. It is also an established fact that Quwwat-Ul-Islam Masjid was built atop existing temples but the property was not being used for any religious purposes and no prayers were being offered here.
The court had observed that wrongs may have been committed in the past, "but such wrongs cannot be the basis for disturbing peace of our present and future"
''Music can take you to the pinnacle of patriotism and duty'' – PM Modi after receiving Lata Deenanath Mangeshkar award.
KHUSHI SHAH – Mumbai Uncensored, 25th April 2022
The Prime Minister had tweeted on Saturday evening, "Tomorrow evening, I will be in Mumbai where I will receive the 1st Lata Deenanath Mangeshkar Award. I am grateful and humbled by this honour associated with Lata Didi. She always dreamt of a strong and prosperous India and contributed to nation-building.'
24th April 2022 marked the institution of this award in memory and honour of the legendary singer who passed away at the age of 92 years in Mumbai earlier this year. It incidentally also marks the 80th death anniversary of Master Deenanath Mangeshkar, the singing legend's father.
Lata Mangeshkar along with being an empress of music, was like an elder sister to Narendra Modi, and a symbol of oneness that brought together the entire country with her iconic tunes. Dedicating the Lata Mangeshkar award bestowed on him to "all the countrymen", Modi said "As
Lata Didi belonged to people, this award given to me in her name also belongs to people".
The Master Deenanath Mangeshkar Smruti Pratishthan Charitable Trust had said in a statement that the award will be given every year to an individual "who has made path-breaking, spectacular and exemplary contributions to our nation, its people and our society."
Empowering the arts, this award aims to honour legends from the field of music, drama, art, medical and social work. Touching his government's philosophy "Sabka Saath, Sabka Vikas , Sabka Vishwas and Sabka Prayas" and the concept of 'Vasudhaiv Kutumbakam', Modi said that such a notion of development could not be achieved by just material capabilities, ''For this spiritual consciousness is critically important.'' That's why we see India providing leadership in areas like yoga and Ayurveda. Similarly, our Indian music is also an important part of this heritage alive with the same values and can be used as medium of world peace and conformity.
Lata Mangeshkar as a part of the Indian film world witnessed the transitions of the industry for decades and was always passionate about India's growth. ''She always wanted to see a strong and developed India," Added Modi.
As an international statesman who has not only put India on the path of global leadership, but kick started progress in every aspect and dimension our entire country is driven
and inspired by him. As one of the most influential leaders of our times instituting the award to him makes everyone see the power of music by paying tributes to the legendary singer, who always dreamt of a strong and prosperous India.
शनिवारवाड्याची दुरावस्था : जबाबदार कोण?
Akash Swarup Sonawane – Mumbai Uncensored, 11th April 2022
दिनांक १७ जून १९१९ रोजी महाराष्ट्रातील राष्ट्रीय संरक्षित स्मारक म्हणून घोषित केला गेलेला शनिवारवाडा महाराष्ट्रातील पुणे शहरातील एक ऐतिहासिक वास्तू आहे. मराठा साम्राज्याचे पंतप्रधान, अर्थात पेशवे यांचे निवासस्थान तसेच कार्यालय असणारा आणि महाराष्ट्राचा इतिहास वास्तुरूपी जिवंत ठेवणारा हिंदवी स्वराज्याचा अंश शनिवारवाडा हा सध्या फक्त एक पर्यटनस्थळ म्हणून राहिलेला आहे.

शनिवारवाडा मराठा साम्राज्याच्या वैभवाचा, विजयाचा, पराक्रमाचा आणि इतिहासाचा साक्षीदार आहे. पेशव्यांचा शनिवारवाड्या ने जसे सोनेरी दिवस पाहिले तसेच वाईट दिवस ही पाहिले आहेत. शनिवार वाड्याच्या राजेशाही वैभवासाठी आणि हिंदवी स्वराज्याच्या अस्तित्वासाठी अनेक मराठ्यांनी आपले प्राण पणाला लावले. पेशव्यांच्या ब्रिटिश, निझामशाही आणि पोर्तुगीजांविरोधी मोहिमा जगभरात प्रसिद्ध आहेत. हिंदूंच्या संरक्षणासाठी पेशव्यांचे योगदान मोठे मोलाचे आहे. त्यांचे हे वास्तूरुपी अस्तित्व टिकवून ठेवणे आणि त्याचे संवर्धन करणे ही काळाची गरज आहे.
शासकीय यंत्रणांनी या वास्तू कडे पूर्णपणे दुर्लक्ष केले आहे. स्थानिक प्रतिनिधींनी लक्ष घालून शनिवारवाड्याची दुरुस्ती करुन त्याचे अस्तित्व मलिन होण्यापासून थांबवावे आणि ते टिकवून ठेवण्यासाठी येथील सुरक्षा वाढवावी असे सॅफ्रन थिंक टॅंक चे संस्थापक सिद्धांत मोहिते यांनी त्यांच्या पुणे दौऱ्या दरम्यान सांगितले. येथील भिंतींची दुरावस्था झाली आहे. तरुण जोडपे येथे आपले नावे लिहून जात असल्याने या वास्तूचा अपमान होऊन दिवसेंदिवस शोभा हरवत चालली आहे. या वास्तूचे गांभीर्य येथे येणाऱ्या लोकांमध्ये असणे गरजेचे आहे. हे सर्व थांबवण्यासाठी, दुरुस्तीसाठी आणि टिकवून ठेवण्यासाठी योग्य ती उपाय योजना तातडीने राबवण्याची मागणी सॅफ्रन थिंक टॅंक या संघटनेने केली आहे.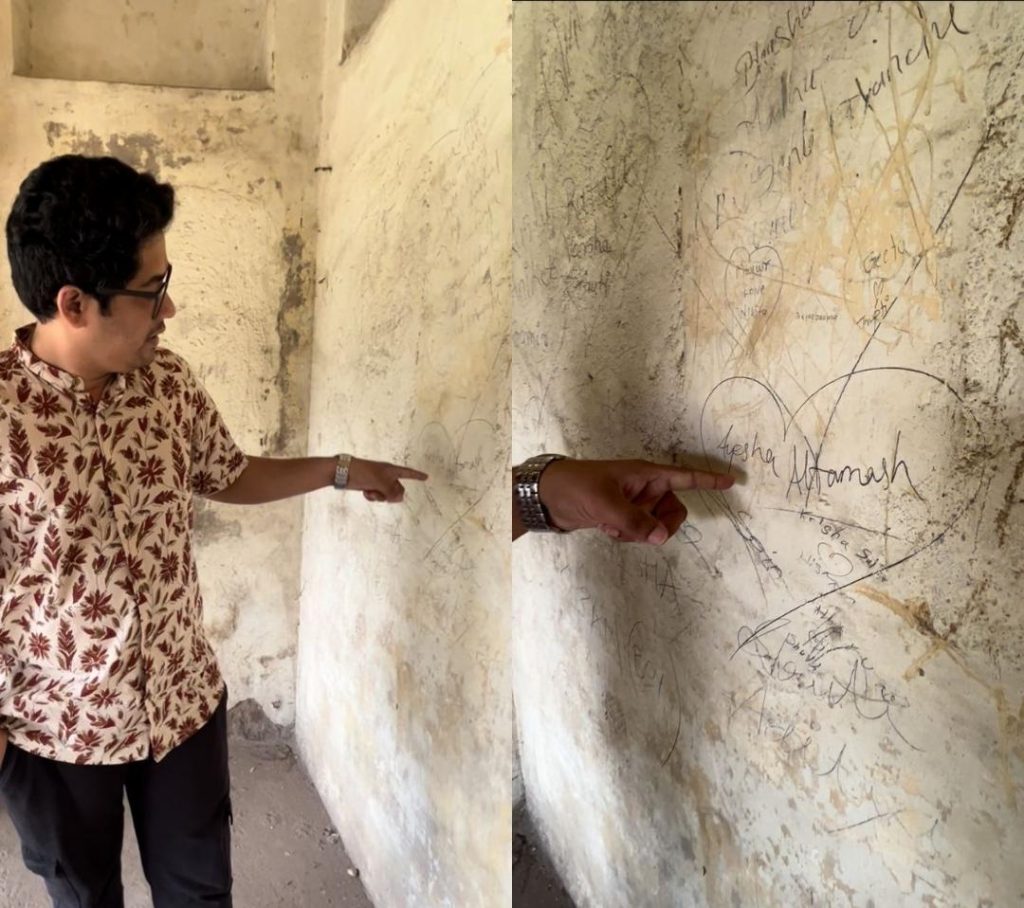 केंद्रीय पुरातत्त्व विभागाकडून शनिवारवाड्याची देखभाल दुरुस्ती, स्वच्छता केली जात नाही व दुसऱ्यांनाही करू दिली जात नाही. पुरातत्व खात्यास जमत नसेल तर स्वच्छता करण्याची परवानगी आम्हाला द्यावी, अशी मागणी क्रिएटिव्ह फाउंडेशनने पुरातत्त्व विभागाचे अधिकारी गजानन मंडावरे यांच्याकडे केली आहे.
शनिवारवाड्यात जाण्यासाठी २५ रुपये शुल्क आकारले जाते. पण शनिवारवाड्यातील सर्व माहिती फलक पुसट झाले आहेत. कारंज्यात घाण साचली आहे, वाहने लावण्यासाठी योग्य नियोजन नसल्याने नागरिकांचे वाद होत असताना सुरक्षा रक्षक बघ्याची भूमिका घेतात. शनिवारवाड्यातील लाइट अँड साउंड शो बंद आहे तो पुन्हा सुरु करावा, अशी मागणी क्रिएटिव्ह फाउंडेशनचे अध्यक्ष संदीप खर्डेकर यांनी केली. शनिवारवाड्यात छोटी कामे केल्यास तेथील स्वच्छता होऊ शकते, पण आम्ही काही करणार नाही आणि कोणाला काही करु देणार नाही, अशी भूमिका आपल्या खात्याची आहे. आमच्या संस्थेला स्वच्छतेसाठी परवानगी द्यावी आम्ही शनिवारवाड्याचे पावित्र्य राखू अशी मागणी खर्डेकर यांनी पुरातत्त्व खात्याकडे केली आहे. असे 'सकाळ' या वृत्तसंस्थेने स्पष्ट केले आहे.