Putin ready to decide the next president of Ukraine
Hemant Singh – Mumbai Uncensored 4th March 2022
In a tweet, the Kyiv Independent cited a report in the Ukrayinska Pravda online newspaper that former Ukrainian president Viktor Yanukovych is being prepared for a special occasion by the Kremlin.
Ukraine's intelligence agency said in a report that Russia could try to declare him the "President of Ukraine" under one scenario. It said the Kremlin may prepare an informational operation or action to promote Yanukovych's return to Ukraine. Since fleeing Ukraine in 2014, he has lived in exile in Russia and is now in Belarus, where he waits for his arrival in Kyiv, and for Putin to declare him the country's new president.
Introduction to Viktor Yanukovyc
In February 2014, Yanukovych was forced from office after widespread protests over his decision to reject a EU-led plan to align Ukraine with the bloc, with an eye toward membership in the bloc, and pursue a Russian financial bailout package and tighter ties with Moscow. Yanukovych was 72 years old when he served as Ukraine's president from 2010 until his ouster.
The Ukrainian government and numerous groups of international civil society have also charged Yanukovych with running a corrupt administration, including allegations that he embezzled government funds. Despite his denial that he misappropriated public funds, Yanukovych supported a small cabal of wealthy Ukrainian businessmen, including his son Oleksandr Yanukovych and members of his family. amassing fortune.
Yanukovych lived an extravagant lifestyle despite working most of his life as a mid level businessman, politician and civil servant. He owns a lavish estate called Mezhyhirya on the outskirts of Kyiv featuring a giant wooden mansion that has a pure copper roof, 18-hole golf course, tennis courts, a private zoo, an underground shooting range, an underground shooting range, and a bowling alley.
Origins and political rise
Yanukovych, who'd been born into such a poor family in Donetsk Oblast, a predominantly Russian-speaking region of Donbas, had been a trucking and logistics industry executive before being designated deputy's head and afterward leader of the Donetsk Oblast local administration in 1996 and 1997.
Yanukovych was named prime minister by Ukrainian President Leonid Kuchma in 2002, and his nomination was ratified by the nation's legislature, the Verkhovna Rada, by a slight margin. He was perceived as pro-Russian, while openly stating his support for Ukraine's ultimate membership in the EU. His council also offered to send the Ukrainian military to support the US-led alliance in the 2003 Iraq War, despite previously opposing Ukraine's bid for NATO membership.
Yanukovych campaigned for presidency in 2003, and he received a large portion of his support, from Ukraine's southern and eastern regions, which have traditionally been considered more pro-Russian. Because no candidates received more than 50% of the vote during the first round of polling in late October, a runoff election took place a couple of months later. Yanukovych was crowned champion from that vote, although the election was plagued by significant allegations of fraud leveled by both Ukrainian civil society organizations and foreign poll monitors.
This resulted in two months of nonstop protest rallies, rebellion, and general strikes dubbed the "Orange Revolution" in Ukraine. (The demonstrators were using the orange electoral colors of Yanukovych's rival, Viktor Yuschenko.) The Ukrainian Supreme Court pronounced the election null and void, ordering a re-vote in late December 2004, whereby Yuschenko was pronounced the victor.
Following Yuschenko's triumph, Ukraine's parliament approved a nonbinding motion against Yanukovych's cabinet, urging outgoing President Leonid Kuchma to appoint a provisional government. Yanukovych, on the other hand, resigned, subsequently claiming that he did this to avoid political violence.
Yanukovych led the biggest legislative liberal party even against the governing coalition led by then-Prime Minister Yulia Tymoshenko. Simultaneously, Yanukovych's Party of Regions moved significantly closer to Russia, forging a formal collaboration agreement with the Russian political organization United Russia.
2nd presidential campaign
In 2009, Yanukovych ran for President of Ukraine again, eventually defeating Tymoshenko, the other leading candidate, in a run-off in February 2010. Initially, Yanukovych said that Ukraine's integration into the EU was "the goal." strategic goals" of the country, but he continued to speak. that Ukraine should not join NATO and that it should seek a neutral position between NATO and Russia. In 2010, Yanukovych announced that Ukraine would abandon its stockpile of highly enriched uranium and convert its nuclear research reactors, inherited after the collapse of the Soviet Union, to run only on low-enriched uranium. Both measures are internationally hailed as positive steps towards nuclear non-proliferation. Meanwhile, Yanukovych has agreed to extend the lease of the naval bases in Russia's Crimea, which is due to expire in 2017, for another 25 years with the option of a new five-year extension. In return, Ukraine gets a discount on the purchase of Russian natural gas. As president, Yanukovych was widely condemned for prosecuting his rival Tymoshenko, who was sentenced to seven years in prison in 2011 on corruption charges widely seen as politically motivated, linked to the gas deal Ukraine signed with Russia when she was prime minister. . Yanukovych later refused to pardon or release her on humanitarian grounds to receive medical treatment in Germany after suffering debilitating back pain in prison. (She was eventually released in 2014 after Yanukovych was ousted.)
Russian involvement
In November 2013, Yanukovych will travel to Vilnius, Lithuania for a summit with the EU, where he is widely expected to sign an agreement that will set the framework for Ukraine's relationship with the European Union, including preferential trade terms. The deal will put Ukraine on the path to eventual EU membership. However, Ukraine's deal and partnership with Europe angered Putin, who has been involved in an economic pressure campaign against Ukraine: cutting off the country's energy supplies and blocking almost all imports from Ukraine. This reduced Ukraine's exports by 25% and pushed the country's economy into recession. The Kremlin has publicly threatened to default on Ukraine's national debt if it proceeds with a trade deal with the EU. On November 21, Mr. Yanukovych succumbed to this pressure and suddenly changed his mind, announcing that he would not sign an association agreement with the EU, although he still supported Ukraine's possible membership. of the EU. Instead, he will accept a package of Russian financial aid to meet the country's debt obligations.
Ultimately the fall
In the wake of his decision, protests erupted in Kiev's Independence Square, or Maidan, which later became known as Euromaidan.Protesters tented out in the plaza, refusing to leave until Yanukovych signed the EU accord, released protestors in jail, liberalised Ukraine's constitution, and retired from government. The police raid on the activists sparked additional protests across Western Ukraine. Violence escalated after Jan. 16, 2014, when Yanukovych signed into law a draconian series of restrictions on freedom of speech and assembly. Demonstrators occupied provincial administration buildings throughout Ukraine. The protests continued even after lawmakers repealed some of the measures.
By mid-February, seven police officers, at least 28 protesters, and a civilian bystander had been killed in increasingly violent clashes. Numerous other injuries were reported. As of Feb. 21, Yanukovych announced an agreement with the opposition, but he later left Kyiv. After leaving, Yanukovych said that his car was attacked. In the end, he allegedly fled to Russia with the assistance of the Russians after visiting Crimea.
He was formally removed from office the next day by the Ukrainian parliament. Months afterwards, the authorities issued an arrest order for him, charging him with "mass killings of people." A Ukrainian courtroom would later condemn Yanukovych in pretrial detention to 13 years imprisonment for disloyalty in January 2019. He later expressed gratitude to Putin for "saving his life."
Since his exile, Yanukovych has stated that he is still "the lawful head of the Ukrainian state, chosen in a democratic vote by Ukrainian citizens." Putin now appears to be planning to reinstall him in power.
Aditya Bharti : Face behind GoCleaners and GoRealtors
Khushi Thawani, Mumbai Uncensored, 18th January, 2023:
As Aristotle said, Excellence is not an act but a habit. It involves a lot of effort, tenacity, research, sacrifice, and, most importantly, passion for the task at hand. Although the founder of GoCleaners, Aditya Bharti, had never heard of this proverb, he was working on it as though it were his personal mission statement.
Initially, he didn't launch with a significant setup. He also had no idea that what he was about to do in the home cleaning services industry would one day be so intrusive that it would upend some of the established businesses in hyperlocal markets. This is especially true given that he had modest beginning and lacked the high-end funding that his rivals did.
This business was founded by Aditya 1 and a half years back and he has already achieved wonders in the sector. He was later joined by two co-founders Anup and Shivam. Aditya was working at a real estate company at the time, and Anup was employed for the renowned Urban Company, a provider of home cleaning services. Shivam wasn't working at the time. They weren't your usual IITians or IIM grads who were surrounded by money and plethora of opportunities. But hey, they already knew that. They therefore already began looking for that initial pool of capital.
GoCleaners was Aditya's idea; it was memorable and expressed exactly what they wanted to convey to any visitors to their website. They put together roughly Rs. 1 lakh and set out on their voyage, learning more about where life would lead them little by little. Aditya used to receive the orders, while Shivam and Anup used to deliver the jobs.
From Anup's background, they were aware that although the businesses were benefitting from the services provided, the service providers who worked with them were not really pleased with their policies. The service providers frequently encountered a lack of collaboration between the personnel overseeing them, and had to pay for their credit in order to receive a work, and occasionally had to foot the bill for the chemicals. They had a lot of room to grow and explore in an untapped sector. Aditya and his team, like the majority of disruptors, struggled to keep up with the speed of funding needed because they were aware of the issue but lacked the resources to address it.
They were running out of labour, equipment, and chemicals on a regular basis. H "Many people came up with different psychologies and ideas but I was sure of what I had to do to execute and push things further ahead. I had a clear image built up in my head. I sincerely recommend anyone who wishes to start out on their own – first research the problem and start developing the best solution for it. Don't jump in blind, your path will then be laden with unforeseen problems and under-researched quick fixes which is a sure-shot recipe for failure."is parents were quite encouraging. In order to keep them back on course and make sure they didn't veer off the course they had set for themselves, his mother loaned him every piece of jewellery she owned.
The encouragement from his mother worked. They got started in a way that established the bar for success. Anup and Shivam, the team's co-founders, are joined by 16 other members so far, all of them are specialists who complete tasks. They have successfully impacted the important Mumbai suburbs of Andheri, Goregaon, and Vile Parle, among others, and receive a steady stream of orders from these areas, the majority of which are client references.
Aditya is aware that this is only the start. With such a strong team, they still have more benchmarks to reach, and Aditya hopes to create a unified platform for all varieties of professional services.
He acknowledges that the travel was a crucial period in his life and that it kept him inspired to continue. Every day was different; some were really productive, while others were the pits. To manage both the tasks and obligations of his profession, he first had to make adjustments to himself and his daily schedule. When Aditya thinks back today, he recalls the period when he had considered quitting school, but his friend Shivam and his family encouraged him, giving him hope that he might achieve his goal.
Aditya responds to the question, what is the one thing you remember doing that you realise was the most crucial step of your journey? replying "Many people came up with different psychologies and ideas but I was sure of what I had to do to execute and push things further ahead. I had a clear image built up in my head. I sincerely recommend anyone who wishes to start out on their own – first research the problem and start developing the best solution for it. Don't jump in blind, your path will then be laden with unforeseen problems and under-researched quick fixes which is a sure-shot recipe for failure."
Not only this the start-up king has invested himself in yet another idea called Go realtors, where he and his team help sellers, buyers and investors with the best possible tips and provide other services related to real estate, considering Aditya's prior experience in the same sector. He seems unstoppable with the ideas and his 'ace it all' mindset.
Bhiwandi building collapse leaves seven people injured in Mumbai
Khushi Thapa, Mumbai Uncensored, 19th July 2022:
An investigation has shown that seven people were hurt when a ground plus one-story building fell in Bhiwandi on Tuesday, July 19.
The tragedy happened at 7 am at the Mobin Masters building, which was first constructed as a power loom unit with a first floor intended for residential use.
In the wee hours of Tuesday, the neighbors heard a big crash, and they immediately raced to help.
Six of the seven injured were transported and given first aid at Bhiwandi's Indira Gandhi Memorial Hospital. In a private hospital in Bhiwandi, only one man who has injuries to his abdomen and leg is still a patient.
The room next to the stated structure, which was situated in Bhiwandi's Pajarapool neighborhood next to the Nishan Hotel, was home to about 6 laborers.
The Bhiwandi Fire brigade received a report at around 7:20 am, and two fire engines immediately raced to the scene. Later, representatives of the local civic organization arrived.
The reports stated the structure was demolished and designated "hazardous" by the Bhiwandi Nizampur City Municipal Corporation (BNCMC) over five years ago. The building did, however, collapse into a nearby chawl, injuring people.
As soon as the villagers arrived at the scene, they began freeing people trapped in the rubble. Danish, a young child, was totally entangled in the rubble. They managed to pull him out safely with the help of the fire brigade.
A local expressed dissatisfaction about the lack of resources and prompt action, claiming that initially, only one ambulance was available and that it was despatched with four injured people. Later, assistance from the fire department and local authorities arrived. We enlisted the assistance of the fire department to rescue the young victim as well as another child who had sustained the most serious injuries.
Given that the structure is close to 30 to 35 years old, the required safety precautions were taken to empty it. However, unauthorized encampments encroached on the vacant land next to the structure. According to a BNCMC representative, people living in the chawls also took a life-threatening risk.
Passenger volume at Mumbai airport rises 132% in the first half of 2022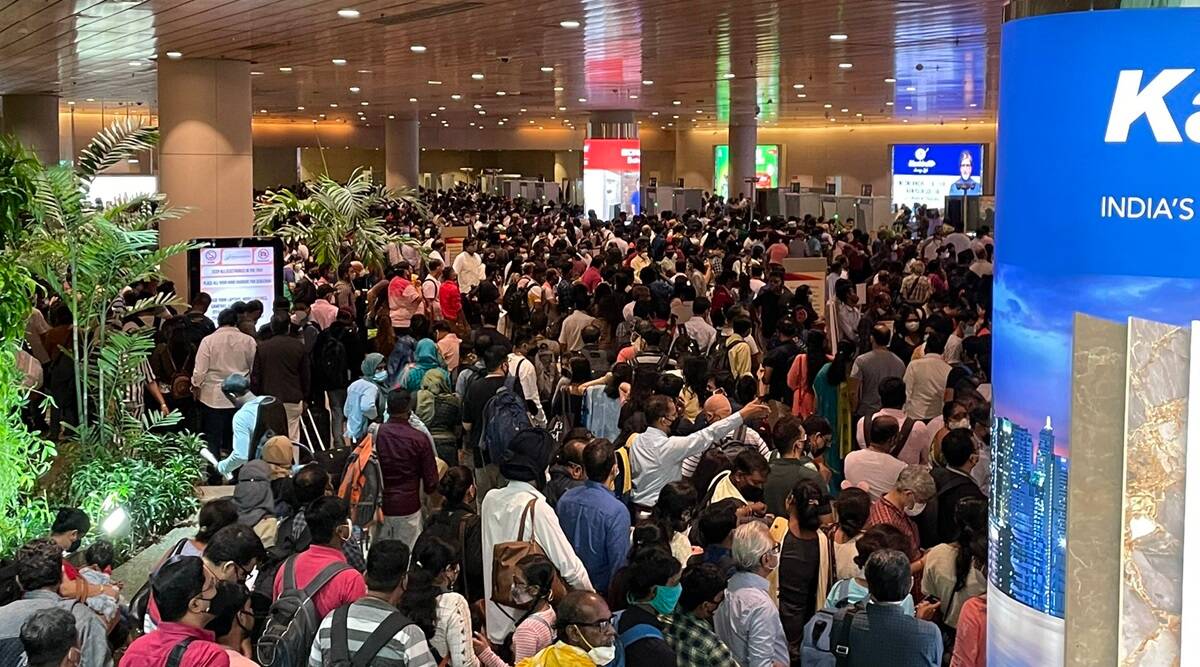 Khushi Thapa, 18th July 2022:
In the first half of 2022, passengers at Mumbai's Chhatrapati Shivaji Maharaj International Airport increased 132% year over year to 16.84 million, according to the private airport operator.
According to a statement from the Adani Group, the increase in travel demand at CSMIA (Chhatrapati Shivaji Maharaj International Airport) mainly was caused by the volume of domestic passengers as well as operations for chartered services.
The airport handled 3.48 million international passengers and 13.36 million domestic passengers over the period, representing an increase of 97% over the international passenger volume held during the same period the previous year, it added.
The airport handled about 1,30,000 flight movements between domestic and foreign destinations in the first half of the calendar year 2022, the report stated.
As per CSMIA, out of these, there were 97,460 flights on domestic lines and 24,910 flights on international routes.
According to the airport manager, Mumbai's operations on the routes Abu Dhabi, Najaf, Phuket, Warsaw, Hanoi, and Ho Chi Minh City will begin in January–June 2022. According to the statement, CSMIA assisted in transporting 17,552 passengers through the General Aviation Terminal (GA terminal), of which 15,588 were domestic passengers and 1,964 were foreign travelers.
The airport operator said Mumbai's operations on the routes Abu Dhabi, Najaf, Phuket, Warsaw, Hanoi, and Ho Chi Minh City will begin in January–June 2022. According to the statement, CSMIA assisted in transporting 17,552 passengers through the General Aviation Terminal (GA terminal), of which 15,588 were domestic passengers and 1,964 were foreign travelers.
As per CSMIA, the GA terminal saw a total of 3,432 arrivals and 3,446 departures during the first two quarters of CY 2022, which saw a total of 6,878 airplane movements.