India's dilemma in the war: Relations between Russia, Ukraine and India explained
Vishwa Thacker – Mumbai Uncensored, 25th February 2022
The hottest news all around the world today is Russia's invasion of Ukraine. There are as many opinions as there are people on what stand India should take in this conflict.
Why is India silent? On what side will India stand if war really becomes inevitable? Well, no one can quite predict the answers to these questions yet. But what we can do is, look at the relations between these three countries, and how we go way back with them.
Relations between India and Russia
We have bilateral relations with Russia. After the disintegration of the Soviet Union between 1988-1991, India maintained a cordial relationship with Russia and shared a special relationship. This is termed as a "special and privileged strategic partnership".
Our relationship with Russia covers five areas: defence, anti-terrorism cooperation, politics, space and civil nuclear energy. Both countries are also working towards a free trade agreement. Bilateral trade between us shot up to 24% in 2012.
India is heavily dependent on Russia for its military supplies. 60% to 70% of our military hardware comes from Russia. A BBC World Service Poll of 2014 says that more than 85% of Russians view India positively.
Relations between India and Ukraine
In January 1992, India established diplomatic relations with Ukraine. In 1992, India established an Indian embassy in Kyiv and Ukraine established theirs in New Delhi in February 1993.
After Russia, Ukraine is our second-largest trade partner. Between 2003-2005, there has been a 3x increase in our trade with Ukraine.
We have signed more than 17 bilateral agreements with Ukraine which covers areas of Cooperation in Space Research, Avoidance Of Double Taxation and Promotion, Protection of Investments etc.
Even when Ukraine was a part of the Soviet Union, India enjoyed friendly political relations with Ukraine. We have been positively cooperating with each other at international levels. Ukraine supports India on the resolution of the issue of J&K on the basis of the Simla Agreement.
India is worried about its 20,000 students and nationals who live in Ukraine.
What happens if India supports Ukraine?
After the disintegration of the USSR, Russia and China have maintained positive relations. In 2001, both countries signed the Treaty of Good-Neighborliness and Friendly Cooperation, a treaty with economic and military cooperation.
Both countries, as of 2019, felt serious grievances with the United States. Chinese relations with the USA were tense because of the matter of control of the South China Sea, trade policies, and technology policy.
As for Russia, it is upset about severe economic penalties imposed by Europe and the USA for Russia's seizure of Ukraine's Crimea.
Both countries enjoy an informal agreement to coordinate economic and diplomatic moves and they've successfully built an alliance against the USA.
It is common knowledge that China and India have conflicted on border issues resulting in three military conflicts – the Sino-Indian War of 1962, the border clashes in Nathu La and Cho La in 1967, and the 1987 Sumdorong Chu standoff.
In 2013, these issues re-emerged. In 2018, there was a dispute at the Doklam plateau along the disputed Bhutan-China border. In 2020, we lost 20 soldiers in the Galwan valley.
If there is a full-fledged war, and India supports Ukraine, there are high chances we'll fight with our border enemy China.
What happens if India supports Russia?
As established above, China and the USA do not see eye to eye. Since 1949, their relationship has been complex. Under the rule of former President Donald Trump, the relationship deteriorated regarding the issues of China's militarization of the South China Sea.
Soon after, the US launched a trade war and prohibited US companies from trading in Huawei. By May 2020, the relationship worsened as both countries recruited allies against each other and guilt-tripped for the COVID-19 pandemic.
As for Ukraine, the USA is a friend. It supported Ukraine's bid to join NATO in 2009. Ukrainians view the USA positively according to surveys. More than 33% of the Ukrainian population approves of the leadership of the US.
If war becomes inevitable, there are chances the US will side with Ukraine.
If losing millions of people in World War 1 and 2 taught us anything, it is that we do everything to prevent such a huge life loss and mass destruction.
Bhiwandi building collapse leaves seven people injured in Mumbai
Khushi Thapa, Mumbai Uncensored, 19th July 2022:
An investigation has shown that seven people were hurt when a ground plus one-story building fell in Bhiwandi on Tuesday, July 19.
The tragedy happened at 7 am at the Mobin Masters building, which was first constructed as a power loom unit with a first floor intended for residential use.
In the wee hours of Tuesday, the neighbors heard a big crash, and they immediately raced to help.
Six of the seven injured were transported and given first aid at Bhiwandi's Indira Gandhi Memorial Hospital. In a private hospital in Bhiwandi, only one man who has injuries to his abdomen and leg is still a patient.
The room next to the stated structure, which was situated in Bhiwandi's Pajarapool neighborhood next to the Nishan Hotel, was home to about 6 laborers.
The Bhiwandi Fire brigade received a report at around 7:20 am, and two fire engines immediately raced to the scene. Later, representatives of the local civic organization arrived.
The reports stated the structure was demolished and designated "hazardous" by the Bhiwandi Nizampur City Municipal Corporation (BNCMC) over five years ago. The building did, however, collapse into a nearby chawl, injuring people.
As soon as the villagers arrived at the scene, they began freeing people trapped in the rubble. Danish, a young child, was totally entangled in the rubble. They managed to pull him out safely with the help of the fire brigade.
A local expressed dissatisfaction about the lack of resources and prompt action, claiming that initially, only one ambulance was available and that it was despatched with four injured people. Later, assistance from the fire department and local authorities arrived. We enlisted the assistance of the fire department to rescue the young victim as well as another child who had sustained the most serious injuries.
Given that the structure is close to 30 to 35 years old, the required safety precautions were taken to empty it. However, unauthorized encampments encroached on the vacant land next to the structure. According to a BNCMC representative, people living in the chawls also took a life-threatening risk.
Passenger volume at Mumbai airport rises 132% in the first half of 2022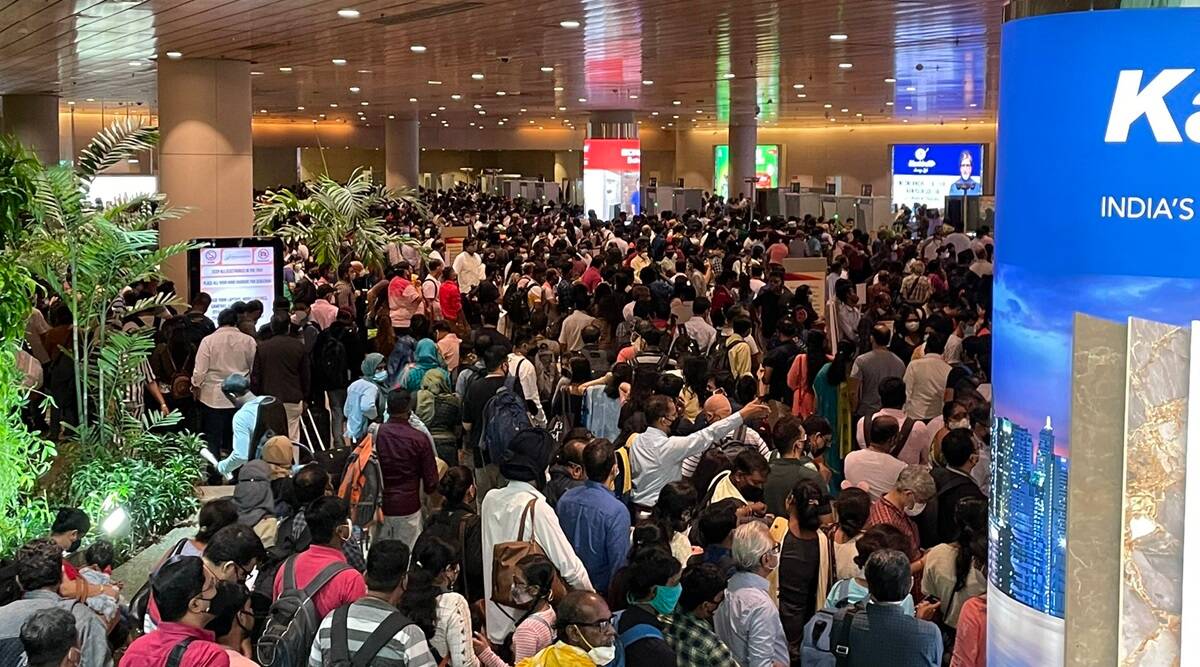 Khushi Thapa, 18th July 2022:
In the first half of 2022, passengers at Mumbai's Chhatrapati Shivaji Maharaj International Airport increased 132% year over year to 16.84 million, according to the private airport operator.
According to a statement from the Adani Group, the increase in travel demand at CSMIA (Chhatrapati Shivaji Maharaj International Airport) mainly was caused by the volume of domestic passengers as well as operations for chartered services.
The airport handled 3.48 million international passengers and 13.36 million domestic passengers over the period, representing an increase of 97% over the international passenger volume held during the same period the previous year, it added.
The airport handled about 1,30,000 flight movements between domestic and foreign destinations in the first half of the calendar year 2022, the report stated.
As per CSMIA, out of these, there were 97,460 flights on domestic lines and 24,910 flights on international routes.
According to the airport manager, Mumbai's operations on the routes Abu Dhabi, Najaf, Phuket, Warsaw, Hanoi, and Ho Chi Minh City will begin in January–June 2022. According to the statement, CSMIA assisted in transporting 17,552 passengers through the General Aviation Terminal (GA terminal), of which 15,588 were domestic passengers and 1,964 were foreign travelers.
The airport operator said Mumbai's operations on the routes Abu Dhabi, Najaf, Phuket, Warsaw, Hanoi, and Ho Chi Minh City will begin in January–June 2022. According to the statement, CSMIA assisted in transporting 17,552 passengers through the General Aviation Terminal (GA terminal), of which 15,588 were domestic passengers and 1,964 were foreign travelers.
As per CSMIA, the GA terminal saw a total of 3,432 arrivals and 3,446 departures during the first two quarters of CY 2022, which saw a total of 6,878 airplane movements.
"सालो छोड़ेंगे नहीं तुमको, काट डालेंगे" ..इर्शाद तलवार फिरवत जोर जोरात ओरडत होता..!
'रमजान' च्या नावाखाली गावगुंडांचा दहशतवाद, 'श्री रामनवमी' च्या जल्लोषात 'जय श्री राम' म्हणणाऱ्या हिंदू तरुणांवर केले तलवारीने वार..
Akash Swarup Sonawane – Mumbai Uncensored, 12th April 2022
मानखुर्द मधील स्थित २९ वर्षांचा सोनू पारसनाथ चौधरी हा आपल्या आई व लहान भावासह राहत असून केबल टीव्ही दुरुसती चा व्यवसाय करतो. दिनांक १० एप्रिल २०२२ रोजी श्री रामनवमीच्या सायंकाळी सोनू आपल्या काही मित्र नावे बाळा, नीरज, नेपाळी, गणेश व त्याचे मित्र दिलीप, कैलाश यांच्या सह श्री रामनवमी निमित्त साई भंडाऱ्याकरता सेल कॉलनी, चेंबूर येथे गेले असता तेथून परतताना जय श्री राम असे म्हणत होते.
दरम्यान रात्री १०.३० च्या सुमारास त्यांना म्हाडा कॉलनी मानखुर्द बिल्डिंग नंबर १०६ ते १०८ येथे अंदाजे २० ते ३५ वर्षीय १५  ते २० जणांच्या जमावाने अडवले व रमजान चालू असल्या कारणाने जय श्री राम म्हणण्यास रोखले. फिर्यादी सोनू व त्याच्या मित्रांनी त्यांची माफी मागून तेथून निघाले असता जमावाने शेवटच्या वाहनावरील सोनू ला खाली पाडून बांबूने आणि हाताने मारहाण करण्यास सुरवात केली. तो जोराने ओरडत असल्यामुळे त्याला वाचवण्यासाठी त्याचे मित्रही तेथे आले असता जमावाने त्यांनाही बेदम मारहाण केली. 
मारणाऱ्यांपैकी एक इसम नाव इर्शाद, ५ वा मजला, बिल्डिंग नंबर १०८, म्हाडा कॉलनी मानखुर्द येथील स्थित हा सशस्त्र असल्याचे सोनूला आढळले. इतर लोक हाताने आणि बांबूने मारत होते तितक्यात इर्शाद नामक इसमाने सोनूच्या उजव्या हातावर तलवारीने वार केले. या मारहाणीत फिर्यादी सोनूच्या तोंडावर, पायावर व खांदयावर मार लागून तो गंभीर जखमी झाला. व त्याचे मित्र गणेश व नीरज यांनाही जबर मारहाण करून जखमी केले गेले.
मारहाण सुरु असताना सदर जमावात आणखी काही जण सशस्त्र असून त्यांच्याकडेही तलवारी असल्याचे फिर्यादी सोनू ने सांगितले. तसेच इर्शाद नामक इसमाने तलवार फिरवत "सालो छोड़ेंगे नहीं तुमको काट डालेंगे" असे देखील जोर जोरात ओरडत असल्याचे सांगितले.

सदर हल्ल्यात आक्रमक जमावाला पाहून सोनू व त्याचे मित्र गणेश, नीरज हे प्राथमिक उपचार घेण्यास शताब्दी रुग्णालय येथे दाखल झाले व त्यानंतर मानखुर्द पोलीस ठाणे येथे पोलीस निरीक्षक महादेव पांडुरंग कोळी यांच्या कडे सदर घटनेबाबत तक्रार नोंदवली. आणि सदर प्रकरण अजित हणमंत घाडगे यांच्या कडे पुढील तपासासाठी सोपविण्यात आले.

देशात श्री रामनवमीच्या दिवशी हिंदूंवर असे अनेक हल्ले झाल्याचे प्रकार आढळले आहेत.