Refugees In Their Own Nation
Anushka Pathak – Mumbai Uncensored, 18th January 2022 :
A dead body was brought to our hospital in Baramulla for post-mortem. It was the dead body of a dear friend Dr Chatta, an agricultural scientist. This gentleman was married to a young and beautiful lady, Mrs Prana Chatta. Both had been abducted two days back from their residence; and the buzz was that their next door peaceful neighbour was the man behind the kidnapping, along with four other terrorists. Many doctors were sipping tea and jubilantly discussing the killing. One doctor said, "Another Hangul eliminated." Hangul is an animal getting extinct in J&K. So he was obliquely referring to Kashmiri Pandits as a soon-to-be-extinct species. Nothing was known about Mrs Prana. Few said she was gang-raped, killed and buried. Others said she was raped by her neighbour for many days and then handed to terrorists. God knows what happened to her.
Girija Tikoo, a 21-year-old laboratory assistant at the Government High School, Trehgam, Kupwara, was abducted, brutally gang-raped and cut into two halves on a saw mill while still alive.
BK Ganjoo, a young engineer, unaware of his fate, hid in a rice container in his attic, as the jihadists terrorized the streets of Kashmir. He would have been alive today had his location not been disclosed to the terrorists by his own neighbours. The terrorists shot him through the container and forced his wife to eat the blood-soaked rice. No one knows what happened to the wife thereafter.
Names of prominent Pandits were pasted on 'hit list' posters and their murders celebrated. Widely read newspapers Aftab and Alsafa carried advertisements asking 'kafirs' to leave or risk being eliminated.
Temples were desecrated and burnt, homes and shops of Kashmiri Hindus were looted and destroyed. Mosque speakers blared 'raliv, tsaliv ya galiv', that is, convert, run away or be killed and raped.
There are many such blood-curling incidents that are unspoken of. This mayhem continued for over a decade to accelerate the pace of ethnic cleansing. Panun Kashmir, an organisation of displaced Kashmiris, has published a list of 1,341 murdered Kashmiri Pandits.
Today, 19th January 2022, marks the 32nd anniversary of the seventh exodus of the Kashmiri Hindus, or better known as, the Kashmiri Pandits. Thousands gang-raped, deceived by their 'friends', and brutally killed. 'Kashmiriyat', which may or may not have existed at the time, came to an end. For the natives of the land believed to be established by Rishi Kashyap, 1990 saw yet another exodus of Kashmiri Pandits from their birthplace since the 14th century.
Government of India records 64,951 displaced Kashmiri families. It is a dubious distinction for the world's largest democracy to also be the nation whose citizens are refugees within their own country.
The UN Genocide Convention of 1948 defines 'genocide' as an act with the intent to destroy an ethnic group, including the killing of its members. In 1995, the National Human Rights Commission held the systemic ethnic cleansing of Kashmiri Pandits akin to genocide.
It is a fact that the sentiments that led to the ethnic cleansing of Kashmiri Hindus are very much alive today. The only thing that is different is the political dispensation that is in power today and the manner in which they perceive the world.
Anyone telling you that militancy in Kashmir, 32 years ago, was a mass uprising for a secular independent Kashmir, is lying to you. From Allah Tigers, Al Fatah to Jammu-Kashmir Liveration Front, each terror group issued Islamist threats and targeted Hindu minority in the name of 'the one and true' religion, Islam.
It is in the nature of radical Islamists to not only oppress people of other religions but also deny them the rights and privileges that they owe, as a consequence of the violence Islamic fundamentalists have inflicted upon them.
One of the few features of radical Islamic Terrorism is that while terrorists are busy committing the most heinous crimes against humanity, there is a set of assorted appeasers, in the guise of human rights activists, that get themselves busy whitewashing their crimes and immediately try to build a narrative that Islamophobia is the real concern when Islamic terrorists murder 'Kafirs'. This gives Islamic extremists the opportunity to cry victim while they slit the throats of 'infidels'. It has been happening in Kashmir, or anywhere for that matter, in the world, from even before 1990.
The circumstances under which Pandits were forcibly driven out of Kashmir in 1990 are often distorted by political parties. The 1989 Kashmir was a different place from the Kashmir of earlier times. Suddenly that year, Kashmiri Muslim youth swarmed into the streets. People of Kashmir heard the boys chant 'azadi' (freedom from India), 'Pakistan se rishta kya, la ilaha illa allah' (relationship with Pakistan is that of with Allah) and 'nizam-e-mustafa' (Sharia rule) slogans in the same breath. 79 innocent, unarmed civilians were killed that year by these 'freedom fighters'.
The Islamist attacks on Hindus– the trigger for their ethnic cleansing in 1990 began in 1989, when the country was headed by Prime Minister Rajiv Gandhi and Jammu & Kashmir was ruled by chief minister Farooq Abdullah. Those attacks, the triggers for the exodus of Pandits, continued under Rajiv Gandhi's successor VP Singh.
Before governor Jagmohan took over and governor's rule was imposed in January 1990, 21 Kashmiri Pandits, a tiny minority of Hindus in the Muslim valley, were killed. Of the 2,150 incidents of violence, 2100 attacks were against civilians. All in all, the Indian National Congress as well as BJP, both failed to protect Kashmiri Pandits. Both of them and the Indian state collectively failed completely to protect the natives of Kashmir.
Those who forget history are destined to repeat it. Natives of the land established by Rishi Kashyap, this is Kashmiri Pandits' seventh forced exodus from their birthplace since the 14th century, thanks to the Islamic invaders in the valley.
So, what should be done now to move forward and avoid a recurrence?
Punish the guilty. A Judicial Commission under a retired Chief Justice of the Supreme Court should be immediately constituted. Those found guilty should be given exemplary punishment as per the law. All the 215 FIRs that have not been acted upon by the state should be clubbed and given to the NIA for a comprehensive probe.
Teach the nation. The place needs a Centre of Kashmir Renaissance to showcase knowledge and learnings through the ages including lessons from this genocide. Historians need to research and peel off the layers of distortion created to propagate narrow political interests. They need to study and credit the Gonanda, Karkota and Lohara dynasties that ruled the valley for more than 1,000 years. The Kashmiri language, Koshur, with its Vedic Sanskrit roots and unique Sharda script needs to be revived and included as a compulsory subject in state schools. Koshur needs to be actively promoted as the administrative language of the state at par with Urdu.
Resettlement of the natives. The establishment of a Reconciliation Commission, with eminent members from both the communities, will be an important first step in this direction. Its mandate should also include complaints of human rights violations against the security forces during the same period. Its ambit should include compiling a comprehensive list of the forceful takeaway of lands, and properties of the Kashmiri Pandits, and laying down the process to restore the same. The restoration, protection and preservation of the valley's shrines and temple properties should also be taken into consideration.
The acceptance of a shared culture and consideration of the integrity of the other community's experience will initiate the process of healing, and help wash off the blood stains of the genocide off India's cloth. Shri Ram was in exile for 14 years, Kashmiri Pandits have now been in exile for over 32 years. It is time for Bharat to get them home.
ख्रिस्ती मिशनरींचे, टार्गेट मुंबई…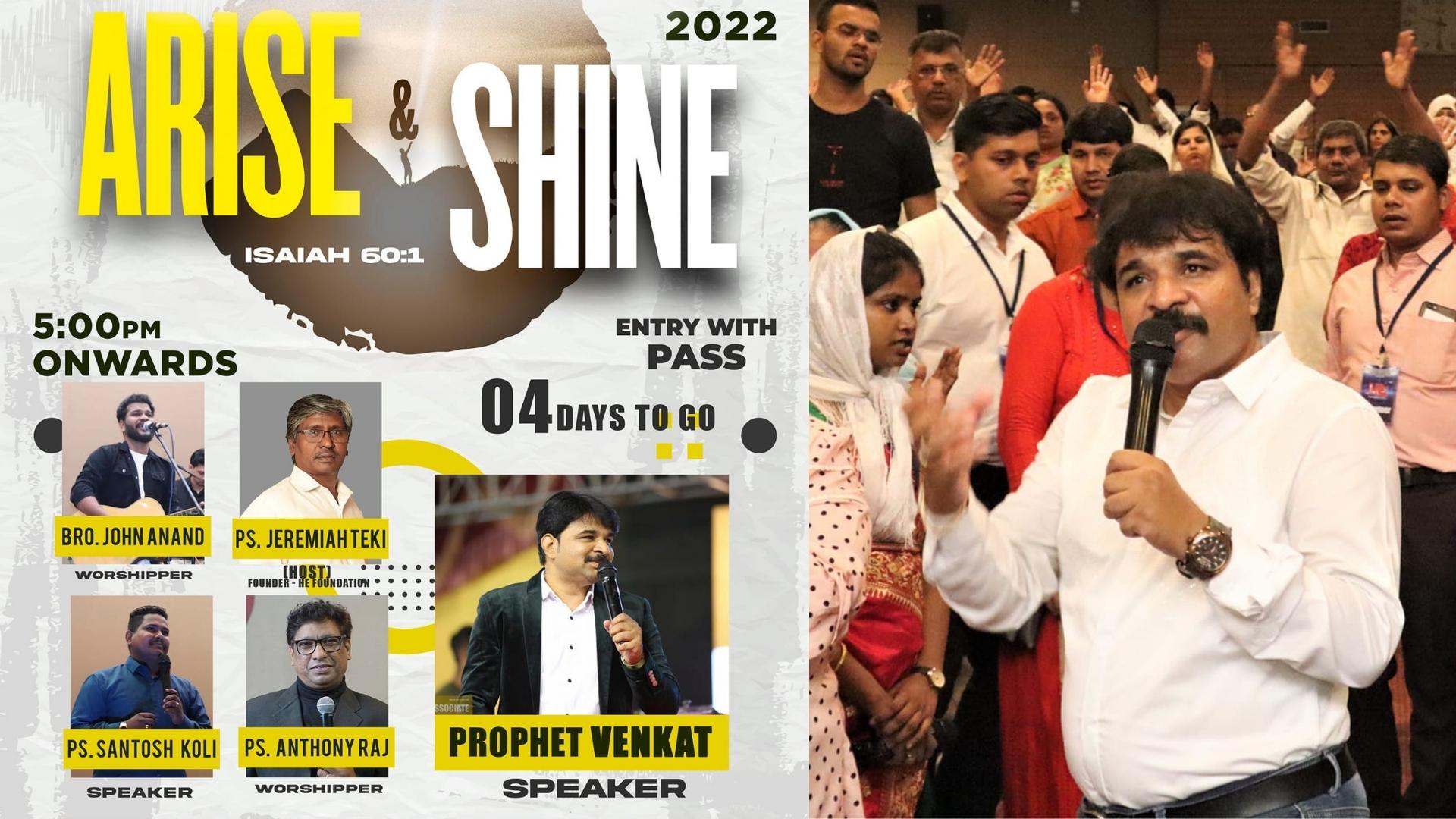 Akash Swarup Sonawane – Mumbai Uncensored, 24th May 2022
मुंबईत मागील काही दिवसांमध्ये ख्रिस्ती धर्मियांचे प्रचारक आणि त्यांचे कार्यक्रम मोठ्या प्रमाणात चर्चेत आसल्याचे सोशल मीडियाद्वारे दिसून येत आहे. ह्या कार्यक्रमांचे आयोजन काही चर्च मार्फत, ख्रिस्ती संस्थांमार्फत किंवा त्यांच्या धर्मगुरुंमार्फत करण्यात येते. लोकांच्या समस्यांचे निवारण करण्यासाठी हे मिशनरी परमेश्वर किंवा प्रभू येशूच्या नावाखाली बोगसरित्या लोकांना काही चित्र विचित्र प्रक्रिया आणि मंत्रोउच्चारण करून बरे करण्याचा दावा करत असतात.
अशाच एका पादरी बजींदर सिंग मिनिस्ट्री नामक व्यक्तीचा वांद्रे कुर्ला संकुल येथील कार्यक्रम रद्द करण्यात आला होता. हा पादरी बोगस असून त्याच्यावर बलात्कार, बाल हक्क अयोग्य, अंधश्रद्धा कायद्यान्वये आणि असे अनेक खटले सुरु असल्या कारणाने हिंदू व शीख समाजाने व त्यांच्याशी जोडल्या गेलेल्या संघटनांनी विरोध दर्शवून कार्यक्रम रद्द केला गेला होता.
परंतु असे अनेक पादरी व त्यांच्या मिशनरी कार्यरत असून असा आणखी एक कार्यक्रम समोर आला आहे. दिनांक २७ मे २०२२ रोजी मेयर ऑडिटोरिअम, बर्फीवाला रोड, अंधेरी पश्चिम येथे होणाऱ्या पादरी वेंकट, एच इ फाऊंडेशन, संस्थापक जरेमीआ तेकी, संतोष कोली मिनिस्ट्री, अँथोनी राज, जॉन आनंद आयोजित "अराईज अँड शाईन" नामक कार्यक्रमासाठी समाजातुन विरोध दर्शवला जात आहे. जनतेची दिशाभूल करणे, अंधश्रद्धेचा प्रचार तसेच समर्थन करणे, लोकांची फसवणूक करुन ठराविक धर्मामध्ये धर्मांतर करणे या आरोपांवर पादरी वेंकट व त्याच्या सहकाऱ्यांची चौकशी व्हावी अशी देखील काही संस्थांमार्फत मागणी होत असल्याचे सूत्रांच्या माहितीनुसार आढळून आले आहे.
ह्या मिशनरी सोशल मीडियावर व्हिडिओ आणि पोस्टद्वारे आपली जाहिरात करुन अशा प्रकारच्या कार्यक्रमांचा प्रचार करत असल्याचे स्पष्ट होते. दिनांक १० मे २०२२ पासून 'एच इ फाऊंडेशन' या फेसबुक पेज वरुन ह्या कार्यक्रमाच्या जाहिराती होत असून विविध पोस्ट द्वारे या कार्यक्रमास, देवाने पाठवलेल्या पादरी वेंकट याला ऐकायला येण्याचे आवाहन केले जात आहे. तसेच आपल्या कार्यक्रमांमध्ये विचित्र आवाज, गाणी, घोषणा आणि अमानवीय क्रिया करुन लोकांच्या मानसिक संतुलनावर घाला घालत असल्याचे प्रसारित केलेल्या काही व्हिडिओंमधून आढळून येते.
'सॅफ्रन थिंक टॅंक' संघटनेचे संस्थापक सिद्धांत मोहिते यांनी सदर विषयांवर आवाज उठवून लेखी तक्रारी दिल्या आहेत. या समाज कंटकांच्या विरोधी अनेक तक्रारी व विरोध असल्याचे प्रचलित असून सुद्धा सामान्य जनता याला बळी पडते. परंतू यांच्या विरोधात कारवाई केली जात नाही, त्याउलट अशा कार्यक्रमाना अधिकृत परवानग्याही दिल्या जातात. विरोध झाल्याशिवाय जर असे कार्यक्रम होणे बंद झाले नाही तर अंधश्रद्धेमार्फत धर्मांतराला वाव मिळतच राहील. 
Days after Maneka Gandhi severs tainted Mumbai arm of her organisation PFA, extortionist associated with the organisation is arrested.
Extortionist arrested for allegedly harassing a pet owner from Thane.
Khushi Shah – Mumbai Uncensored, 18th May 2022
An FIR was registered against Lata Parmar, president of PFA's Mumbai Unit and her team members on April 14 for allegedly forging a document and using the stamps of Sion police on the letterhead of PFA while taking custody of a Dalmatian from a Thane resident.
Ravi Vikram Bhatnagar, an animal activist alerted the police about the forged document and said that two more accused were yet to be arrested and that these people were using Maneka Gandhi's name and extorting people.
Maneka Gandhi is the founder of People For Animals and is currently the chairperson of this organisation. Whilst serving India as a political member of the Bharatiya Janata Party (BJP), she founded India's largest organisation for animal rights and welfare, People For Animals.
Following this complaint she tweeted a post that read-
"***IMPORTANT*** A decision has been taken to dissolve the People For Animals, Mumbai Unit-1. As on 15.04.2022, the PFA Mumbai Unit 1 ceases to exist."
Days after Maneka Gandhi severed ties with the Mumbai Unit 1 of her non-profit People for Animals (PFA) over allegations of extortion, a woman, Bimlesh Navani, associated with the organisation was arrested for allegedly harassing a pet owner from Thane. As per the FIR, a few PFA members visited a site of Vedant Construction on Ghodbunder Road, Thane, on March 3. They found a Dalmatia dog and told its owner Akshay Zade that they were taking the canine and Zade could get it back after showing the necessary documents. The same day, Bhatnagar, who is a friend of Zade, came across a photo of the dog on social media. He found something was off in the documents uploaded along with the picture of the dog and alerted the cops. The Sion police have also booked Lata Parmar, president of PFA's Mumbai Unit 1, in the case. Another accused, Mohit Chawre, has got anticipatory bail.
An animal lover, who runs NGO, Salim Charania and had filed a writ petition in the high court against Parmar for misusing her power as president and filied 55 false complaints against him at various police stations. He said, "In 2020, the raid was conducted at my house in Vasai where I kept stray dogs for allegedly breeding dogs and selling them. However, the police did not find anything against me. Parmar targeted me as my NGO was working in the market. She used to call the police and Maneka Gandhi to complain against me. VVMC doctors also gave me a clean chit.''
Simalar cases involving Parmar misusing her power under the name of the organisation and Maneka Gandhi were seen.
An Assistant doctor Kuldeep Mukane, also victim, spoke about how in January, a month after performing a surgery on a cat the owner came to us complaining that the cat had an infection. At that time, Lata Parmar had demanded Rs 1 lakh from them to not register a complaint. She also approached Gandhi and got Anchole police station to file a case against them.
Similarly Dr Dattatray Bhausaheb Raje's clinic in Kalyan was shut down after Lata Parmar and her team in December 2021 informed Tilak Nagar police station that they was running a racket of breeding dogs at my clinic. They even got Maneka Gandhi and BMC officers involved. The civic body shut down his clinic.
PFA claims to be India's largest animal welfare group with 26 hospitals, 165 units, 60 mobile units and 2.5 lakh members. Its stated aim is to open an animal welfare centre in every district in the country. It runs animal shelters, provides ambulance services for animals, sterilisation, rehabilitation of sick/needy animals, treatment, disaster rescue for animals. It lobbies for animal issues on different levels like education, sensitisation and legislation.
Beware of a new kind of extortion: Maneka Gandhi led NGO's Mumbai President booked for accusing innocent pet owners to extort money
Vishwa Thacker – Mumbai Uncensored, 7th May 2022
In a recent case in Mumbai, a new breed of criminals trying to extort money from genuine pet parents has surfaced. Three activists of an organisation led by Maneka Gandhi, the city's topmost NGO for animals, People for Animals, have been booked by the police.
A case of a Dalmation breed dog led to the arrest of three activists including the president of the organisation Lata Parmar along with Mohit Chawre and Bimlesh Navani. Lata Parmar has already been booked twice in cases of extortion and deterring a public servant from carrying out his duties. 
However, MP Maneka Gandhi has denied the accusations of her organisation or Lata Parmar being involved in any such crimes. She added that Parmar has always shown extraordinary efforts to save animals in her career. She further accused that his case was nothing but a way of defaming their organisation.
In the case of the Dalmation, the accused allegedly went to a construction site on March 3 and threatened an employee Bindu Kumar Singh who further called the dog owner, Akshay Zade. They told Zade that they were taking the dog and he would get it back only after showing the essential documents.
They then threatened him and forced him to sign a paper that read that he has given his dog up to the organisation because he is not in the right state to take care of his dog. Allegedly, the accused forged his signature when he refused. When Zade narrated the incident, the police booked the members under sections 384, 420, 465, 468, 500, 34 and 47 of the IPC.
DCP Vijay Patil said, "We have registered an offence against the accused and she was called for an inquiry. The investigation is underway. We decide on the course of action depending on the findings."