Aam Aadmi Party welcomes businessman with a shady past into the party.
Aashwin Shanker, Mumbai Uncensored, 7th July 2021:

Arvind Kejriwal on Sunday welcomed Diamond Trader Mahesh Savani into the Aam Aadmi
Party ahead of the Gujarat state assembly elections likely to be held in December 2022.
The move, in any case, earned exceptional analysis as Savani, a top real estate tycoon
from Surat was arrested in 2020 on charges of coercion and abducting.

Who is Mahesh Savani?
Savani, who additionally owns a few educational institutes and furthermore an alleged
social worker, was blamed for kidnapping Gautam Patel (65) from his home and requesting Rs 19
crore for his release.

Patel and his colleague who is currently deceased had purportedly borrowed cash from Savani for
an infrastructure project. Patel who was responsible to pay Rs 3 crore couldn't do as such,
consequently offered 60% share in a plot of land. Savani couldn't recuperate his cash and
supposedly incubated an arrangement to kidnap Patel when he showed up in India for his
son's marriage.

Patel's kidnapping by Savani and his aides was purportedly caught in the previous' CCTV film
introduced at his home. Then again, Savani is popular for organizing mass marriages for orphaned girls and gifting cars and homes to his employees.

Mahesh Savani's Selection:

Addressing a press conference on the day of joining AAP and claiming to be impressed by the political party's good governance, Savani said, "After 51 years of social service, I decided to join politics to continue my services at a larger level. Education is the foundation for everything. Government-run schools in Delhi are the best. During a recent visit to Delhi, I got to know that the Delhi government runs 700 to 800 schools. I visited seven such schools that can compete with any private school. I have also seen medical facilities there. The initiatives by the AAP government are excellent, so I have decided to join the party."
It must be mentioned here that the interim report submitted by a panel led by AIIMS doctors on Supreme Court mandated oxygen audit said that Delhi government overstated oxygen demand and it could have worsened the crisis during the second wave of Chinese coronavirus.
Delhi's Deputy Chief Minister and AAP leader Manish Sisodia talking about the party's growth in the state said, "The AAP is like a vacant plot in Gujarat, where a house of new and modern politics of the state can be built. To lay the foundation of this, we welcome Mahesh ji to the Aam Aadmi Party."

"Now it is not only the work of Delhi, but the work of Gujarat has also started speaking, the work of the councillors has started speaking. Impressed by all that, Mahesh bhai decided to join the AAP family," said Sisodia welcoming Savani into the party.

AAP leader abusing Brahmins
The media has reported earlier about how another Aam Aadmi Party Gujarat leader Gopal Italia's old videos had been doing the round on social media where he could be heard insulting Brahmins and Hindu rituals.
Insulting the Hindu rituals, he claimed that those who attend these Satsangs/Kathas clap like 'hijras' (eunuchs). "I am ashamed of such people. It angers me. If you don't like what I said block me. We don't need those who clap like hijras in name of rituals and culture. Some Sadhu will speak nonsense from the stage and we have to clap like hijras?" he said.

Offending the Hindu ceremonies, he asserted that the individuals who go to these
Satsangs/Kathas applaud like 'hijras' (eunuchs). "I'm embarrassed about such individuals. It
infuriates me. On the off chance that you don't care for what I said, block me. We needn't bother
with the individuals who applaud like hijras for the sake of customs and culture. Some Sadhu
will babble from the stage and we need to applaud like hijras?" he said.

Italia was seen sitting close to Sisodia during a question and answer session held on Sunday to
induct Savani into the party. Winning 27 out of the 120 seats in the civic body election, AAP believes it to be prepared to take on the Bharatiya Janata Party in the state. The Aam Aadmi party has likewise reported its plan to contest the state elections of Uttar Pradesh, Uttarakhand, Goa, Punjab and Himachal Pradesh.
World's most populated passenger train gets a green signal after protests by BJP across Maharashtra.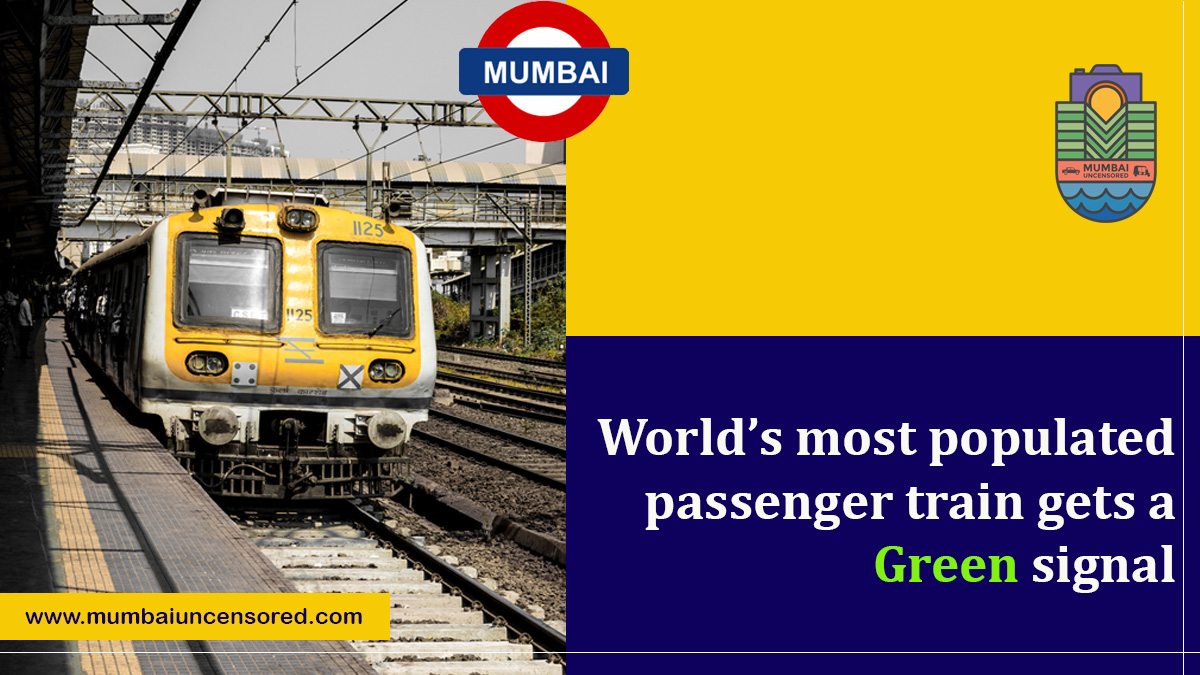 Aashwin Shanker, Mumbai Uncensored, 13th July 2021:

The Mumbai local train network was the transport for 800,000 people daily or 2.9 Billion people every year in the pre-covid era. During the pandemic the local trains were suspended to curb transmission due to less distancing among passengers which also affected thousands of jobs.
But after continuous protests by BJP in Maharashtra demanding re-starting of local trains after decline in new cases, the Maharashtra Government has decided to resume the service from August 15th, India's Independence Day. Maharashtra CM Uddhav Thackeray in a televised briefing to the state said that "People can travel from local trains after 14 days of their second dose of the vaccine."
Maharashtra recorded 5,508 new COVID-19 cases and 151 deaths in the last 24 hours. In the past seven days Maharashtra reported 41,774 cases which is 19,715 less than 61,489 cases reported in the first week of July. "Continuous relaxation will depend upon the case trend," added CM Thackeray.
₹ 155 crore spent by Maha Vikas Aghadi Government on publicity campaigns in the last 16 months.
Aashwin Shanker, Mumbai Uncensored, 1st August 2021:
RTI activist Anil Galgali has questioned the Maha Vikas Aghadi government on its various unknown expenditures since its inception in 2019, on the same day when our constitution was adopted i.e. 26 November.
Maha Vikas Aghadi Government has spent Rs. 155 crore according to The Directorate General of Information and Public Relations on publicity campaigns in the last 16 months. RTI activist Anil Galgali has asked for the information from the state on various expenditures during the campaign of the Maha Vikas Aghadi government which led to spending of Rs.155 crore.
The information provided by The Directorate General of Information and Public Relations to Anil Galgali was of the expenditure in the last 16 months from 11 December 2019 to 12 March 2021.
This is step by step information of expenditure in 2020.
•Rs. 5.99 crore has been spent on social media.
•Rs. 19.92 crore on National Health Mission
•Rs. 22.65 crore on a special publicity campaign in multiple phases.
•Rs. 6.49 crore has been spent on Maharashtra Urban Development Mission in three phases.
•The Disaster Management Department has spent Rs. 9.42 crore.
•The state health education department has spent Rs. 18.63 crore.
•Rs. 9.99 crore has been spent on the Padam department
•Rs. 20.65 lakh has been spent on the publicity campaign of Shivbhojan.
•Rs. 5.96 crore has been spent on the occasion of Women's Day for publicity campaigns.
Total expenditure in 2020 was Rs.104.55 crore spent on publicity campaigns of 26 departments.
In the year 2021, 12 departments have spent Rs. 29.79 crore till March 12, 2021. 
•Rs. 15.94 crore has been spent on the state health education department
•Rs. 1.88 crore has been spent on Jal Jeevan Mission's publicity campaign
•Out of Rs. 50 lakh Rs. 48 lakh has been spent on social media for the Minorities Department.
•Rs. 45 lakh has been spent on social media.
•Rs. 20 lakh on Women and Child Development with a cost of Rs. 2.45 crore on social media. 
•Total Rs. 3.15 crore has been spent on The public health department out of which Rs.75 lakh has been spent on social media.
"Expenditure made in the name of social media is questionable. Apart from that, the calculation of the expenditure shown under the name of Creativity is giving rise to various doubts," said Anil Galgali.
In a letter to Chief Minister Uddhav Thackeray, Anil Galgali had demanded that the government upload the expenditure incurred at the departmental level, the nature of the expenditure, and the name of the beneficiary on the website.
RTI activist reveals more than 2 Lakh Government Jobs Vacant in Maharashtra
Pal Pariawala, Mumbai Uncensored, 26th July 2021:

RTI Activist Anil Galgali, on June 18, filed an RTI application seeking information regarding job vacancies in the state government departments. In response to this, the Maharashtra Government disclosed that over 2 lakh jobs are vacant. 
However, certain reports claimed that the number may be higher since 16 out of the 29 sections have outdated statistics. According to the General Administration Department, the total number of vacancies in Group A, B, C, and D Categories were 2,00,193 till December 2019. These figures are considered to be outdated.  Galgani demanded an immediate filling of the vacancies in a letter written to Chief Minister Uddhav Thackeray. 
The activist believes that these vacancies affect the overall functioning, resulting in negative repercussions on the public.