Truth and its Power in creating good Ads, Songs and Movies – Prasoon Joshi – TRUTHtalks
Aashwin Shanker, Mumbai Uncensored, 25th June 2021:
Prasoon Joshi is a two time National Film Award winner and The creator of many memorable
ads and actor in movies like "Bhaag Milkha Bhaag" "Taare Zameen Par".
The two time National Film Award-winner was a guest on Truth talks held on Saturday,
19th June 2021 at 11 am on YouTube, anchored by Mr Manish Chokhani, Director of Enam
Holdings.

Before I tell you everything about the interview let me inform you that TRUTHtalks, an initiative
of Satya Vigyan Foundation and Mr. Vallabh Bhanshali, Founder, Desh Apnayen, seeks to
explore the perspective of those who have 'experimented' a lot with Truth. The talks are
designed to inspire a better understanding of Truth as the most powerful phenomenon in nature,
more than just a moral value or a legal obligation, and a practical tool to bring more peace, trust
and prestige to oneself and the society as a whole. Stay engaged with the community via
www.truthtalks.in.

In the interview at the TRUTHtalks Prasoon Joshi touches on a diverse range of topics
from life, worldview, to science, spirituality and social media.
The high point of the interview was his views on truth and reality. Prasoon said that he comes
from the world of anubhut satya, or experiential truth, and that the world is a thought
projection of the cosmic mind. He explained this with the metaphor of a river: "The
experience of someone swimming against an aggressive tide on the river is different from that of
someone standing at the river bank to meditate; for the one standing on the bank, the river is
calm and peaceful. Same river, different realities."
Prasoon also mentioned his fondness for entrepreneurs. When entrepreneurs seek his advice
he tries to understand the deeper reasons for why they want to work on a particular idea or
project, what he called the kernel of their truth!

Nobody likes to be confused. But Prasoon Joshi has a different take on the state of
confusion. He says that we have to learn to be comfortable with the state of confusion, as that
is when we are most fertile and are thinking of options and possibilities and truly exploring.
Mr Joshi's take on the advertising and business industry.
According to him, "Any business that is not in sync with the well-being of society, that
does not have concern for society at the heart of their work, will eventually die." Also, "I believe
in the power of informed choice. Advertising doesn't hide behind anything. It clearly tells
you I'm an ad and I'm expecting you to try me out. As an ad, I'm going to use
exaggeration to entertain you and stay in your mind."

Go ahead and watch the full conversation here: https://youtu.be/HOo0zjbRhPU
Singapore Bans "The Kashmir Files". Reason being Potential to Cause Enmity? Relook at the Deep picture of #KashmiriHindusGenocide
Shobhit Chandola – Mumbai Uncensored, 14th May 2022
The Glory Chapters of the Kashmir Files weren't done yet. It received immense praise throughout the world but then there comes the secular nation whose film classification guidelines are violated by The Kashmir Files. Yes, the multi-racial Singapore where religious harmony is utmost and this saga shows the one-sided portrayal of Muslims , could disturb the whole atmosphere of the country. But Vidhu Vindo Chopra directorial 'Shikara' won't as it is a story of love with a backdrop of Kashmir Violence. Where there was no scope for political drama, where KPs were indeed saved from a certain segment of Muslims from leaving Kashmir and which justified the hate against pandits to some extent by showing that the circumstances were beyond the control of locals. Thus, leaving us to moderate a secular love story of hope & survival.
Recently on the Backdrop of #SingaporebansTheKashmirFiles, The Twitter War raged when Mr. Shashi Tharoor's (MP from Thiruvananthapuram) in his tweet shared the link of SingaporeCensorBoard in association with Ministry of Culture,Community and Youth ( MCCY ) sarcastically saying that the BJP promoted project was banned in Singapore. What looks more hypocritical here is the deceased wife of Shashi Tharoor was a Kashmiri Hindu & often tweeted about the Spiral of Silence for KashmiriHindusgenocide. This was eventually picked by Vivek Agnihotri who further took a dig at Shashi Ji in latter's vocab style and hailed the Singapore Censor Board as the most Regressive board in the World which even banned 'The Last Temptations of Christ' for fictional depiction of Jesus and the Gospels and found it to be blasphemous. Even a romantic film called the #TheLeelahotelfiles could be banned in Singapore, he added. And concluded with an urge to resist from making fun of #KashmiriPanditsExodus.
Ever since the Vivek Agnihotri's much awaited passionate project- 'The Kashmir Files' hit the screen, it created havoc on the box office citing the depiction of the Kashmiri Hindu Genocide in its truest sense which was brutal and barbaric. With over 250 Crore+ lifetime collection, the Kashmir Saga surpassed the expectations with an 'All Time Blockbuster' tag. Coming out of the theaters, the audience looked mesmerized with the Agnihotri's craft, some being emotional or furious with the treatment of the Kashmiri Hindus. It should not come as suprise if it is told that half of the composition was of those who never knew that this Genocide happened before.But even as a lad I knew this, the sole reason being my beloved teacher of High school who was a Kashmiri Pandit and had her share of saga on 'Raliv, galiv ya Chaliv' which I refrain to tell on moral grounds . Thanks to the ignorant policies of UPA and biased attitude towards Kashmiri Hindus who went on to become the Refugees in their own country and are still called the same. If not, then one shall check the Job quotas / Educational quotas where still the seats are reserved for them. Ultimately owing to the fact that they are everywhere in the country except their homeland where they have failed to reinstate.
RALIV GALIV YA CHALIV -The Kashmiri Holocaust Slogan of Islamic Militants which means,
'Either Convert to Islam, Flee or Die'
The movie is often stated to be backed by the Central Government which it certainly is but what is more adverse is the backfire by the 'left lobby'.
A continuous pattern of trolling, downgrading throughout the time of its release. Multiple malicious attempts happened within wikipedia to change the summary and context of the movie. If not, then have a glance below or just check the wiki page which has termed the film fictional and inaccurate. Abrupt change in IMDB rating of TKF from 9.6 to 8.3 overnight. This isn't confined. Kashmir Files' triumph makes Secularism fail, says the Newslaundary. Al-Jazeera found PM Modi's support for The Kashmir Files in the assembly as Hate Speech. For 'The Hindu', the short number of killing of KPs ( Kashmiri Pandits ) as per some reports cannot be termed as a Genocide as it doesn't fits the criteria of mass lynching and on a collective note more Muslims have lost their lives to Army attrocities. Just swap the two Religions and they would cry for underreporting of the official figure. The Lobby list goes on…… What lies ahead is the Lesson for all of us.
Hijab: A Choice Or Compulsion?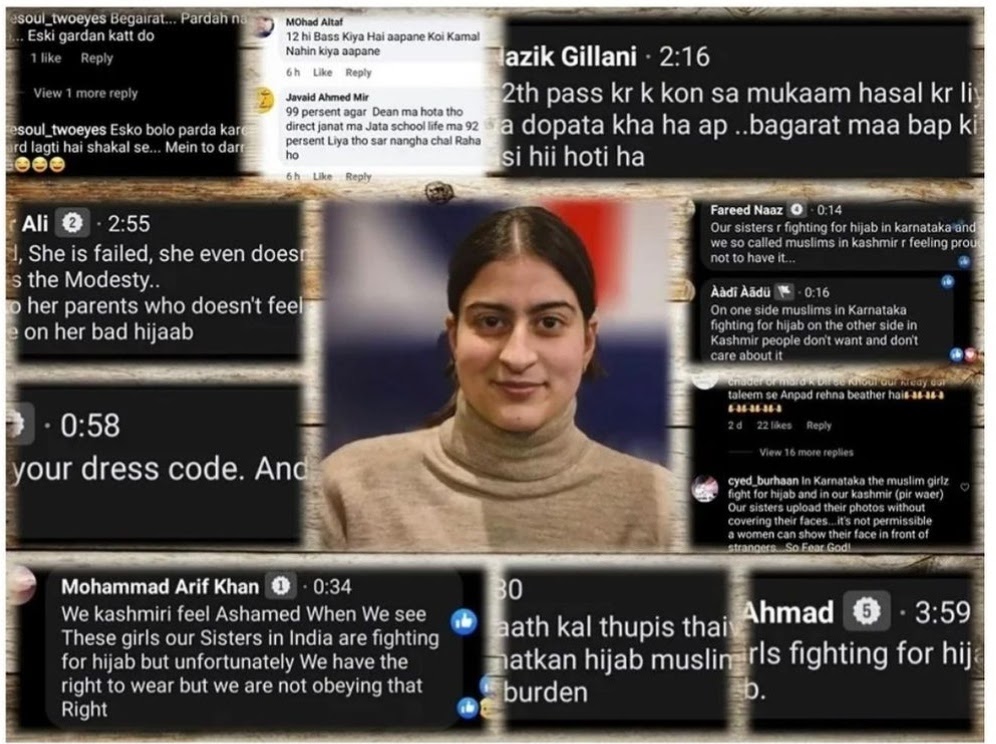 Anushka Pathak – Mumbai Uncensored, 12th February 2022
A class 12th topper was mass trolled by Islamists on the internet for not wearing a hijab. The incident came into limelight when the Jammu & Kashmir board of school education declared the results of 12th grade students on February 8.
Aroosa Parvaiz, the 12th grade topper from Kashmir, topped the examinations in Science stream with 499 marks out of 500.
She received many congratulatory messages on social media but soon started getting mass trolled and also received death threats on the internet.
"Bitter trolls started appearing on social media. I could not understand why the same society trolled me on the one hand and felt proud of me on the other", Aroosa said.
Men who claimed to be the flagbearers of Islam, saw a picture of Aroosa without a head veil, commonly known as a hijab, which led to the mass troll.
While most of the people targeted Aroosa and her family for not covering her head, some went to the extent of giving her death threats.
"Begairat…. Pardah nai Kia …. Eski gardan Katt do" (Shameless woman, she has not covered her head, she must be beheaded) said one of the bitter trolls on the internet, along with many other trolls.
"My religion, my hijab and my Allah are my personal issues. What I should wear or not should not bother people if they believe in the greatness of my religion."
"These comments do not matter to me, but my parents are undergoing a trauma", Aroosa told some reporters.
On one hand where Karnataka is drowning in the hijab/burqa controversy, incidents like these make us think again whether a hijab or a burqa is really a choice for women in Islam. Or is it the toxic patriarchal mindset of Islam that makes women oppressed in the name of religion?
Many countries like France and Sri Lanka have imposed a ban on burqa and hijabs for the sake of women. Does India need to follow these steps? And even if it does, will the so called flagbearers of Islam give in and accept the law?
Six digital marketing agencies with best work culture
Work culture in today's time is so important to work on, especially in a digital marketing company. People are in a lot of stress already because of their work and if there's a toxic work culture, no one will be able to work. Work culture is something because of which an employee not only stays in the company for a longer period of time but also puts extra effort from their side towards the work assigned.
Giving perks and leaves is not only the motto behind the best work culture. But having a really cool environment in the company is what people seek. Proper guidance from the senior staff is what an employee seeks for.
Here is a list of the top five digital marketing agencies with the best work culture:
Sociowash:
Sociowash is a full-service digital marketing agency with an aim to connect brands to the world, in the most creatively fueled way. From providing a blueprint of digital strategy to pixel-perfect execution, it helps brands to matter more. It provides services like social media marketing, media planning, collateral design, website design and development, youth marketing, video production, influencer marketing, animation, and others. Sociowash focuses on producing tangible and intangible results while striking a perfect balance between art and business. It does not adopt a 'one size fits all approach and focuses on customizing the way forward for each brand based on its positioning and needs and help them stand out in the crowd.
PinStorm:
PinStorm is a digital marketing agency that offers a completely new approach to building your brand in this digital age. An approach driven by a different philosophy – where it is believed innovating on the product offering can be far more impactful than innovating in TV commercials. Pinstorm believes outsmarting the competition is a better thing to do than outspending them.
The Social Lions
The Social Lions is a digital marketing agency in Mumbai based out of the suburbs. A strategy-led agency where the team specializes in out-of-the-box ideas, on-point solutions to problem areas, and new approaches to how consumers perceive their brand. Founded in 2018 by Archit Chawla & Siddhant Mohite, TSL has grown multi-folds with its unparalleled expertise in running intelligent marketing solutions across Social Media mediums, Websites, SEO, PPC, for a diverse range of clients and partners. 
http://www.thesociallions.in
WAT Consult:
WATConsult is a full-service digital agency that delivers across the value chain right from launching a brand via digital to building a brand's salience via digital to driving business leads and sales for a brand.
Intellemo:
The team at Intellemo consists of experts – in-house employees and creative contributors. The organization provides a platform where anyone can contribute in any capacity as per their convenience. Automation and Technology are deeply embedded in the core philosophy of Intellemo. It is what they continuously strive to achieve by combining Intellect and Emotions to help businesses grow digitally.
EveryMedia:
EveryMedia is a full service digital and mobile marketing company that specializes in communication strategies with a focus on movies and brands. They provide end-to-end digital marketing campaigns and are pioneers in Design, Development & Technology.