It is critical to continue and expand the answer to Covid in order to save lives.
SARS-CoV2 infection has increased dramatically and consistently in the WHO's South-East Asia Region in recent months. In April and May, the region announced more than two million new cases in a row, with some areas reporting test positivity rates of up to 40%.Concerning variants and their sub-lineages have been identified, and they may be linked to higher transmission speeds. In the fight against Covid-19, both the country and the world are at a crossroads. There is no country that is completely secure. We're all in danger.
People are running out of energy. They've been doing whatever they can to keep themselves and their loved ones safe for nearly 18 months. Despite this, we are only in the early stages of the pandemic. Vaccine euphoria and the complacency it can breed are real risks, particularly when some countries return to normalcy globally. We must continue to maintain and scale up the response in all countries, and see this task through.
What is the best way forward for the region?
First, vigorously implement tested public health and social policies that are our best line of defence against new variants. Distancing yourself physically will help. The use of a mask is effective. Hand hygiene is efficient. Ventilation, testing, touch tracking, and isolation are all used to stop the spread of the disease, save lives, and reduce the effects. The 3Ws–wear a mask, wash hands, and keep a safe distance–must continue to be followed. We must also avoid the 3Cs: crowded environments, close-contact situations, and confined and enclosed spaces.
Second, keep an eye on and extend health-care capability to ensure that it can meet population demands, regardless of caseload. In the event of an increase in cases, step-by-step measures must be implemented to increase room, personnel, and equipment –such as oxygen and beds–as well as improve communication between and within facilities. Essential health care must be maintained in order for all to have access to the services they need to remain safe and well.
Third, as described in national deployment and vaccination plans, vaccinate priority classes. In the face of ongoing supply constraints, countries can maximise public health benefits by maximising the use of available doses.
We must push ourselves to the limit and go all out. Since the beginning of the pandemic, WHO has given vital guidance and assistance to member-States throughout the field, including thousands of oxygen concentrators, millions of respirator masks, and a number of auxiliary health facilities in recent months. Thousands of employees have been reassigned to help with the national response. The Access to COVID-19 Tools Accelerator, which is the world's quickest, most organised, and active global partnership to accelerate the growth, manufacturing, and equal access to Covid-19 tests, treatments, and vaccines, continues to save lives.
Only by working together and maintaining our commitment will we be able to reduce infection, plan for and deter new waves, and provide evidence-based therapies and technologies to anyone who needs them. It's a matter of life and death. We must all stick to our weapons.
Tanmay Bhat's old tweets on child rape and Lord Ganesha spark social media uproar
Payel Halder, Mumbai Uncensored, 25th February, 2023:
Kotak Mahindra Bank has withdrawn its new '811' campaign ad featuring comedian Tanmay Bhat after social media uproar over his decade-old demeaning tweet about Lord Ganesha and child rape. Bhat's tweets have outraged netizens, but the same lobby that touts freedom of expression and seeks censure when convenient has remained silent.
Despite scathing criticism of the offensive and perverse ten-year-old tweets, the Lobby has been hesitant to comment on or condemn Bhat's old tweets, which forced Kotak Mahindra Bank to withdraw its campaign. Responding to the backlash, the bank tweeted that it does not endorse or support the actor's views and withdrew the campaign.
Several netizens highlighted Bhat's past tweets on child rape and asked Kotak Mahindra Bank if it reflects its brand values. Shefali Vaidya, who was one of the first people to point out Bhat's offensive tweet, said, "How can a brand like Kotak, which has customers from all sections of Indian society, have someone like Tanmay Bhat, who has made offensive tweets about children? He also made sick tweets about Lord Ganesha. It is too disgusting for me to even read."
Another Twitter user, Monica Verma, threatened to close her bank account and demanded that Kotak Mahindra Bank discontinue its association with Bhat and apologize.
This is not the first time Tanmay Bhat has found himself in controversy. In 2016, his video superimposing the faces of late singer Lata Mangeshkar and cricketer Sachin Tendulkar was condemned by netizens. Mumbai Police had also asked Facebook and Youtube to take down the video. Later, in October 2018, Bhat was under attack for his not taking action on the complaints against another comedian during the #MeToo movement.
Singapore Bans "The Kashmir Files". Reason being Potential to Cause Enmity? Relook at the Deep picture of #KashmiriHindusGenocide
Shobhit Chandola – Mumbai Uncensored, 14th May 2022
The Glory Chapters of the Kashmir Files weren't done yet. It received immense praise throughout the world but then there comes the secular nation whose film classification guidelines are violated by The Kashmir Files. Yes, the multi-racial Singapore where religious harmony is utmost and this saga shows the one-sided portrayal of Muslims , could disturb the whole atmosphere of the country. But Vidhu Vindo Chopra directorial 'Shikara' won't as it is a story of love with a backdrop of Kashmir Violence. Where there was no scope for political drama, where KPs were indeed saved from a certain segment of Muslims from leaving Kashmir and which justified the hate against pandits to some extent by showing that the circumstances were beyond the control of locals. Thus, leaving us to moderate a secular love story of hope & survival.
Recently on the Backdrop of #SingaporebansTheKashmirFiles, The Twitter War raged when Mr. Shashi Tharoor's (MP from Thiruvananthapuram) in his tweet shared the link of SingaporeCensorBoard in association with Ministry of Culture,Community and Youth ( MCCY ) sarcastically saying that the BJP promoted project was banned in Singapore. What looks more hypocritical here is the deceased wife of Shashi Tharoor was a Kashmiri Hindu & often tweeted about the Spiral of Silence for KashmiriHindusgenocide. This was eventually picked by Vivek Agnihotri who further took a dig at Shashi Ji in latter's vocab style and hailed the Singapore Censor Board as the most Regressive board in the World which even banned 'The Last Temptations of Christ' for fictional depiction of Jesus and the Gospels and found it to be blasphemous. Even a romantic film called the #TheLeelahotelfiles could be banned in Singapore, he added. And concluded with an urge to resist from making fun of #KashmiriPanditsExodus.
Ever since the Vivek Agnihotri's much awaited passionate project- 'The Kashmir Files' hit the screen, it created havoc on the box office citing the depiction of the Kashmiri Hindu Genocide in its truest sense which was brutal and barbaric. With over 250 Crore+ lifetime collection, the Kashmir Saga surpassed the expectations with an 'All Time Blockbuster' tag. Coming out of the theaters, the audience looked mesmerized with the Agnihotri's craft, some being emotional or furious with the treatment of the Kashmiri Hindus. It should not come as suprise if it is told that half of the composition was of those who never knew that this Genocide happened before.But even as a lad I knew this, the sole reason being my beloved teacher of High school who was a Kashmiri Pandit and had her share of saga on 'Raliv, galiv ya Chaliv' which I refrain to tell on moral grounds . Thanks to the ignorant policies of UPA and biased attitude towards Kashmiri Hindus who went on to become the Refugees in their own country and are still called the same. If not, then one shall check the Job quotas / Educational quotas where still the seats are reserved for them. Ultimately owing to the fact that they are everywhere in the country except their homeland where they have failed to reinstate.
RALIV GALIV YA CHALIV -The Kashmiri Holocaust Slogan of Islamic Militants which means,
'Either Convert to Islam, Flee or Die'
The movie is often stated to be backed by the Central Government which it certainly is but what is more adverse is the backfire by the 'left lobby'.
A continuous pattern of trolling, downgrading throughout the time of its release. Multiple malicious attempts happened within wikipedia to change the summary and context of the movie. If not, then have a glance below or just check the wiki page which has termed the film fictional and inaccurate. Abrupt change in IMDB rating of TKF from 9.6 to 8.3 overnight. This isn't confined. Kashmir Files' triumph makes Secularism fail, says the Newslaundary. Al-Jazeera found PM Modi's support for The Kashmir Files in the assembly as Hate Speech. For 'The Hindu', the short number of killing of KPs ( Kashmiri Pandits ) as per some reports cannot be termed as a Genocide as it doesn't fits the criteria of mass lynching and on a collective note more Muslims have lost their lives to Army attrocities. Just swap the two Religions and they would cry for underreporting of the official figure. The Lobby list goes on…… What lies ahead is the Lesson for all of us.
Hijab: A Choice Or Compulsion?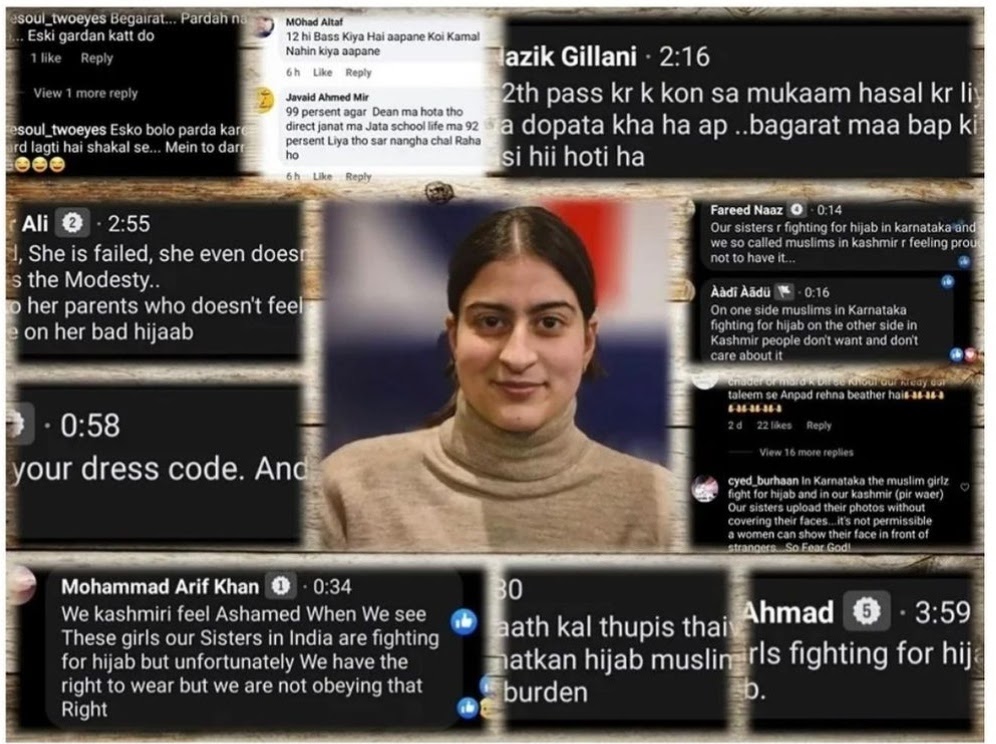 Anushka Pathak – Mumbai Uncensored, 12th February 2022
A class 12th topper was mass trolled by Islamists on the internet for not wearing a hijab. The incident came into limelight when the Jammu & Kashmir board of school education declared the results of 12th grade students on February 8.
Aroosa Parvaiz, the 12th grade topper from Kashmir, topped the examinations in Science stream with 499 marks out of 500.
She received many congratulatory messages on social media but soon started getting mass trolled and also received death threats on the internet.
"Bitter trolls started appearing on social media. I could not understand why the same society trolled me on the one hand and felt proud of me on the other", Aroosa said.
Men who claimed to be the flagbearers of Islam, saw a picture of Aroosa without a head veil, commonly known as a hijab, which led to the mass troll.
While most of the people targeted Aroosa and her family for not covering her head, some went to the extent of giving her death threats.
"Begairat…. Pardah nai Kia …. Eski gardan Katt do" (Shameless woman, she has not covered her head, she must be beheaded) said one of the bitter trolls on the internet, along with many other trolls.
"My religion, my hijab and my Allah are my personal issues. What I should wear or not should not bother people if they believe in the greatness of my religion."
"These comments do not matter to me, but my parents are undergoing a trauma", Aroosa told some reporters.
On one hand where Karnataka is drowning in the hijab/burqa controversy, incidents like these make us think again whether a hijab or a burqa is really a choice for women in Islam. Or is it the toxic patriarchal mindset of Islam that makes women oppressed in the name of religion?
Many countries like France and Sri Lanka have imposed a ban on burqa and hijabs for the sake of women. Does India need to follow these steps? And even if it does, will the so called flagbearers of Islam give in and accept the law?