India needs priority sector lending
Priority sector lending dates back to1966, when Morarji Desai saw a need to expand credit to agriculture and small businesses. However, a Reserve Bank of India (RBI) study in the National Credit Council in 1972 was the first to formalise the PS concept. Indira Gandhi was able to assuage important political concerns after bank nationalisation thanks to the PS formulation. Over time, the PS concept expanded to include important overlooked sectors of the economy, rather than being restricted to powerful lobbying groups. Despite the changes, the classification continues to place a strong emphasis on agriculture and small businesses (also known as micro, small, and medium enterprises or MSME).
Banks lend nearly 40% of their adjusted net bank credit (ANBC) to the priority market, amounting to Rs39,50,205 crore. As we fight Covid-19 today, the crucial question is whether the PS meaning needs to be modified. Is legitimate infrastructure, such as health care, well-served? Are we taking advantage of JAM's complete potential— full access to Jan Dhan accounts, universal Aadhaar numbers, and near-universal mobile penetration— to fix problems that PS lending can't solve but direct benefit transfers (DBT) can?
PS is divided into eight distinct fields. Agriculture is the most significant, with an 18 percent goal for total ANBC. MSMEs are another significant group. Housing, export credit, education, social infrastructure, and renewable energy are among the five PS industries.
Loans for setting up schools, drinking water facilities, and sanitation facilities, including construction/renovation of household toilets, and water improvements at the household level, are all covered by social infrastructure lending limits, which cover loans up to a maximum of 5 crore per borrower. It also includes loans for the construction of health care facilities in Tier II to Tier VI cities up to a maximum of ten crore per borrower. Loans for research or vocational courses fall under the education category. Furthermore, 12 percent of loans must go to specified weaker parts, 7.5 percent to micro enterprises, and 10% of the agriculture goal must go to small and marginal farmers.
This formulation, we conclude, needs to be reconsidered. To begin with, it is surprising that health is only a sub-category of social infrastructure, with a cap of ten crores for hospital construction. There should be a broad separate category in which we encourage "right size" rather than "small size" hospitals, which are large in metropolitan areas but smaller elsewhere.
Second, there is an urgent need for institutions to train nurses, health technicians, and health machine operators, as well as basic technology and digital device training more generally. In his book Bridgital Nations, Tata chairman N Chandrashekharan brilliantly captures this.
Third, the credit cap for educational facilities is just Rs. 5 crore. Finally, PS lending could provide loans for the purchasing of computers and smart phones for low-income individuals.
Assessing whether PS lending is the right type of intervention for some of its targeted categories is a related issue. Aren't some PS categories better served by grants than by enabling banks to lend to micro finance institutions? In agriculture, how effective has lending to the weaker sections and small and marginal farmers been? After 50 years, they are all struggling. Non-performing assets (NPA) in the loan portfolios of banks lending to these groups in agriculture are in the double digits, rendering the sector economically unviable for them.
Giving loans to this group of borrowers with a high likelihood of default creates corruption opportunities for bank executives and moral hazard for the established beneficiaries. Big defaults in a segment disincentivize farmers from repaying their loans, and the overall credit climate is tainted by large defaults.
Converting a portion of PS lending to a grant paid directly by the government will increase the value of public sector banks significantly while also increasing system performance. Indeed, we believe that banks should be willing to pay for a portion of the total grant amounts through a special cess levied on them for this reason. It could be measured as the expense of their NPAs in the section, leaving them in the same position as before.
Covid-19 has made us rethink a lot of stuff from the past. Infrastructure for health and education has received a lot of attention. As we all settle into new ways of working and learning, it has highlighted the value of digital access. PS classification should reflect this, and we should take advantage of our technology stack's (and JAM's) capabilities to target and distribute grants to the most vulnerable sections. This, however, would not be enough to compensate for the significant rise in state government health and education budgets that is needed to repair our social infrastructure.
Article 2
Use decentralized/district-level guidelines to alleviate Covid-19 restrictions.
Our response strategy has revolved around the slogan "test, test, test" since the Covid-19 pandemic struck India. RT-PCR and Rapid Antigen Test kits, as well as an ambitious combination of different platforms, have helped India expand its testing potential. These strategies allowed us to hit 1.2 million tests per day in September2020, and 2.2 million tests per day in May of the following year. In January, this was followed by the launch of two India-made vaccines.
Now that India is experiencing a second boom, state governments have enacted restrictive policies. While restrictions have been largely effective in preventing the spread of infection, they are not a long-term solution. So, what does an evidence-based approach to the situation look like? What can be called a not-too-late nor-too-early relaxation of constraints, as each case is different?
A decentralised pandemic response based on three pillars— district-level test positivity rate, vaccine coverage, and a bottom-up decision-making process — is the solution. Since we were dealing with a novel virus and regulatory mechanisms had to be set up, centralisation was crucial during the first wave. However, given the large variation in disease transmission between states, these decisions must now be decentralised and based on local data. At the district level, restrictions on travel, public meetings, and social activities are enforced. To make these decisions based on district-level data and patterns, we need to involve districts even more. Although monitoring is essential, assessment tools should be simple to use, avoiding a long list of requests that prolongs the decision-making process. Instead, we can concentrate on three main variables.
The first pillar should concentrate on districts with a test positivity rate (TPR) of less than 5%.TPR is the percentage of positive Sars-CoV-2 tests out of all those conducted. This will remain the most important metric for making informed decisions.
The second pillar is sufficient vaccination coverage for priority and vulnerable populations, which should be a consideration when considering opening up. Even if the cases increase, vaccinations in the most vulnerable population groups must be increased to ensure that fewer people die. The fact is that it will take a few months for vaccine supplies to hit the standard of adequacy in terms of doses.
The third pillar is group ownership. All administrative interventions are doomed to fail without group ownership, in which people engage in Covid-appropriate behaviour such as masking and maintaining physical distance.
The pandemic has compelled us to reconsider the standards that control our responses to it. While we live in silos and demand that punitive laws be maintained or that new treatments and prevention be implemented on a daily basis, we must understand the effect on people's lives and livelihoods. As a result, our pandemic response must be driven by local data and carried out and supervised by a versatile administrative structure.
Singapore Bans "The Kashmir Files". Reason being Potential to Cause Enmity? Relook at the Deep picture of #KashmiriHindusGenocide
Shobhit Chandola – Mumbai Uncensored, 14th May 2022
The Glory Chapters of the Kashmir Files weren't done yet. It received immense praise throughout the world but then there comes the secular nation whose film classification guidelines are violated by The Kashmir Files. Yes, the multi-racial Singapore where religious harmony is utmost and this saga shows the one-sided portrayal of Muslims , could disturb the whole atmosphere of the country. But Vidhu Vindo Chopra directorial 'Shikara' won't as it is a story of love with a backdrop of Kashmir Violence. Where there was no scope for political drama, where KPs were indeed saved from a certain segment of Muslims from leaving Kashmir and which justified the hate against pandits to some extent by showing that the circumstances were beyond the control of locals. Thus, leaving us to moderate a secular love story of hope & survival.
Recently on the Backdrop of #SingaporebansTheKashmirFiles, The Twitter War raged when Mr. Shashi Tharoor's (MP from Thiruvananthapuram) in his tweet shared the link of SingaporeCensorBoard in association with Ministry of Culture,Community and Youth ( MCCY ) sarcastically saying that the BJP promoted project was banned in Singapore. What looks more hypocritical here is the deceased wife of Shashi Tharoor was a Kashmiri Hindu & often tweeted about the Spiral of Silence for KashmiriHindusgenocide. This was eventually picked by Vivek Agnihotri who further took a dig at Shashi Ji in latter's vocab style and hailed the Singapore Censor Board as the most Regressive board in the World which even banned 'The Last Temptations of Christ' for fictional depiction of Jesus and the Gospels and found it to be blasphemous. Even a romantic film called the #TheLeelahotelfiles could be banned in Singapore, he added. And concluded with an urge to resist from making fun of #KashmiriPanditsExodus.
Ever since the Vivek Agnihotri's much awaited passionate project- 'The Kashmir Files' hit the screen, it created havoc on the box office citing the depiction of the Kashmiri Hindu Genocide in its truest sense which was brutal and barbaric. With over 250 Crore+ lifetime collection, the Kashmir Saga surpassed the expectations with an 'All Time Blockbuster' tag. Coming out of the theaters, the audience looked mesmerized with the Agnihotri's craft, some being emotional or furious with the treatment of the Kashmiri Hindus. It should not come as suprise if it is told that half of the composition was of those who never knew that this Genocide happened before.But even as a lad I knew this, the sole reason being my beloved teacher of High school who was a Kashmiri Pandit and had her share of saga on 'Raliv, galiv ya Chaliv' which I refrain to tell on moral grounds . Thanks to the ignorant policies of UPA and biased attitude towards Kashmiri Hindus who went on to become the Refugees in their own country and are still called the same. If not, then one shall check the Job quotas / Educational quotas where still the seats are reserved for them. Ultimately owing to the fact that they are everywhere in the country except their homeland where they have failed to reinstate.
RALIV GALIV YA CHALIV -The Kashmiri Holocaust Slogan of Islamic Militants which means,
'Either Convert to Islam, Flee or Die'
The movie is often stated to be backed by the Central Government which it certainly is but what is more adverse is the backfire by the 'left lobby'.
A continuous pattern of trolling, downgrading throughout the time of its release. Multiple malicious attempts happened within wikipedia to change the summary and context of the movie. If not, then have a glance below or just check the wiki page which has termed the film fictional and inaccurate. Abrupt change in IMDB rating of TKF from 9.6 to 8.3 overnight. This isn't confined. Kashmir Files' triumph makes Secularism fail, says the Newslaundary. Al-Jazeera found PM Modi's support for The Kashmir Files in the assembly as Hate Speech. For 'The Hindu', the short number of killing of KPs ( Kashmiri Pandits ) as per some reports cannot be termed as a Genocide as it doesn't fits the criteria of mass lynching and on a collective note more Muslims have lost their lives to Army attrocities. Just swap the two Religions and they would cry for underreporting of the official figure. The Lobby list goes on…… What lies ahead is the Lesson for all of us.
Hijab: A Choice Or Compulsion?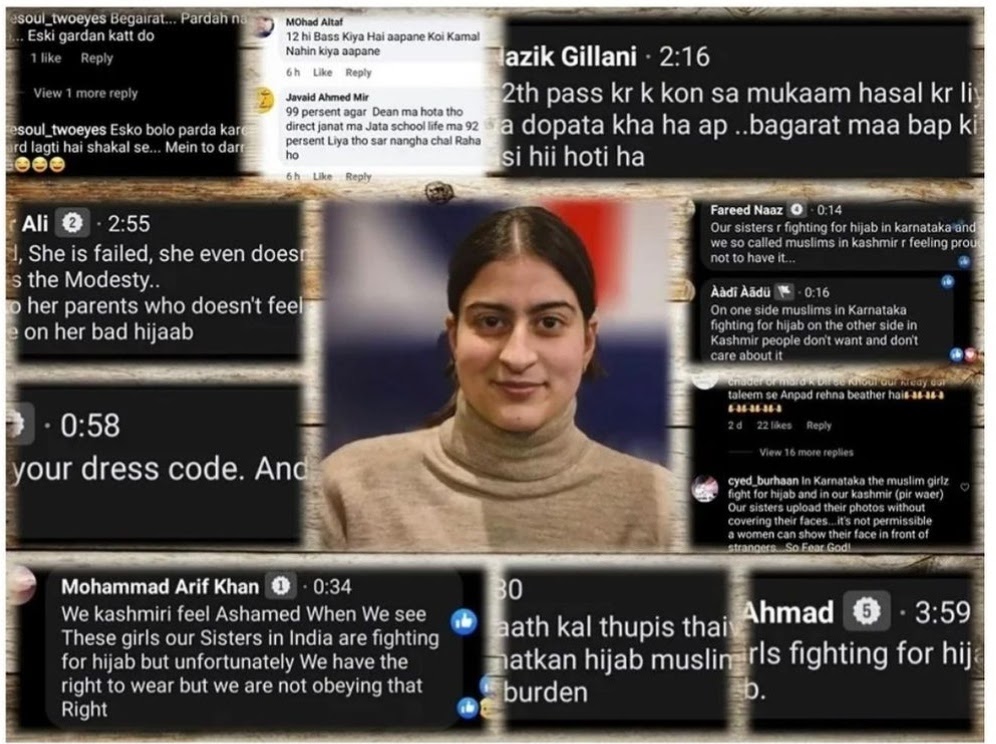 Anushka Pathak – Mumbai Uncensored, 12th February 2022
A class 12th topper was mass trolled by Islamists on the internet for not wearing a hijab. The incident came into limelight when the Jammu & Kashmir board of school education declared the results of 12th grade students on February 8.
Aroosa Parvaiz, the 12th grade topper from Kashmir, topped the examinations in Science stream with 499 marks out of 500.
She received many congratulatory messages on social media but soon started getting mass trolled and also received death threats on the internet.
"Bitter trolls started appearing on social media. I could not understand why the same society trolled me on the one hand and felt proud of me on the other", Aroosa said.
Men who claimed to be the flagbearers of Islam, saw a picture of Aroosa without a head veil, commonly known as a hijab, which led to the mass troll.
While most of the people targeted Aroosa and her family for not covering her head, some went to the extent of giving her death threats.
"Begairat…. Pardah nai Kia …. Eski gardan Katt do" (Shameless woman, she has not covered her head, she must be beheaded) said one of the bitter trolls on the internet, along with many other trolls.
"My religion, my hijab and my Allah are my personal issues. What I should wear or not should not bother people if they believe in the greatness of my religion."
"These comments do not matter to me, but my parents are undergoing a trauma", Aroosa told some reporters.
On one hand where Karnataka is drowning in the hijab/burqa controversy, incidents like these make us think again whether a hijab or a burqa is really a choice for women in Islam. Or is it the toxic patriarchal mindset of Islam that makes women oppressed in the name of religion?
Many countries like France and Sri Lanka have imposed a ban on burqa and hijabs for the sake of women. Does India need to follow these steps? And even if it does, will the so called flagbearers of Islam give in and accept the law?
Six digital marketing agencies with best work culture
Work culture in today's time is so important to work on, especially in a digital marketing company. People are in a lot of stress already because of their work and if there's a toxic work culture, no one will be able to work. Work culture is something because of which an employee not only stays in the company for a longer period of time but also puts extra effort from their side towards the work assigned.
Giving perks and leaves is not only the motto behind the best work culture. But having a really cool environment in the company is what people seek. Proper guidance from the senior staff is what an employee seeks for.
Here is a list of the top five digital marketing agencies with the best work culture:
Sociowash:
Sociowash is a full-service digital marketing agency with an aim to connect brands to the world, in the most creatively fueled way. From providing a blueprint of digital strategy to pixel-perfect execution, it helps brands to matter more. It provides services like social media marketing, media planning, collateral design, website design and development, youth marketing, video production, influencer marketing, animation, and others. Sociowash focuses on producing tangible and intangible results while striking a perfect balance between art and business. It does not adopt a 'one size fits all approach and focuses on customizing the way forward for each brand based on its positioning and needs and help them stand out in the crowd.
PinStorm:
PinStorm is a digital marketing agency that offers a completely new approach to building your brand in this digital age. An approach driven by a different philosophy – where it is believed innovating on the product offering can be far more impactful than innovating in TV commercials. Pinstorm believes outsmarting the competition is a better thing to do than outspending them.
The Social Lions
The Social Lions is a digital marketing agency in Mumbai based out of the suburbs. A strategy-led agency where the team specializes in out-of-the-box ideas, on-point solutions to problem areas, and new approaches to how consumers perceive their brand. Founded in 2018 by Archit Chawla & Siddhant Mohite, TSL has grown multi-folds with its unparalleled expertise in running intelligent marketing solutions across Social Media mediums, Websites, SEO, PPC, for a diverse range of clients and partners. 
http://www.thesociallions.in
WAT Consult:
WATConsult is a full-service digital agency that delivers across the value chain right from launching a brand via digital to building a brand's salience via digital to driving business leads and sales for a brand.
Intellemo:
The team at Intellemo consists of experts – in-house employees and creative contributors. The organization provides a platform where anyone can contribute in any capacity as per their convenience. Automation and Technology are deeply embedded in the core philosophy of Intellemo. It is what they continuously strive to achieve by combining Intellect and Emotions to help businesses grow digitally.
EveryMedia:
EveryMedia is a full service digital and mobile marketing company that specializes in communication strategies with a focus on movies and brands. They provide end-to-end digital marketing campaigns and are pioneers in Design, Development & Technology.